Incorporating more plant-based meals into your life helps to naturally boost your bodies immune system and supports your gut health. There are a lot of other benefits to the planet and to your grocery budget. This nourishing White Bean Cabbage Soup is loaded with delicious ingredients and it is quick & easy to make.
Have fun with this recipe and feel free to add in whatever vegetables you have on hand. Peas, white potatoes, sweet potatoes, broccoli or red pepper all taste great in this soup. Cabbage is a staple in this recipe because it is high in in-soluble fibre, antioxidants, vitamin K, vitamin C, vitamin B6 and folate. Cabbage and cruciferous vegetables also contain antioxidants that help reduce inflammation in the body.
I love to meal prep a soup each week for easy, healthy lunches that are ready to go for the week. I prep my soup when I am cooking dinner Sunday. If you are already in the kitchen anyway cooking dinner you might as well grab another pot and toss all your ingredients to make a healthy soup. My pro tip is to ensure you store your soup in individually portion contains so you can grab and go.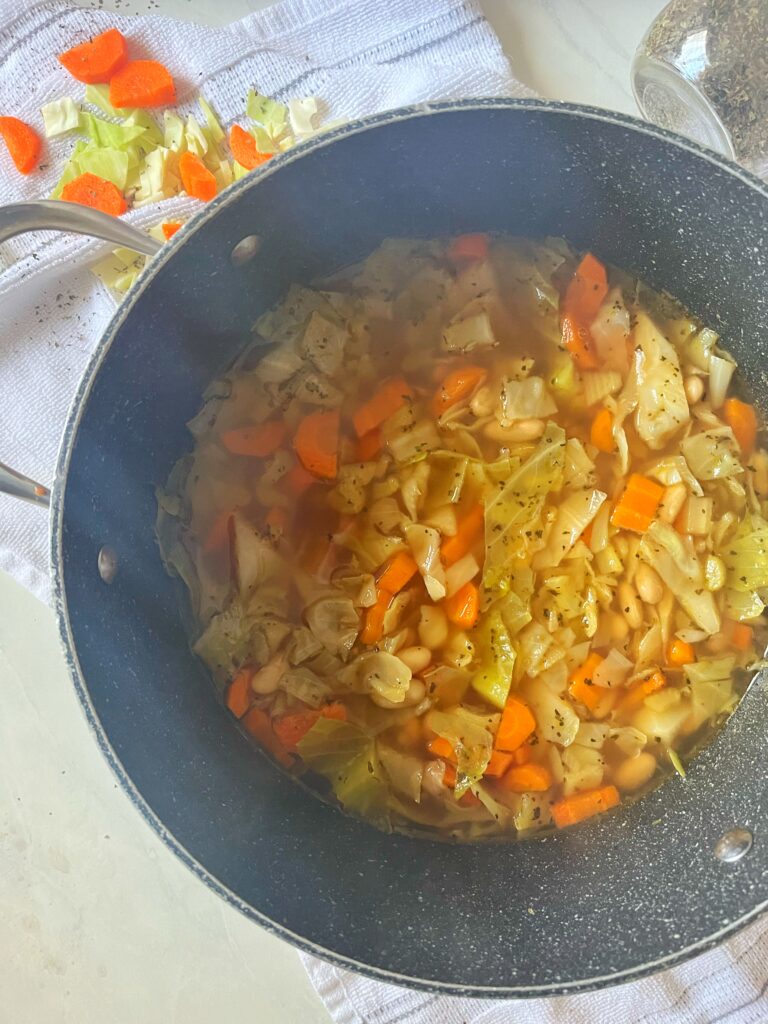 White Kidney Beans are a great source of protein, fibre, folate, iron, potassium and vitamin K. They are also rich in isoflavones which are a class of antioxidants, and a variety of bioactive plant compounds.
White Kidney Beans are a great way to start adding in more plant-based protein sources, you can sub your chicken recipes for them like in this soup. However, if you do not like white kidney beans feel free to add in a can of chickpeas instead or you can always add cooked, cubed chicken. Make this recipe work for you and your family.
This Recipe is:
plant-based (vegan)
gluten-free
dairy-free
nut free
supports gut health and your bodies immune system
nourishing and delicious
White Bean & Cabbage Soup
Makes: 4-6 servings
Prep Time: 10 minutes
Cook Time: 20 minutes
Ingredients
1 tablespoon olive oil
2 gloves garlic, minced
1/2 yellow onion, minced
2 stalks celery, diced
2 medium carrots, peeled and diced
3-4 cups chopped green cabbage
6 cups vegetable broth
1 (16oz.) can white kidney beans
2 tablespoons white wine vinegar
1 tablespoon tamari (soy sauce or coconut aminos)
1 teaspoon ground thyme
1 teaspoon parsley
Directions
In a large pot over medium heat add oil. Once the oil is warm add minced garlic and onion and sauté for 1-2 minutes. Place chopped cabbage, carrots and celery in pot and cook for 3-5 minutes stirring frequently.
Place broth, white wine vinegar, tamari, thyme, and parsley in pot.
Drain and rinse white kidney beans and add to the soup, bring to a boil then simmer on low until vegetables are fork tender around 15 minutes.
Modifications
If you are not a fan of thyme or do not have it you can omit it but highly recommend it because it adds a lot of flavour.
If you make this recipe I would love to hear what you think in the comments below or if you make it be sure to share your food pics and tag @pam_rocca over on Instagram.
If you know someone who would love this recipe I would so appreciate you sharing it with them.
Happy Cooking,