My kids love desserts, snacks, cookies and especially brownies. I played around with this recipe so much so that I could create a nice balance between a healthy brownie but also one that my kids would actually eat. I previously shared this recipe on Instagram and it was a huge hit so I wanted to share it here too. Now you can keep coming back and enjoying this nourishing dessert. Enjoy!
I love using oat flour or almond flour as a healthier flour alternative that still provides the body more nutrients. Almond flour can be made by grinding almond in your food processor. You don't need to buy it as a flour, you can absolutely make it but if you prefer to skip this step of grinding your almonds, then you can buy it already done for you with brands like Bob's Red Mill Almond Flour. Almond flour adds protein, healthy fats, fibre, it's gluten-free, it also contains antioxidants, vitamins and minerals like manganese and magnesium. Did you know magnesium is one of the nutrients most people are deficient in? It is responsible for over 300 chemical reactions in the body. Often when people have cravings for chocolate they are often craving magnesium. Love it when you can satisfy cravings with desserts that still provide the body nutrients.
Oat flour can be made the same way as almond flour simply blend your favourite gluten-free oats. Oat flour contains protein, fibre, it's lower in fat, and provides calcium, iron, potassium, B1 (Thiamine) and B2 (Riboflavin). Both flours provide more nutrition than typical white flour.
This recipe uses apple sauce over heavy oils to reduce calories but also to add in more nutrition. Apple sauce works great as a substitute for oils in baking and keeps recipes moist and flavourful.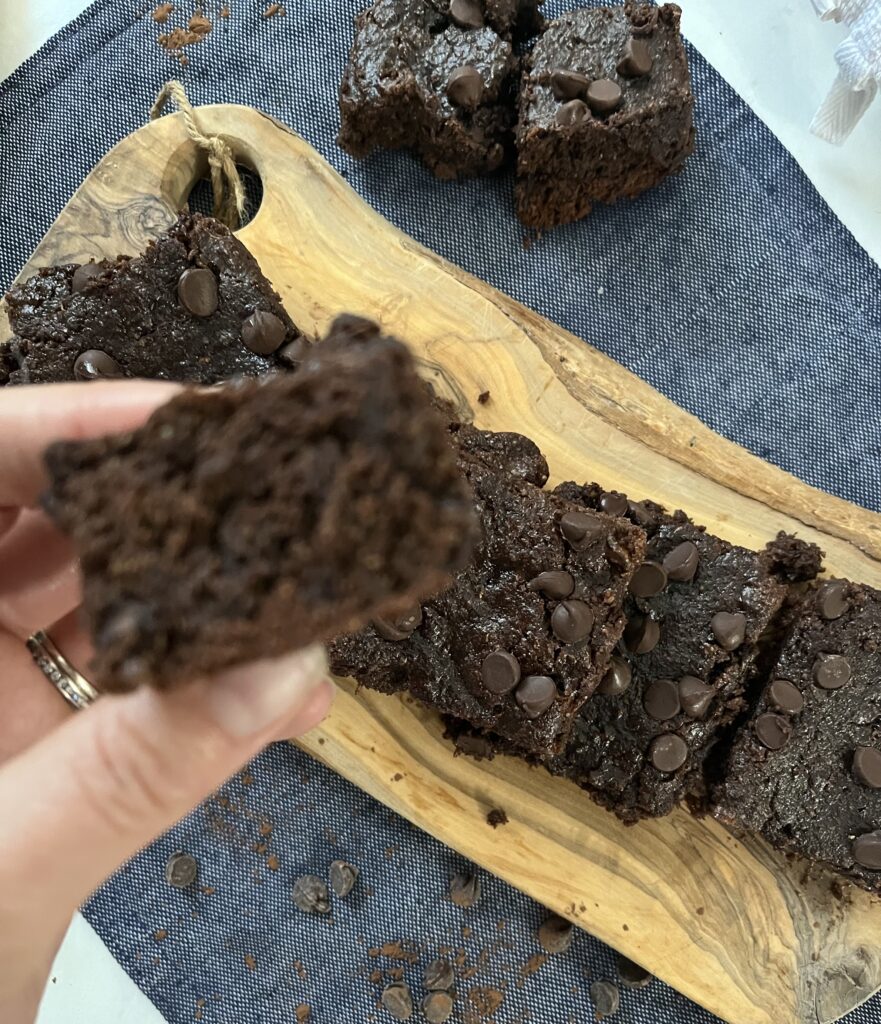 Add this to your meal prep on Sunday for a healthy snack for the family during the week.
If you are not able to do peanut butter you can substitute for almond butter or any nut or seed butters. Our favourite combination is with peanut or almond butter but sunflower seed butter would be the next choice.
See the recipe note below where you can turn this recipe into Healthy Zucchini Brownies to sneak some extra nutrition into your kids favourite dessert.
This Recipe is:
Plant-based
Dairy-free
Gluten-Free
Loaded with Fibre
Delicious
Healthy Fudge Brownies
Makes: 12 brownies
Prep Time: 5-10 minutes
Cook Time: 35-40 minutes
Ingredients
1 cup oat flour (or almond flour)
1/4 cup cacao powder
1/3 cup peanut butter
1/3 cup unsweetened apple sauce
1/2 cup coconut sugar (or brown sugar)
2 eggs
1 teaspoon baking powder
1/2 cup zucchini (peeled and grated in the smallest setting) *optional
1/2 cup chocolate chips or walnuts *optional
Directions
Preheat oven to 350 degrees F and line 8 x 8 inch glass dish with parchment paper. Set aside.
In a large bowl add oat flour, cacao powder, coconut sugar, peanut butter, apple sauce, eggs, and baking powder. Stir to mix well.
If you are going to add the zucchini make sure you peel the outside, and grate in the smallest setting. You can add up to 1 cup, I find 1/2 cup works well but it also works without it at all. My kids prefer this recipe without the zucchini, I like it better with it so do what works for your family.You can add the chocolate chips or walnuts in the batter or on top of the brownies once the batter is poured into the prepared, lined dish.
Bake for 35-40 minutes until cooked through. Let sit 10 minutes before cutting. They will look gooey and fudge like, this is normal and makes them so delicious.
Store in air-tight glass container for up to 5 days for ultimate freshness.
If you make this recipe I would love to hear what you think in the comments below, or be sure to tag me in your pics or DM over on the socials @pam_rocca.
As always sharing is caring, if you know someone who would love this recipe I would so appreciate you sharing it with them.
With love,