Who doesn't love a good Chili in the colder Canadian months? I love this plant-based version it adds a little sweetness with sweet potatoes and fun chipotle spice. The great thing about Chili is that it is a one pot meal that is quick and easy to whip up so it can be made on a night when you don't have much time to make dinner. You can also slow cook everything in your crockpot for the perfect warm Winter meal.
Sweet potatoes are an excellent source of beta-cartone, which your body converts to vitamin A, 100 grams gives you your daily amount. Root vegetables like sweet potatoes are also very grounding for this time of year. They are also high in vitamin C, vitamin E and potassium. Did you know that a deficiency in vitamin A can affect eye function and suppress your immune system? Other food sources of Vitamin A: eggs, leafy green vegetables, orange and yellow vegetables (like sweet potatoes and winter squash), mango, red grapefruit, papaya, salmon and fish oils.
Red peppers are loaded with vitamin C, this helps to support your bodies immune system. Red peppers are also a great source of vitamin A, fibre and antioxidants. During cold and flu season I love to serve our family foods that naturally boost and support immune function.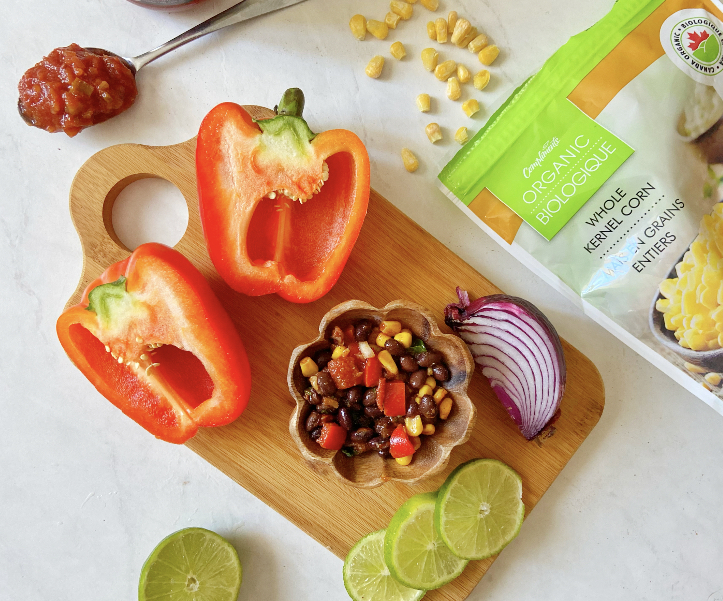 Meal prep this dish this Sunday for a week of healthy lunches or serve it up as a plant-based dinner for the family. This dish is also freezer friendly so you can freeze and enjoy later.
There are so many beans in here that it gives this dish a really "meaty" or hearty texture without actually having meat. You can absolutely customize this dish to work for you, if you want to add some meat you absolutely can, but I promise it's so satisfying as it is. If you are new to meatless meals this would be one of the first I would recommend you try. The beans add a lot of protein so you can ensure you are getting all 3 macronutrients in this yummy plant-based meal.
If you don't enjoy spicy foods you can omit the chipotle seasoning and half the chili powder and cumin.
This Recipe is:
Vegan/Plant-based
Dairy-free
Gluten-Free
Loaded with Fibre
Delicious
Chipotle Sweet Potato Chili
Makes: 4-6 servings
Prep Time: 10 minutes
Cook Time: 20-30 minutes
Ingredients
1 tablespoons avocado oil (or your favourite cooking oil)
1/2 yellow onion, diced
2-3 cloves garlic, minced
1 red bell pepper, diced
1 large sweet potato, chopped
2 cups cooked black beans (1 16oz. can)
2 cup cooked 6-bean mix (1 16 oz. can)
1 cup fresh or frozen corn
2 cups vegetable broth
1 teaspoon chipotle chili spice
2 tablespoon ground cumin
1 teaspoon chili powder
1/2 teaspoon garlic powder
1/2 teaspoon onion powder
dash of salt and pepper
Directions
1. Heat oil in large frying pan over medium heat. Add onion, garlic, bell pepper, and diced sweet potato. Saute for 5 minutes.
2. Add in remaining ingredients (broth, beans, corn and spices) and mix well. Bring to a simmer for 20-30 minutes or longer until sweet potatoes are fork tender.
3. Top with fresh cilantro, diced green onions and vegan sour cream or diced avocado.
Recipe note:
I have turned this Chili into a Chipotle Sweet Potato Soup by add 2-4 more cups of broth, you can also cook out the extra liquid in the original recipe and this Chili becomes thick enough to stuff wraps and bake for enchilada's.
If you make this recipe I would love to hear what you think in the comments below, or be sure to tag me in your pics or DM over on the socials @pam_rocca.
As always sharing is caring, if you know someone who would love this recipe I would so appreciate you sharing it with them.
With love,