It's back to school season and while most moms are counting down the minutes for their kids to head back I a bit sad to see them go. We had such an amazing summer together it's hard to see it wrap up so quickly. However, we are all excited for the routine and structure that September brings.
Over the summer the kids and I tried out a LOT of healthy lunch recipes and snack options to ensure the school year got started on the right foot. I honestly get so stressed out going down the isles in stores promoting "back to school" snacks that are loaded with sugar and crap. Like seriously? how do companies think this is ok? How the heck are kids support to sit and learn when we pump them full of that garbage….the answer is they can't. With 3 growing, picky eating kids I have made it my mission to get a good handle on packing healthy school lunches, I want to share all of my successes with you, because Mom life is hard enough if I can help simplify lunches for you, that makes me really happy.
This week I will be posting a different healthy school safe lunch or snack recipe for you to try out and make with your kids. Seriously get them involved, they love to help out and from my experience when kids help make the food they are more inclined to try out and enjoy eating the food.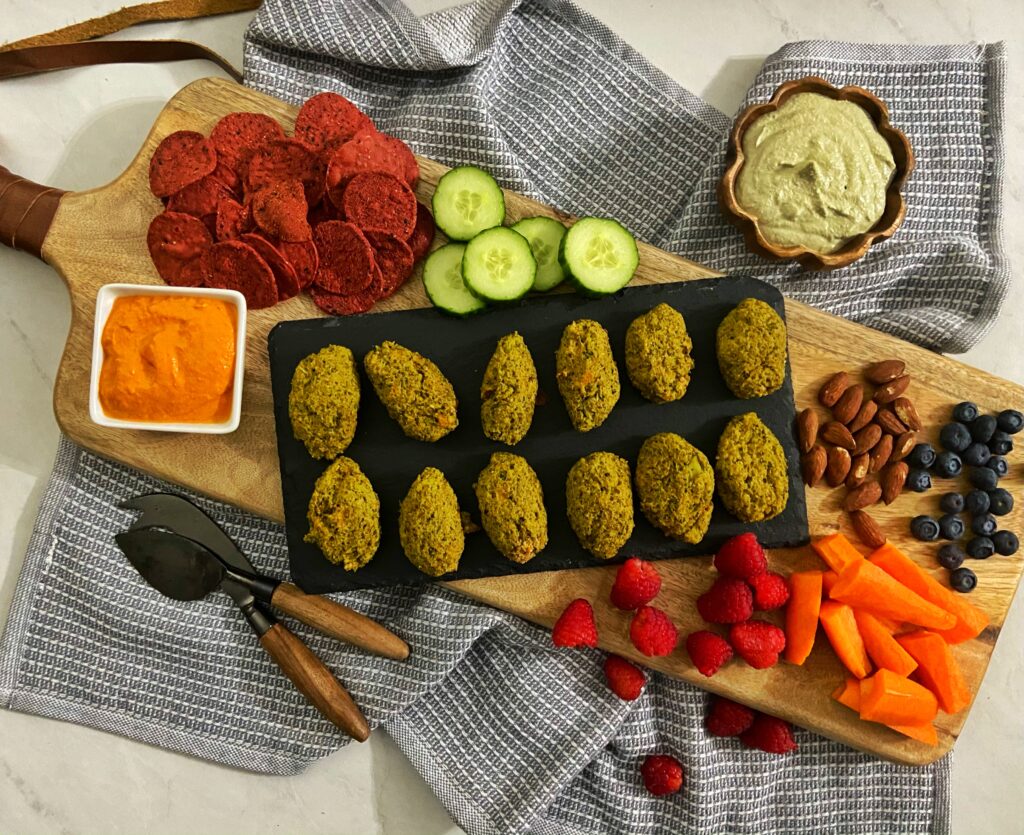 So here we go, first recipe for you to whip up is my Broccoli & Cheddar Bites. I just recently made this in a kids cooking class workshop at the YMCA with 10 children and 9/10 loved them and said they would have them in their lunches. So mom, if you are thinking your broccoli hating child won't eat these you will never know until you try. Add it into a fun food board for a delicious, simple and nutritious lunch.
Broccoli Cheddar Bites
Makes: 22-24 bites
Prep Time: 10-15 minutes
Cook Time: 25-30 minutes
Ingredients
1 large head of broccoli (approx. 6 cups)
1 egg
1 ½ cups shredded old cheddar cheese (can sub for Daiya vegan cheese)
¾ cup breadcrumbs
½ teaspoon onion powder
1 tsp salt
½ tsp pepper
Instructions
1.     Bring pot of water to boil, add 1 tsp salt. Add chopped broccoli and cook for 1-2 minutes. Remove and drain, place broccoli and green onions in food processor until finely chopped then transfer to large bowl.
2.     Add egg, cheddar cheese, breadcrumbs, ½ tsp salt and pepper.
3.     Preheat oven to 400F, line cookie sheet with parchment paper.
4.     With cookie scoop, scoop and shape into tots. Repeat with remaining mixture and place on prepared cookie sheet.
5.     Bake until golden brown 25-30 minutes.
Dip in salsa, ranch, marinara sauce or your favourite dip or enjoy as is.
If you make this recipe I would love to hear what you think in the comments below or be sure to tag me in your pics over on Instagram @pam_rocca.
As always sharing is caring, if you know someone who would love this recipe I would so appreciate you sharing it with them.
Happy Meal Prep Sunday,