Long weekends for our family are spent making memories at the cottage and enjoying time on the water. It also means lot of great food. We still love to stick to our healthy lifestyles while at the cottage so we take the time to pre-plan healthy meals, snacks and apps so that when hunger kicks in we have something healthy already prepared.
One of the simplest snacks on long weekends is fresh local produce like Ontario peaches, cherry tomatoes, garden cucumbers, watermelon, strawberries all the berries really and grapes. A lot of fruits and vegetables contain water so they also hydrate while you eat.
Our family loves this delicious cracker recipe for a healthy appetizer or snack. By making our own homemade crackers we can ensure we know exactly what is in them, no surprise ingredients here but mostly we can ensure they are packed with nutrients. Every single seed packs a big nutritional punch and by varying so many seeds, you get a wide variety of different nutrients.
This recipe is called super seed crackers because every single seed provides the body with essential nutrients. Pumpkin seeds are a rich source of iron, sesame seeds are an excellent source of calcium, flax, hemp and chia are all great sources of protein, fibre and healthy omega 3 fatty acids; this combination will keep you fuller longer and which can prevent overeating. This recipe works because chia absorbs liquid easily and works to bind the crackers.
This recipe is:
Gluten-free
Dairy-free
Kid approved
Vegan
Packed with good fat and proteins
If you don't have a lot of seeds in your home it might seem expensive to pick up all of these ingredients. Our family began building a solid pantry by adding a few new items each shop. You can also buy in bulk at stores like Costco or Whole Food Stores, this will save you money long term and with a full pantry you can always easily whip up healthy snacks like the recipe below.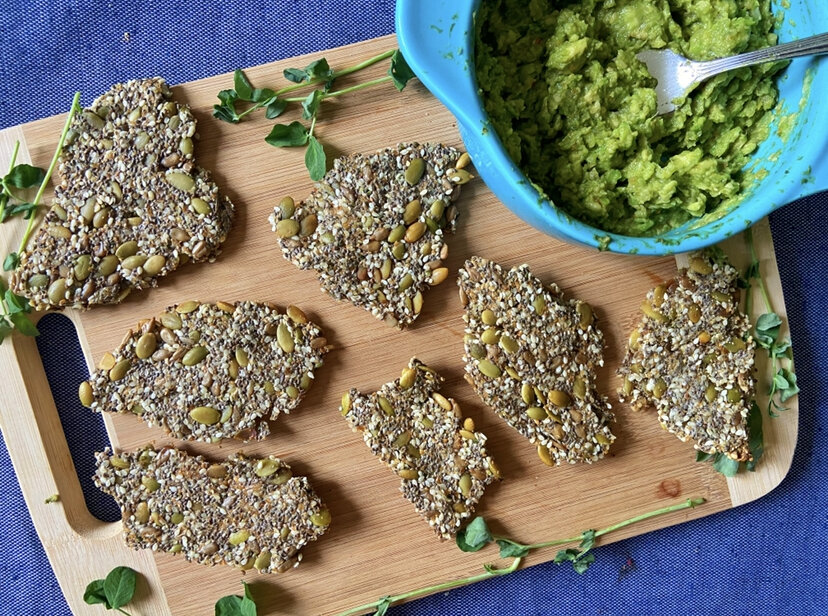 Superseed Crackers
Makes: 6-12 servings
Prep Time: 10 minutes
Cook Time: 35 minutes, flip 20 minutes
Ingredients
1 cup water
½ cup chia seeds
½ cup pumpkin seeds
¼ cup ground flaxseeds
¼ cup shelled hemp seeds
¼ cup sesame seeds
¼ cup sunflower seeds
2 cloves garlic, finely minced (or 1/4 -1/2 teaspoon garlic powder)
¼ teaspoon salt or favorite seasonings
Directions
1.     Preheat oven 375° F. Line baking tray with parchment paper and set aside.
2.     In a large bowl add chia seeds, pumpkin seeds, ground flaxseeds, shelled hemp seeds, sesame seeds, minced garlic or garlic power. and water. Stir to mix well and let sit for 5-10 minutes until all liquid is absorbed.
3. Stir mixture again, and place the seed mix on the prepared baking sheet, spreading it evenly with a spatula to cover the entire tray (avoid having thick and thin sections).
4. Bake for 35 minutes, flip the sheet of crackers (use two spatulas, if easier) and bake for another 15-20 more minutes, until seeds are golden.
5. Let cool and cut into squares to serve. If you are not eating right away once cool store in air-tight container on counter or in fridge for up to 5-6 days. Reheat in oven to crisp up if they become softer during the week. These crackers are freezer friendly, freeze in container up to one month. Thaw and reheat in oven to crisp crackers.
6. Top with hummus, guacamole or roasted red pepper dip.
Recipe note – these crackers are naturally gluten and dairy-free. If you are missing a seed simply add a little more of another seed on the list.
This weekend we are serving up these crackers with homemade guacamole and topping with pea shoots to make them look fancy and add even more nutrients. They also pair great with hummus and roasted chickpeas, or roasted red pepper dip and chopped jalapeno's for a little extra kick.
A few other easy, healthy app ideas include: Broccoli & Cheddar Bites, Roasted Chickpeas, Kitchen Sink Hummus Dip with Veggies, Cauliflower Wings, Stuffed Mushrooms, Fruit Kabobs, Roasted Veggie Skewers, Zucchini Fries or Chips, and Healthy 6 Layer Bean Dip.
Wishing your and your family the most wonderful long weekend, if you try this recipe let me know what you think in the comments below. If you know a friend who would enjoy this recipe, I would be delighted if you would share it with them.
Happy Long Weekend,