Is there anything better than the smell of fresh baked cookies in your home? I didn't think so, the best part is these cookies are healthy, and kid approved. You guys loved the Breakfast Cookie Recipe so much I wanted to create a fun new variation. Insert raisins and walnuts and voila you have a new fun snack or breakfast cookie.
You can meal prep these cookies on Sunday so you have easy snacks on hand for the kids, yourself or the husband. I double up because they go fast with 5 people at home. Snack prep is key in this house or I find my kids will cry out "there's no food" or "I am starving". By having grab and go snacks on the counter or at eye level in the fridge it saves me so much time and agony. Check out other blog posts for easy energy balls and snack ideas. Here is the original breakfast cookie recipe that has been a huge hit with this community: https://pamrocca.com/?s=breakfast+cookie
I have a yummy Carrot Cookie Recipe over on Instagram and will be sure to include it in the blogs soon. If you can't wait for it (or find it on Instagram) feel free to add 1 large carrot shredded to this recipe. Baking can be so serious, I like to create recipes that you can have fun with and add your own spin on. My motto has always been that "cooking and baking CAN and should be FUN and Delicious".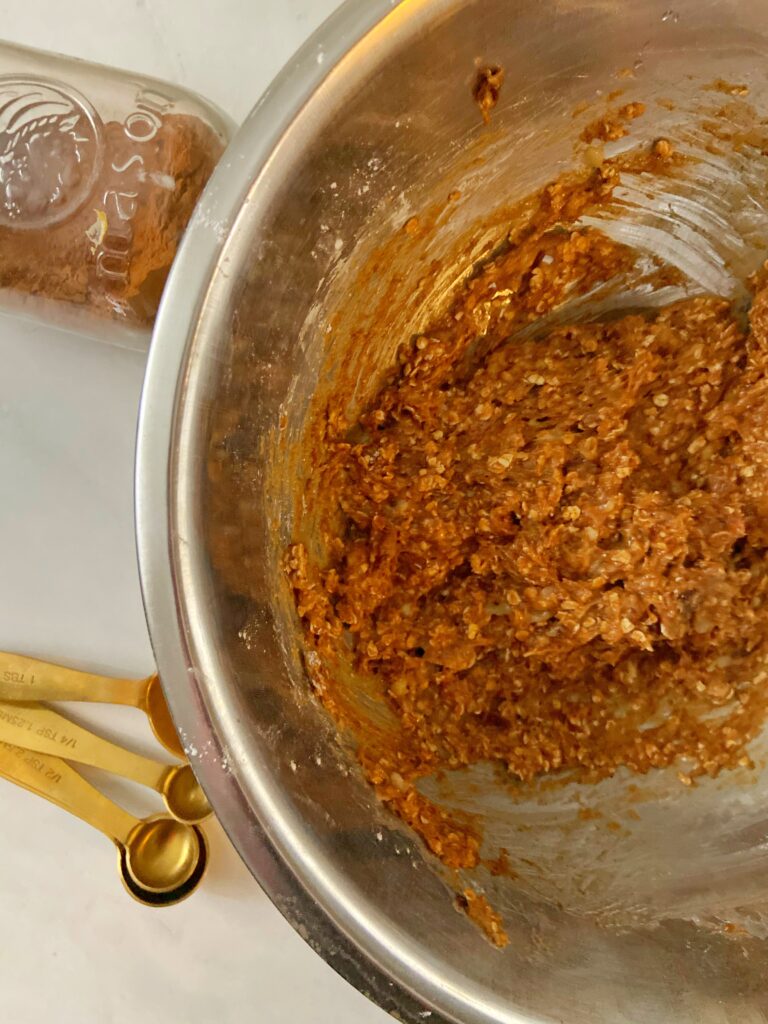 This Easy Oatmeal Raisin Breakfast Cookie checks all the boxes but most importantly it tastes absolutely fantastic! The cinnamon in this recipe will also leave your house smelling amazing.
Walnuts are a great source of omega 3 fatty acids which are great for reducing inflammation, improving brain function, thyroid function, and gut and immune system function. Enjoy them in this easy cookie recipe and as a snack on their own. Our family has a pantry filled with large glass jars filled with nuts and seeds purchased in bulk to save money, and have easy healthy snacks on hand.
This recipe is:
gluten-free
dairy-free
make it vegan by using a flax egg (3 tablespoons ground flaxseed mixed with 1/3 cup water let sit for 10 minutes until thick and egg like consistency)
kid and husband approved
easy and delicious
What are you waiting for let's dive into the recipe. Enjoy!
Oatmeal Raisin Walnut Breakfast Cookies
Makes: 12 cookies
Prep Time: 5 minutes
Cook Time: 25 minutes
Ingredients
1 cup gluten-free oats
1/4 cup tapioca flour (or gluten-free flour – almond flour)
1/4 cup ground flaxseed
1/3 cup raisins
1/3 cup walnuts
1/2 cup peanut butter
1/4 cup pure maple syrup
1 banana, mashed
1 egg
1 tablespoon cinnamon
1/2 teaspoon baking soda
Directions
Preheat oven to 350 degrees F and line baking tray with parchment paper.
In a large bowl add banana and mash, add in remaining ingredients and stir until well combined.
Spoon batter onto prepared cookie sheet and bake for 25 minutes until golden brown and cooked through.
Recipe note – If you want to make this nut-free omit the walnuts and add your favourite seeds and sub peanut butter for any seed butter. Option to replace raisins or chopped dates or any dried fruit.
If you make this recipe I would love to hear what you think in the comments below. If you make this recipe share your pics over on the socials @pam_rocca.com. I love seeing what you guys are making and enjoying.
If you would like to enjoy more recipes like this you might want to check out my first Cookbook that is loaded with healthy Plant-Based recipes that taste amazing. https://pamrocca.com/product/prep-with-pam-plant-based-foods-that-taste-like-love/
As always sharing is caring, if you know someone who would love this recipe I would so appreciate you sharing it with them.
Happy Snacking,