I recently released my first published Cookbook a Sugar Detox in 10 days, I am really passionate about this book because I work with so many women who struggle with chocolate and sugar cravings. As a health coach they confide that being addicted to sweets is a real struggle. So of course I love to share fun, healthy desserts that satisfy that craving with ingredients that still provide the body nourishment.
Sugar is hidden in so many foods and beverages, and it can be hard to recognized just how much we are consuming on a daily basis. Sugar is also addictive meaning the more we have it, the more we crave it again and again. More on that in a different post, but this is one of the big reasons why our family enjoys making our own snacks this way we know exactly what is in our food.
One of the best ways to reduce your sugar in take is to replace the old habit with a new improved habit that's when things begin to change. Think about your favourite sugar craving, how can you replace it with a healthier alternative? One of our favourite recipes from the new book is a creamy chocolate protein popsicle. It is satisfying, sweet and simple to make. The whole family loves them and they provide your body nutrients like protein, healthy fats and carbs vs a store bought ice cream which might taste great but is nutritionally dead. Meaning, it's providing your body with calories but hardly any essential nutrients that your body needs to thrive.
Don't get me wrong we have treats and sweets we just try to make our own homemade versions as much as possible. The kids love to bake, create and make tons of desserts especially during quarantine. As a mom my goal is to keep them inspired to create recipes that are healthy for their growing bodies….but are still delicious and fun to eat.
In my first cookbook there is a Chickpea Cookie recipe that the kids are obsessed with, I got to thinking what if I added chocolate? And then I started thinking this could be a great fruit dip….chocolate and fruit….
So the kids and I went into exploration mode and created this new healthy chocolate dip made with chickpeas, peanut butter, chocolate protein powder, pure maple syrup and water. It was so easy to make and it didn't last long, they LOVED it! So of course had to share this simple recipe with all of you!
Interested in the Chickpea Cookie Recipe you can grab it in my first cookbook: https://pamrocca.com/shop
Healthy Chocolate Fruit Dip
Prep Time: 10 minutes
Ingredients
1 (16oz) can chickpeas, drained and rinsed
1/2 cup chocolate protein powder
1/4 cup + 1 tablespoon peanut or almond butter
2 tablespoons pure maple syrup
2-4 tablespoons water (start with 2 and slowly add until desired consistency)
Directions
Place all ingredients into a large food processor and blend on high until smooth consistency.

Use as a dip with your favourite fruits like strawberries, apple slices or bananas. Also great in wraps, with pretzels, on toast or sweet potato toast. The options are endless you guys! Get creative. Option to top with fun fixings too like: shelled hemp seeds, pumpkin seeds, coconut flakes, or gogi berries.

Store extra dip in jar or air-tight container in fridge for 5-7 days.

Modifications

You can substitute chocolate protein powder for cacao powder if you don't want to use protein powder.

If you wanted to go more refined sugar free you could sweeten with dates and a little more water in place of maple syrup.

If you want to darken the colour add a tablespoon of cacao powder.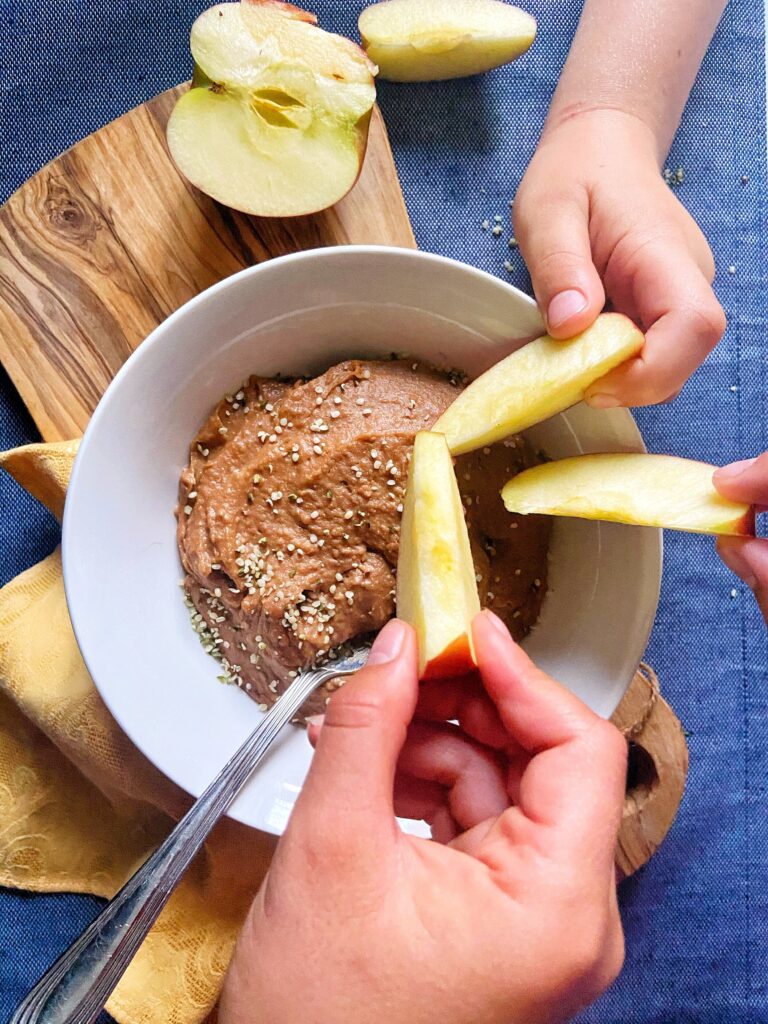 If you try this recipe let me know what you think in the comments below or share over on the gram @pam_rocca.
If you are interested in more low sugar recipes check out my new Cookbook: https://www.amazon.ca/gp/product/1646117522?pf_rd_r=9P1NA0V2WZ3FTF3W2DMK&pf_rd_p=05326fd5-c43e-4948-99b1-a65b129fdd73 It has 4 customizable meal plan including shopping list and over 100 fun recipes including low sugar desserts that you can enjoy. This book is the perfect tool to help you make empowered food choices to fuel your life.
Happy Snacking,