If you have been following me for a little while you know our family LOVES energy balls. They are the perfect on-the-go snack that can give your body the nutrients it needs to thrive. This Chocolate Brownie Energy ball recipe is a huge hit because it also feels a little like a dessert.
This recipe works because it's contains oats for healthy carbs, which eventually breaks down into glucose which is the bodies primary fuel source. Oats are also a really great source of heart-healthy soluble fibre. This Chocolate Brownie Ball Recipe also contains protein and fat which help to keep you fuller longer. Cacao powder is a great source of magnesium and helps to add that chocolatey taste and look. Each ingredient in this recipe is selected to provide nutrients to the body so you can keep up with life's adventures.
I love to meal prep protein or energy balls when I am already making dinner, if you are already in the kitchen anyway it helps to be efficient so you don't need to spend hours meal prepping on Sunday's. This recipe is simple enough that you can get the kiddos involved too, when they are invested in making snacks they are more inclined to eat them. With a name like Chocolate Brownie balls you won't have to convince them to try this recipe out.
A lot of energy ball recipes freeze well so double or triple up a batch for a lot of tasty treats, snacks or satisfy a sweet tooth when the craving hits.
In this recipe I used dates to naturally sweeten the balls along with honey. If you wanted a lower sugar ball you can omit the dates and replace honey for apple butter. If you want more low sugar recipe ideas check out my Sugar Detox in 10 days Cookbook: https://pamrocca.com/product/sugar-detox-in-10-days/
If you want a sweet brownie ball but don't have or like dates you can sub for chocolate chips or cacao nibs. This recipe also works well with chopped nuts or seeds, as always make this recipe work for you and your family.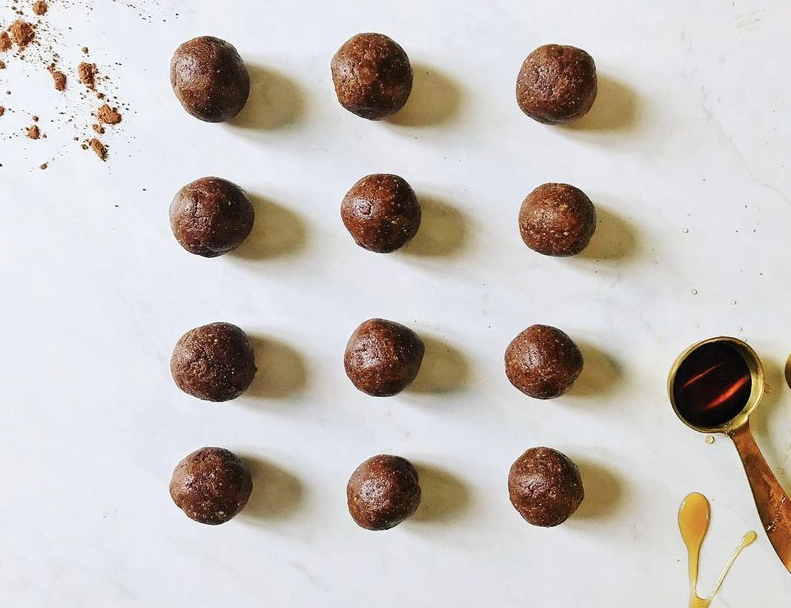 There are a lot of other energy and protein ball recipes on my website simply search up energy or protein ball in the search bar and see what recipe speaks to you. A huge crowd favourite from the first Cookbook was my Lemon Ball Recipe, often called Lemon Cake Pops. Another blog and retreat favourite is the Strawberry Balls, along with the Chocolate Peanut Butter Balls, Turtle Pecan Balls and Orange Cranberry Balls.
This Recipe is:
plant-based
dairy-free
gluten-free (if you use gluten free oats)
make it nut-free by using Sun Butter or Sunflower seed butter
kid and husband approved
so yummy
Why not try it out today!
Chocolate Brownie Energy Balls
Makes: 12-14 balls
Prep Time: 5-10 minutes
Ingredients
1 cup rolled oats
1/4 cup chocolate protein powder
1 tablespoon ground flaxseed (can substitute for hemp hearts)
2 tablespoons chopped dates (can sub for chocolate chips or cacao nibs)
1-2 tablespoons cacao powder
2 tablespoons cacao powder
1/2 cup all natural peanut or almond butter (make nut-free by using sunflower seed butter)
1/4 cup honey
Directions
In a large bowl add oats, chocolate protein powder, ground flaxseeds, chopped dates, cacao powder, coconut flakes, peanut butter and honey.
Mix well with hands and roll into balls.
Store in air-tight container or glass jar (for easy viewing) in fridge.
Recipe note – you can also use oat flour or almond flour to replace oats if you want a smoother energy ball.
If you make this recipe I would love to hear what you think in the comments below or be sure to tag me with your pictures over on the socials @pam_rocca. I love seeing what you are making and enjoying.
As always sharing is caring, if you know someone who would love this recipe I would so appreciate you sharing it with them.
With love and light,