This delicious summer salad is loaded with flavour and nutrients. It makes for the perfect easy lunch or make a large salad to bring to your next BBQ or picnic. It is sure to be a crowd pleaser with all the fresh ingredients.
I love to create fun new salad recipes to keep things exciting in the kitchen, I will often take an old recipe and put a new fresh spin on it. This recipe is a variation from my Beet, Walnut & Goat Cheese salad in my Sugar Detox in 10 Days Cookbook. I decided to change the grapefruit for peaches, walnuts for cashews. goat cheese for feta and added in some red onion for a pop of flavour. See notes below on how to make this dish nut-free if you have allergies, or dairy-free. You could also add in more protein by adding cooked quinoa, chickpeas or cubed chicken. The idea is to take the healthy eating inspo and make this recipe work for you.
Why Peaches?
In addition to being so juicy, flavourful and downright delicious they offer a lot of nutrients and health benefits. Peach fibre (the skin) helps manage blood sugar levels, helps speed up transit time (prevents constipation) and supports digestive health. Peaches contain vitamin C, A, anti-inflammatory anti-oxidants and potassium. The real reason I love to add them in is because they add sweetness to this savoury dish. Salad's don't have to be boring anymore, find fresh ways to add pops of flavour with natural real food ingredients.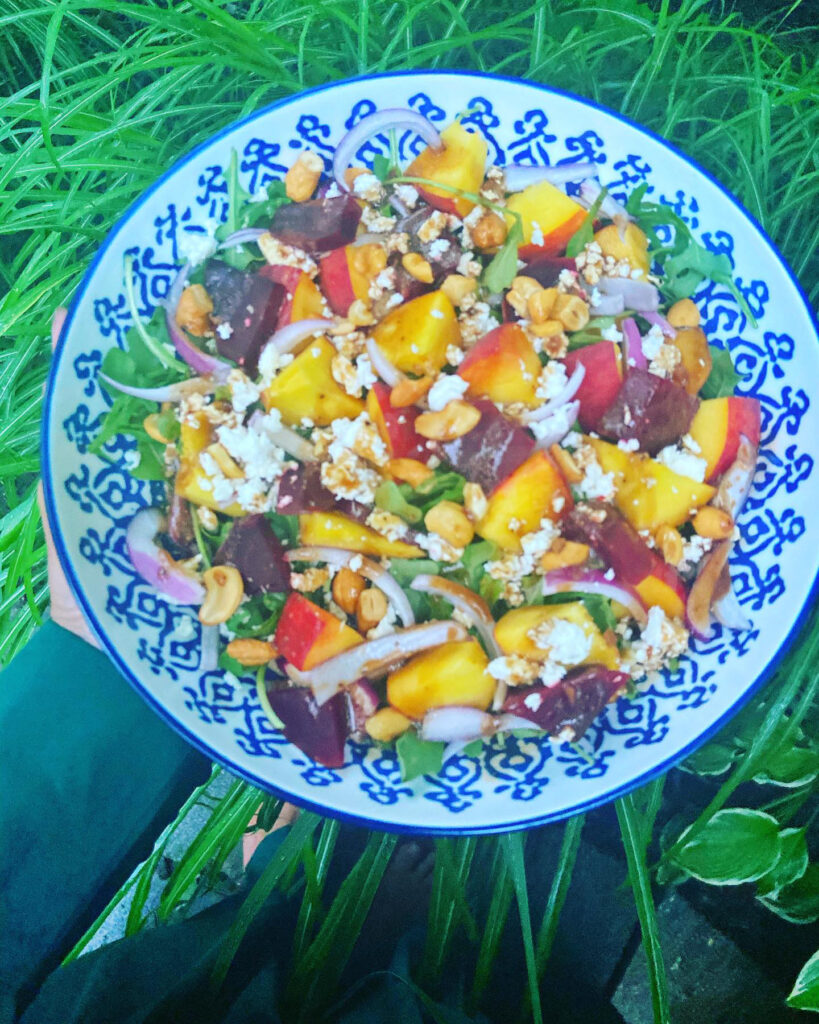 This Easy Peach Beet & Cashew Salad checks all the boxes but most importantly it smells and tastes absolutely fantastic!
Why Beets?
If you have been following me for awhile you know I love beets they are nutritious and they add such a fun colour to any dish making it visually appealing. They are an amazing root veggie loaded with immune-boosting vitamin C, Fibre, Folate, manganese and potassium. Beets are also rich in anti-oxidants, which help the body fight off free radicals. They are also a super-food as they help with stage 2 liver detoxification.
This recipe calls for boiled beets you can buy beets pre-cooked or you can bake or boil them ahead of time. I boiled a bag of beets, by peeling and slicing them then placing the beets in a pot and covering with water. Boil on high for 40 minutes until fork tender or cooked through.
Cashews were added to this recipe for a simple plant-based protein source. They are low in sugar and rich in fibre and healthy fats. They also contain calcium, iron, magnesium, phosphorus and potassium. Even if you don't care about nutrients cashews are amazing because they have a sweet flavour that pairs really well with the other ingredients in this salad.
This recipe is:
vegan/plant-based
gluten-free
make it dairy-free by substituting feta cheese for dairy free Nuts for Cheese Brie
make it nut-free by substituting cashews for pumpkin seeds
Let's dig in to see how you can easily whip up this fresh, real whole food salad!
Peach Beet & Cashew Salad
Makes: 1 large serving
Prep Time: 10 minutes
Ingredients
2 cups arugula (or mixed greens)
1 ripe peach, diced
1 cooked beet, sliced
1/8 cup red onion, sliced
2 ounces of feta cheese, crumbled
2 tablespoons raw unsalted cashews, chopped
2 tablespoons balsamic dressing
Directions
In a medium sized bowl add arugula, diced peach, beet and onion slices, crumbled feta cheese, and chopped cashews.
Drizzle balsamic dressing to over salad and enjoy.
Summer is a busy time for a lot of people one of the best ways to ensure you are sticking with your healthy eating goals is to be organized and have fresh food prepared. As a gift I wanted to share a Free 7 Day Meal Prep Lunch Menu so you can easily enjoy a delicious lunch even when your day is jam packed or you find yourself on the run.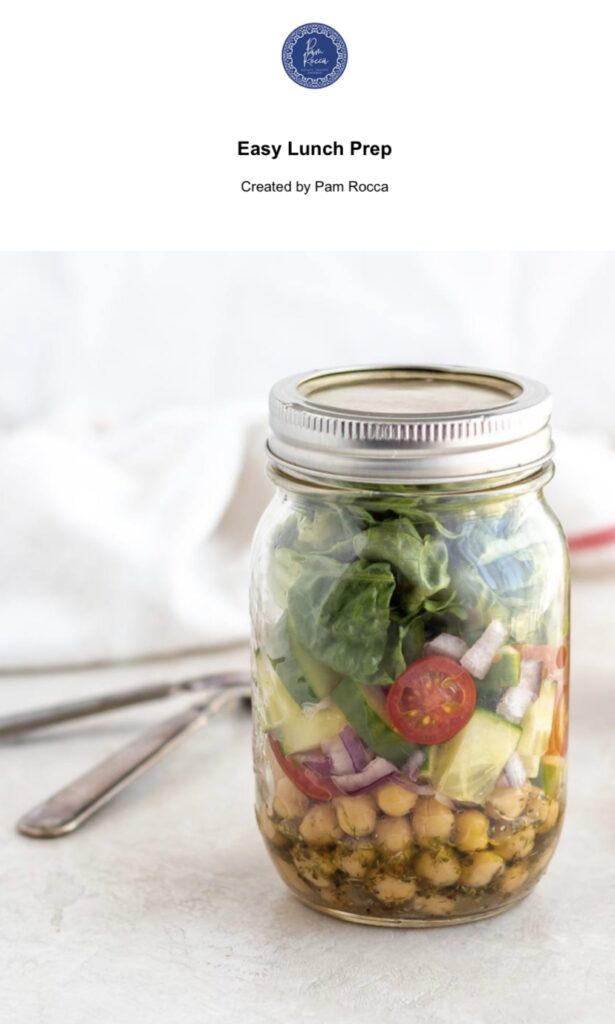 If you make this recipe or any of the lunches posted I would love to hear what you think in the comments below. If you make this recipe be sure to tag me in your pictures over on the social's @pam_rocca.
As always sharing is caring, if you know someone who would love this recipe or free recipe guide I would so appreciate you sharing it with them.
Happy Meal Prep Sunday,