This Vegan Mushroom Stroganoff is a family fave that again is really versatile. If you don't do mushrooms you can easily substitute for your favourite protein source. If you have an allergy to nuts you can omit cashews and substitute with cream. We try to avoid dairy so we love it with cashews as it makes a creamy delicious dairy-free cream sauce.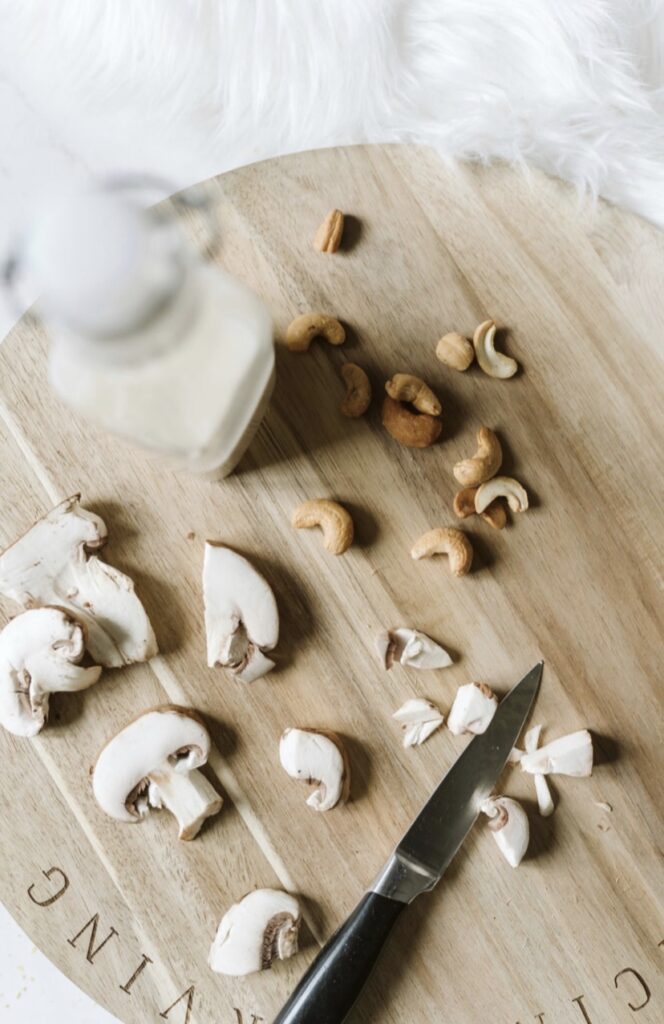 One of my favourite things about this recipe is that it feels and tastes like comfort food and it can whipped up in under 20 minutes. As a mom of 3, you will notice a trend of quick and easy meal ideas because I get it. Time can be a huge factor when it comes to healthy eating, I am here to make it easy, delicious and remove time as an excuse for getting a good meal on the table.
If you are new to plant-based or vegan cooking you might be wondering what nutritional yeast is, I get that question a lot so I wanted to share our favourite brand. We love Bob's Red Mills Nutritional Yeast you can pick up in most grocery stores or you can order on Amazon see link below.
Nutritional yeast is amazing to add into your diet if you are vegan because it is a great source of vitamin B12. Typically this vitamin comes from animal based sources, meaning that you can become deficient overtime on a plant-based diet if you are not mindful of it. It also makes recipes so delicious and cheesy so have fun using it in casseroles, dairy-free cream sauces, cheese sauce with potatoes and carrots, or sprinkle on your salads or soups for more nutrients. One quarter cup of nutritional yeast also provides 8 gram of protein, 3 grams of fibre, and lots of vitamin B1, B2, B3, B6 and folate.
If you want more nutritious, delicious recipes like this check out my Plant-Based Cookbook below.
Mushroom Stroganoff
Makes: 4-5 servings
Prep Time: 30 minutes
Cook Time: 10 minutes
Ingredients
1 1/2 cups soaked cashews
1 cup almond milk or water
16 oz cremini mushrooms
3 cloves garlic, minced
¼ yellow onion, finely chopped
¼ cup nutritional yeast (or more this creates a delicious cheesy flavour)
½ teaspoon garlic salt
salt and pepper to taste
1 package egg noodles or serve with cauliflower rice for a lower carb and calorie option
Directions
Heat oil in large frying pan over medium heat. Add mushrooms, onions and garlic and sauté until mushrooms are cooked about 5-8 minutes.
In small food processor combine soaked cashews, almond milk or water, and nutritional yeast combine until liquid mixture forms. Add liquid mixture to mushrooms, add in salt and pepper to taste.
Remove from heat and enjoy over your favourite noodles cook according to package instructions. If mixture becomes to thick thin out with more almond milk (cashew milk) or water.
Note- Nutritional yeast is not active yeast, it is often used in vegan dishes to create a delicious cheesy flavour. It can be found in Bob's Red Mill section of the grocery store or bulk barn.
If you make this recipe I would love to hear what you think in the comments below or be sure to tag us in your pictures over on social media @pam_rocca.
As always sharing is caring, if you know someone who would love this recipe I would so appreciate you sharing it with them.
Happy Meal Prep Sunday,