Canadian Winter weather calls for a lot of nourishing and warming soups. When creating soup recipes the first thing to start with is always nutrition first. This soup is fantastic because it has all 3 macronutrients: protein, fat and carbohydrates. It also contains other vitamins, minerals and antioxidants that can help keep us healthy during the Winter months. The second thing to consider when building a soup: is it comforting and delicious? This soup definitely checks all the boxes.
How this soup nourishes:
Portobello mushrooms are loaded with nutrition and add a meaty texture to plant-based meals. They are lower in calories, contain protein, carbs, fibre, B vitamins, potassium and selenium. Mushrooms also may have anti-inflammatory properties because they are packed with antioxidants. Some studies show that mushrooms are a prebiotic which helps to feed our body's microbiome, this can help our gut health. Strong gut health is also link to improved immunity and mood, so recipes to support gut health are so incredible for everyone.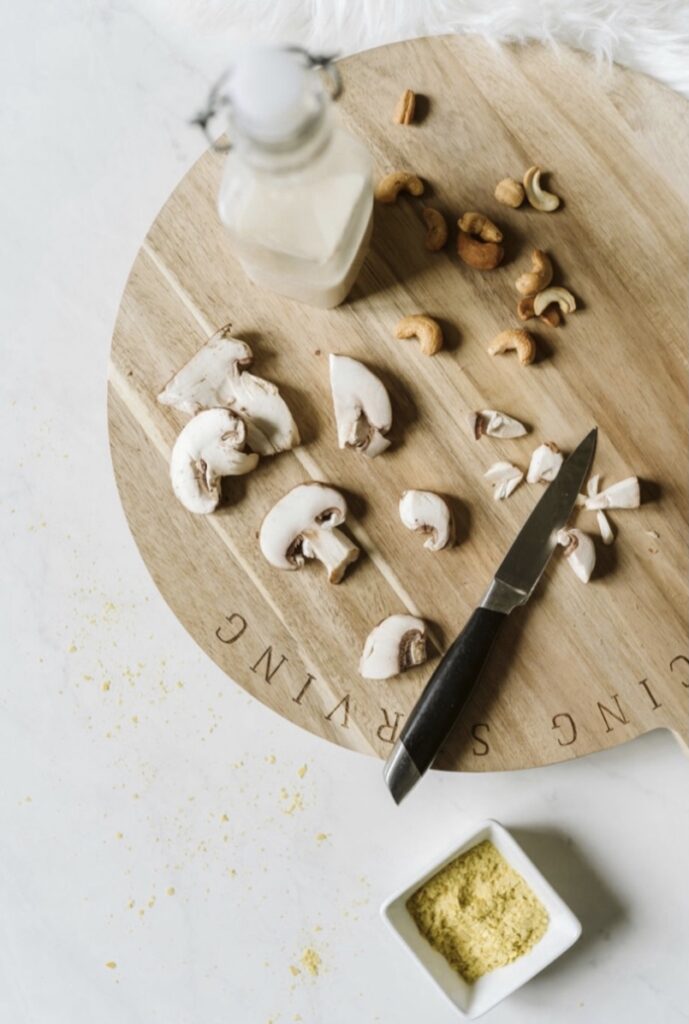 Meal prep this soup this Sunday for a week of healthy lunches or serve it up as a plant-based dinner for the family.
Cashews help to create dairy-free cream sauce. Soaking cashews overnight helps them to break down easier and creates a really creamy texture. Soaking nuts also helps to remove phytic acid, which allows our bodies to get more nutrients from the nuts making them easier to digest and absorb. If you know you want to make this recipe simply place 1/2 cup cashews in a bowl and cover with water on your counter overnight. Before you make your cream sauce drain and rinse nuts to remove water. Cashews contain protein, fat, carbs, potassium, fibre, iron and magnesium. They also help to add more plant-based protein to a meal.
This Recipe is:
Vegan/Plant-based
Dairy-free
Gluten-Free
Nourishing
Delicious
Vegan Mushroom Soup
Makes: 4 servings
Prep Time: 10 minutes
Cook Time: 15 minutes
Ingredients
2 tablespoons vegan butter (I used Earth Balance)
1/2 yellow onion, diced
4 cloves garlic, minced
5 portobello mushrooms, diced
1 (8 oz.) package cremini mushrooms, diced
3 cups vegetable broth
1/2 cup cashews soaked in water overnight
1 1/2 cups original unsweetened almond milk (or your favourite dairy-free milk)
1/2 teaspoon garlic salt
1/2 teaspoon onion powder
dash of pepper
Directions
Drain and rinse cashews and add them into a small food processor or blender with almond milk. Blend until smooth and set aside.
In a large pot over medium high heat add vegan butter, diced onion, minced garlic and chopped mushrooms and saute for 8 minutes stirring frequently to avoid sticking.
Once mushrooms are cooked stir in broth, almond milk, garlic salt, onion powder and a dash or pepper. Simmer until heated through, serve immediately.
Recipe Note – If you wanted to make this recipe creamier and add more plant-based protein add 1 can of white kidney beans (drained and rinsed) into the food processor with the almond milk and cashews.
If you wanted to add a more cheesy flavour (and more nutrients like B12 and iron) add 1-3 tablespoons nutritional yeast into the almond milk mixture.
If you make this recipe I would love to hear what you think in the comments below, or be sure to tag me in your pics or DM over on the socials @pam_rocca.
As always sharing is caring, if you know someone who would love this recipe I would so appreciate you sharing it with them.
With love,