I love to create fun variations for traditional meals to avoid food boredom. One of the easiest ways to change up a salad is to add a different spice, herb or change up ingredients like your protein source or vegetables.
I recently posted 5 new chickpea salad recipes and they are all delicious, but the other day I had some leftover dill that I wanted to use up and along came this new tasty creation.
Why dill? Dill is low in calories yet it add so much flavour and aroma to your food. It is also a great source of vitamin C, A, calcium and magnesium. It is also rich in antioxidants which help to fight against free radicals that can cause cell damage. It is a flavourful herb that can add a nutritional boost to your meal, it really enhances this chicken salad recipe. Think of other salads you can add it into, it's also great in dressings too. Check out my creamy dill dressing here https://pamrocca.com/blog/2020/5/17/10-new-dressing-recipes.
This salad also makes a nice summer side salad that is healthier than traditional pasta and potato salad. It's a pot luck hit because it feels new and fresh and contains so much flavour.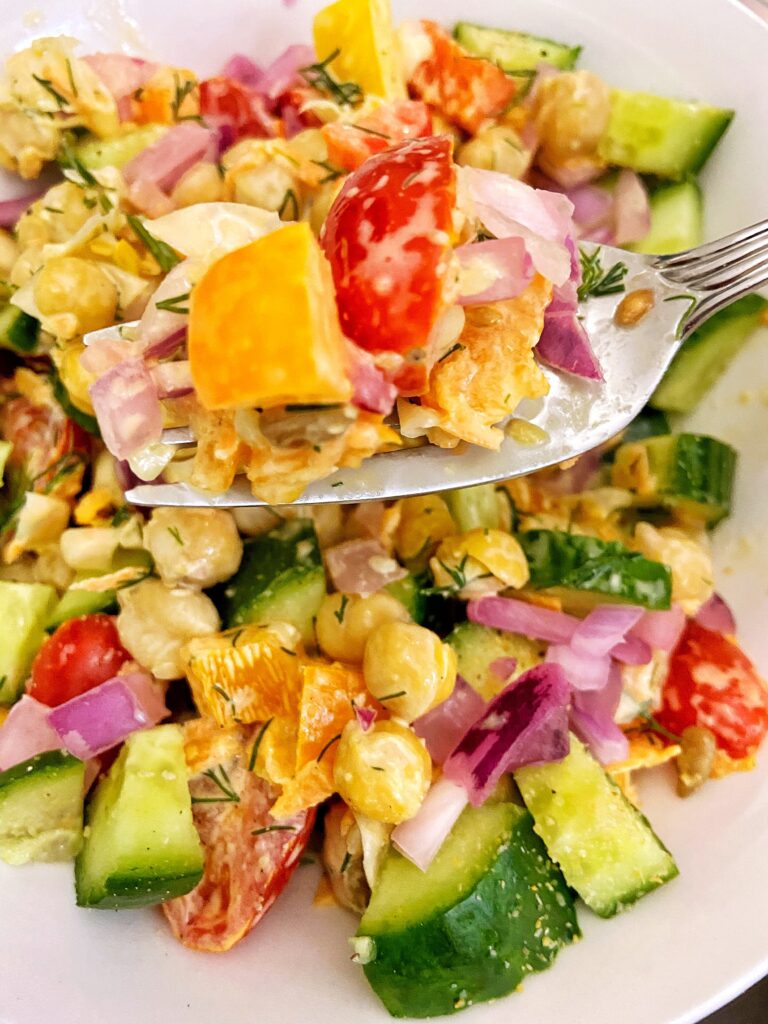 I love to meal prep this recipe for quick and easy lunches. It can be served on it's own, over mixed greens, in a lettuce wrap, wrap, or as a sandwich. So versatile and delicious. Enjoy!
Creamy Dill Chickpea Salad
Makes: 2-4 servings
Prep Time: 10 minutes
Cook Time: No cooking required
Ingredients
2 cups cooked chickpeas (1 16oz. can chickpeas)
½ cup shredded carrot
½ red  bell pepper, diced
½ yellow or orange bell pepper, diced
½ cup chopped cucumber
5-10 cherry tomatoes, quartered
¼ cup red onion, finely diced
¼ cup (or more) freshly chopped dill
¼ cup sunflower seeds
1-2 tablespoons vegan mayonnaise
Directions
Drain and rinse chickpeas and pat dry with paper towel to ensure there is no extra water.

Add in carrots, peppers, cucumber, tomato, red onion, dill, sesame seeds and 1 tablespoon of vegan mayonnaise. You can add more until it's your desired consistency.

Serve as is, in wrap, lettuce wrap, over mixed greens or in a sandwich or bun. Keeps fresh in fridge for up to 3-4 days.

As always make this recipe work for you – option to add any of your favourite veggies.
I love seeing what everyone is enjoying from the cookbooks and the blog so if you make this recipe let me know what you think in the comments below or tag me in your creations @pam_rocca. If you know someone who would enjoy this recipe as much as you, I would so appreciate it if you would share it with them.
Wishing you a summer filled with nourishing foods and memories!
Happy Sunday,