I work with a lot of people and one of the biggest excuses I hear over and over again is "Pam, I just don't have time to cook". I get it, we are all busy. But valuing and prioritizing meal prep is huge investment in you and your health (and your families if you have one) that will be so worth it!
I am here to tell you from the most loving place:
You are worth it
You can make the time… I just know it
Healthy eating doesn't mean you have to spend hours in the kitchen
This recipe below is a perfect example of a recipe that can be whipped up in 15-20 minutes or less you guys. You can also customize this recipe for the entire fam. I love my chickpea tacos in lettuce wraps and loaded with a rainbow of veggies. My kiddos love it in a traditional wrap with avocado and cucumbers on the side. Whatever your variation it's all good, chickpeas are a great source of protein and carbs and add some avocado for your healthy fats and some veg and you have an easy, delicious dinner loaded with nutrients. The best part of all of this is when you make the time to eat well, you feel fantastic which gives you more energy to do the things you love. If you already eat amazingly and feel even better then I am sending you a huge fist pump and you can still enjoy this recipe.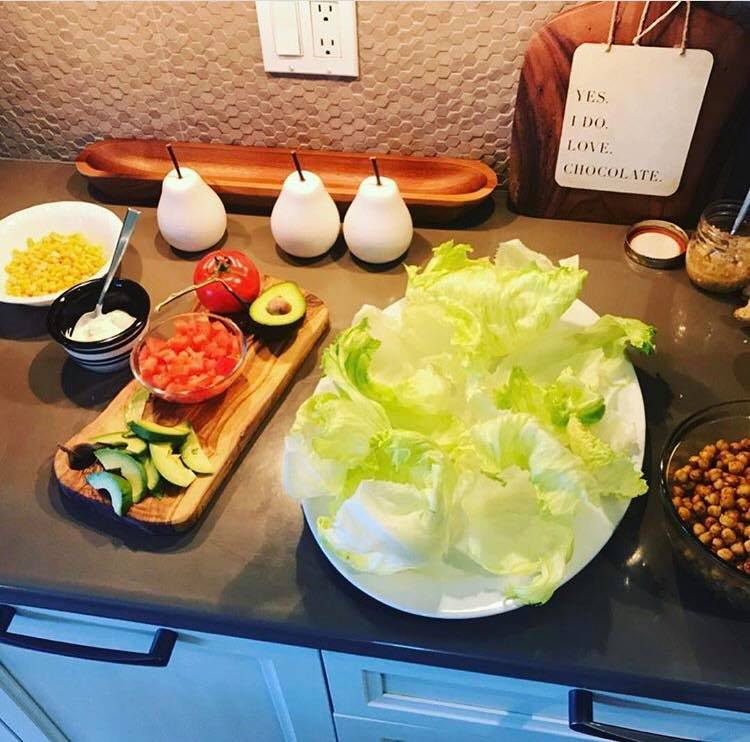 This recipes is:
gluten-free
dairy-free
plant-based/vegan
delicious and the lettuce wraps make it lower in carbs
Enjoy for an easy lunch or dinner!
CHICKPEA TACOS
Makes: 4-5 servings
Prep Time: 5-10 minutes
Cook Time: 10 minutes
Ingredients
1-2 teaspoon chili powder
1-2 teaspoon cumin
½ teaspoon coriander
½ teaspoon paprika
½ teaspoon oregano
½ teaspoon garlic salt or salt
2 tablespoons avocado or coconut oil
2 cloves garlic, minced
1/4 yellow onion, diced (or 1 teaspoon onion powder)
Wraps
6-10 lettuce wraps
1 tomato, diced
1-2 avocado, cubed or sliced
1 red and orange pepper diced
1 cup cooked corn
½-1 cup shredded cheddar cheese (optional)
Garnish with a squeeze of lime juice, salsa, sour cream and fresh cilantro
Note – you can serve these on regular wraps or turn into a taco salad by serving over mixed greens.
Directions
In a small bowl make spice mixture by adding chili powder, cumin, coriander, paprika, oregano and garlic salt into bowl and stir.
2. In a large frying pan over medium heat add oil, onion and garlic. Stir and sauté 1-2 minutes.
3. Add chickpeas and spice mixture. Cook and continue stirring for 3-5 minutes until chickpeas turn golden and are well coated with spice mixture.
4. Take off heat and serve in lettuce wraps or regular wraps and garnish with a squeeze of fresh lime juice and desired toppings.
Tip – if you have my new cookbook check out the vegan sour cream it pairs amazing with this dish. If you don't have the book and would like the recipe let me know in the comments below and I would love to share it with you.
If you make this recipe I would love to hear what you think in the comments below. You can also watch the video on how to make this on YouTube or @ PamRocca. As always I would love to see your variations, if you make this dish let me know what you think or tag me in your pics on the socials @pam_rocca.
Always sharing is caring, if you know someone who would love this recipe I would so appreciate you sharing it with them.
Happy Meal Prep Sunday,