This flavourful Black Bean Southwest bowl is a perfect healthy lunch or dinner. You can easily change up the vegetables with the ones you have on hand and create a simple meal in less than 10 to 15 minutes. It's loaded with plant protein and fibre as well as many other vitamins, minerals and nutrients.
This bowl is a variation from my first Cookbook so get creative with your toppings and vegetables to make this dish your new favourite. You can see the version from my Cookbook below it has tomatoes, shredded beets, shredded carrots and diced avocado which is a lot different then the version I share in the recipe below. I am sharing this so you can see how easily you can take a base meal and make it a bunch of different ways so you never feel stuck in a food rut. If you are currently in a food rut I highly suggest you browse the blog and get inspired to cook, prep and eat really well. There is a direct correlation between eating well and feeling your best so why not get started and stay inspired.
I love to meal prep quinoa on Sunday's so I always have some in a container to add into simple bowls like this one. I also love to meal prep one dressing for the week so if I made this dressing I would add it into my salads and bowls for the week. If you are not a fan of this dressing you can find more here: https://pamrocca.com/2020/09/10-healthy-salad-dressing-recipes/ If you want more plant-based inspiration I highly recommend the Oh She Glows Cookbook, it was one of my first and favourites grab your copy here: https://amzn.to/3H9kUFE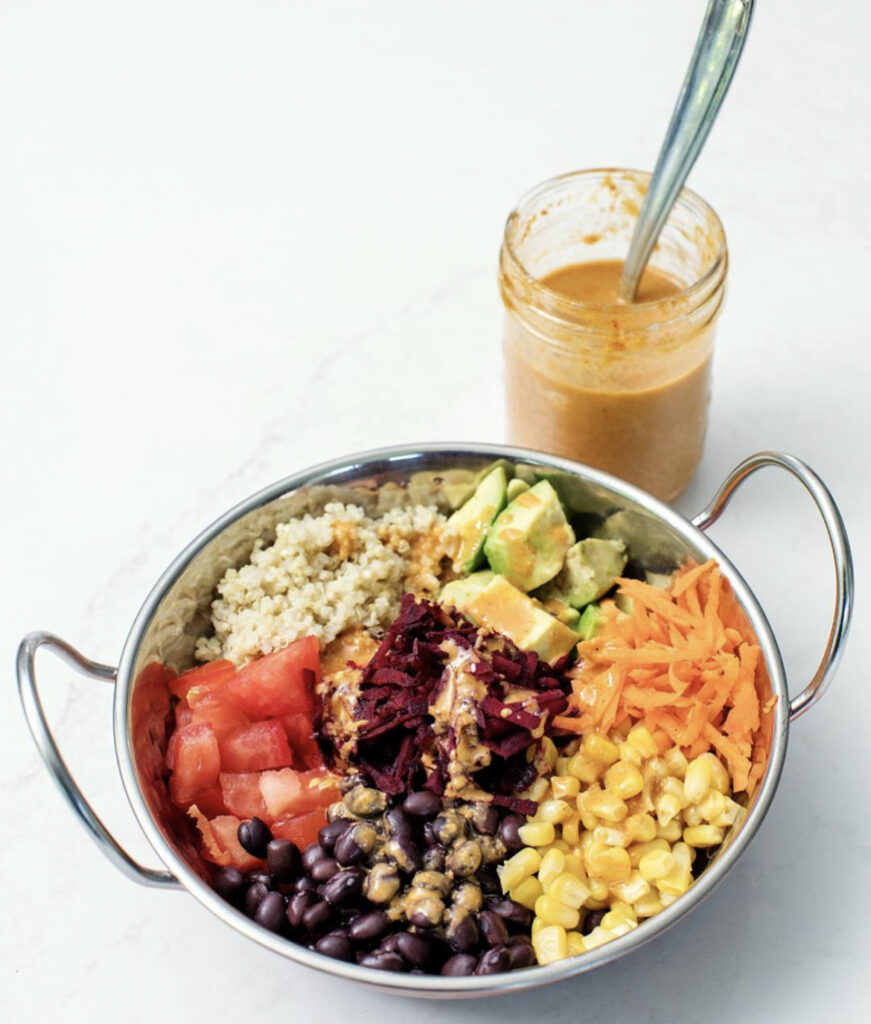 This Easy Black Bean Southwest Bowl checks all the boxes but most importantly it tastes absolutely fantastic!
Black beans are rich in anti-oxidants, which makes them a really healthy plant-based protein source. They are a nutrition power house as they are also loaded with fibre, protein, carbohydrates yet low in sugar and unhealthy fats.
This Recipe Is:
Vegan – Plant-Based
Dairy-free
Gluten-free
Loaded with nutrition & fibre
Delicious
Best Southwest Black Bean Bowl
Makes: 1 servings (multiply for the number of bowls you are making)
Prep Time: 10-15 minutes
Ingredients
1/4 cup cooked quinoa
1/2 cup black beans
1 cup chopped romaine lettuce (or your favourite greens – spinach, arugula, spring mix, kale)
1/4 cup organic corn
1/3 cup diced red bell pepper
1/4 cup diced red onion
Southwest Dressing
1/2 cup raw cashews, soaked overnight
1/2 cup lime juice
1/4 cup olive oil
1 tablespoon red wine vinegar
1/2 teaspoon sugar
2 cloves garlic, minced
1 teaspoon chili powder
1 teaspoon cumin
1 teaspoon garlic salt
1 tablespoon Sriracha or hot sauce (optional)
dash of salt and pepper
Directions
In a medium sized bowl add greens to one side of the bowl, almost filling a half or a third of the bowl.
Cook quinoa according to package instructions. I like to cook 1 cup and save the rest for other bowls and lunches.
Add in black beans, if you are using canned beans ensure they are drained, rinsed. Add in corn, red bell pepper, cooked quinoa and diced red onion.
Make Southwest dressing by draining soaked cashews and placing them into a blender or food processor, add in remaining dressing ingredients olive oil, lime juice, red wine vinegar, sugar, garlic, chili powder, cumin, garlic salt and hot sauce. Blend until smooth and store in a jar for up to 1 week for optimal freshness. Drizzle over your bowl for a flavourful, fun, healthy meal.
If you make this recipe I would love to hear what you think in the comments below or tag me in your photo's over on the socials @pam_rocca. If you want more recipes like this check out my Sugar Detox Cookbook: https://amzn.to/3Hnksnn
As always sharing is caring, if you know someone who would love this recipe I would so appreciate you sharing it with them.
With love,