This is a really simple, healthy banana bread that tastes really good. It's naturally sweetened with banana's and unlike traditional banana bread it has a lot less sugar. Most banana breads use white flour and butter too and you won't find either of those ingredients in this recipe. This recipe is simple enough that even if you are not a baker you can absolute make and enjoy this yummy snack.
Anytime our family has banana's that begin to really ripen and become brown I always think of ways to use them up to avoid wasting food. If I don't have time to bake I will freeze banana's for smoothies & muffins, or I will make overnight oats or this tasty banana bread.
In recipes that use traditional white flour I like to experiment with alternatives that provide the body with more nutrition. I love oat flour because it's light and fluffy and you can easily make it by grinding oats in the mini food processor or blender. It is more cost effective than using almond flour, but you can use almond flour in this recipe. Almond flour is lower in carbs but higher in good fats and vitamin E which works as an antioxidant. I've used both for this recipe and it turns out great either way, it just depends on your personal preference or nutritional needs.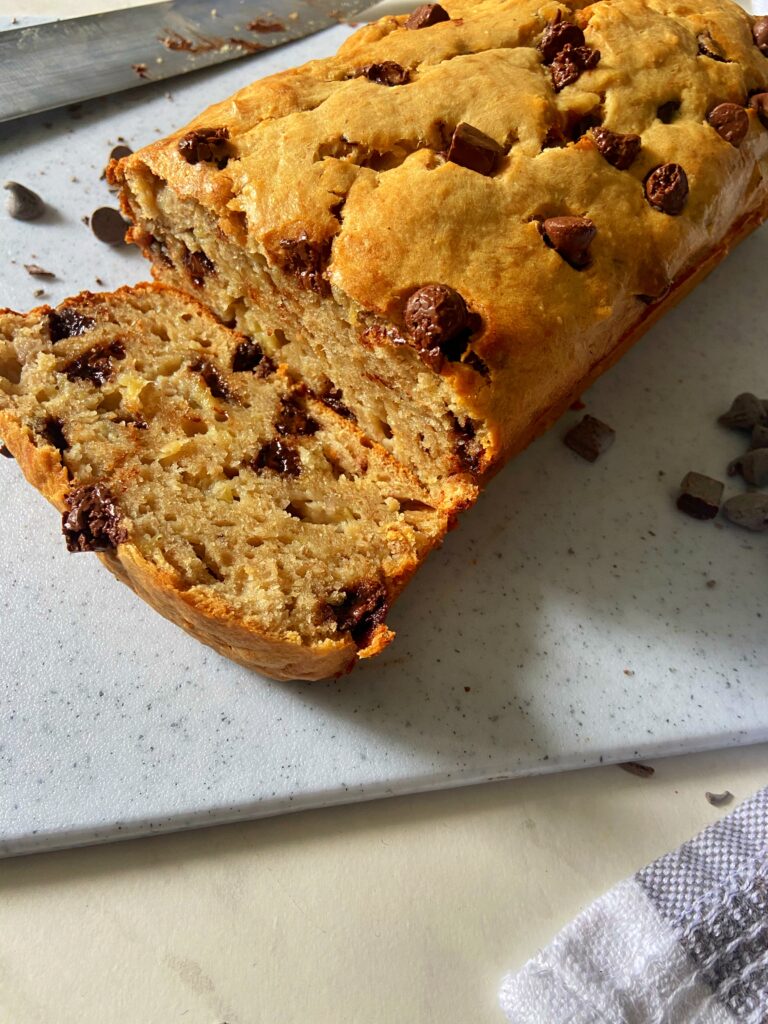 This simple banana bread works as a healthy dessert, snack or breakfast.
Banana's are so great for naturally sweetening recipes without adding processed sugar. They are also rich in vitamin B6, vitamin C, potassium, manganese, fibre and antioxidants. Even though bananas naturally contain sugar they are low on the glycemic index, this index measures how quickly carbs are absorbed into the bloodstream elevating blood sugar levels. Lower index foods are preferred to avoid blood sugar spikes and the dreaded crash that has you wanting more.
My favourite thing about this recipe is that each ingredient provides the body with some form of nutrition. When I know recipes are designed that way, and I know what is in things it makes it easier to make it and serve it to my family. This recipe is a family favourite, the kids love it for breakfast with a little bit of peanut butter. It makes a great after school snack.
This recipe is:
dairy-free
gluten-free
kid approved
delicious
You can make this recipe nut free by substituting peanut butter with sunflower seed butter.
Enjoy!
Healthy Banana Bread
Makes: 1 loaf or 9-12 servings
Prep Time: 10 minutes
Cook Time: 50-60 minutes
Ingredients
3 large, ripe banana's
1/2 cup peanut butter
2 eggs
2 tablespoons pure maple syrup
1 cup oat flour
1/4 cup tapioca starch
1 teaspoon baking powder
pinch of salt
Directions
Preheat oven to 350 degrees F. Grease loaf pan with oil or butter. Option to use parchment paper as well.
In a large bowl add peeled banana's and mash them with a fork until smooth. Add in peanut butter, maple syrup and eggs and stir until mixed.
Add in oat flour, tapioca flour (starch), baking powder and salt. Stir again until just combined.  Option to top with chocolate chips or dark chocolate before baking.
Pour mixture into load pan and bake for 50-60 minutes until golden brown on top and cooked through.
Remove from pan and cool on cooling rack. Store in an air-tight container for 4 days.
If you make this recipe I would love to hear what you think in the comments below. As always sharing is caring, if you know someone who would love this recipe I would so appreciate you sharing it with them.
Happy Meal Prep Sunday,