This flavourful Creamy Tuscan Chickpea Bowl is one of the new Meatless Monday favourites from Instagram. It's not hard to see why, the creamy cashew sauce feels like the ultimate comfort food for cold Winter days. It's also loaded with plant-based protein and nutrients like Vitamin C from the red peppers and spinach.
This easy dinner works well with a variety of different veggies you can swap spinach for peas or kale and it's really good with carrots too.
One of my favourite things about this dish is that it can be whipped up in under 20 minutes and in one skillet. Less time cooking and washing dishes equals more time to do the things you love.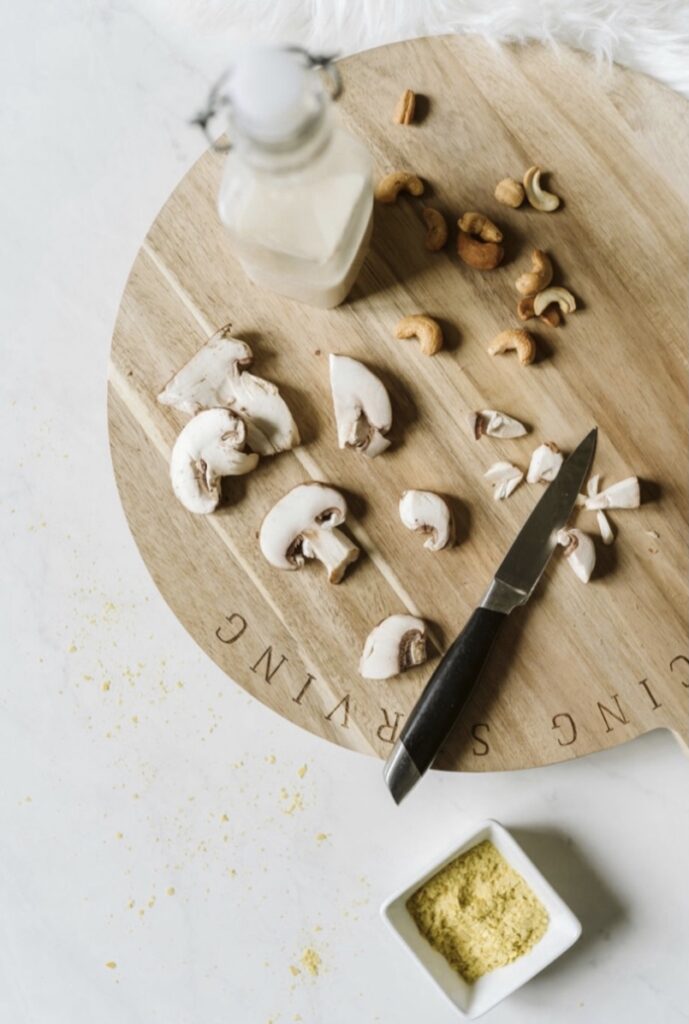 Not only is this dish loaded with nutrients and easy to make it is also really delicious. Healthy food can and should still be tasty!
Chickpeas are a great source of carbohydrates, plant-based protein, fibre and a little iron and potassium. Cashews add a nice crunch and they are rich in protein and healthy fats they are also an excellent source of antioxidants. Spinach is a great source of vitamin A, C, K,B 12, iron, and magnesium. Cremini mushrooms are high in phosphorus, copper, selenium, potassium, zinc, fibre and antioxidants.
This recipe is:
Plant-based/Vegan
Dairy-Free
Gluten-Free
Delicious
Enjoy!
Creamy Tuscan Chickpea Bowls
Makes: 4-5 servings
Prep Time: 10 minutes
Cook Time: 20 minutes
Ingredients
1 tablespoon avocado oil
1/2 yellow onion diced
2 cloves garlic, minced
1 (8oz.) package cremini mushrooms, sliced
1 jar roasted red pepper (370ml), drain water
4 cups cooked chickpeas (2 cans chickpeas)
2 cups spinach
1/2 teaspoon garlic powder
1/2 teaspoon onion powder
Vegan Cream Sauce
1 cup cashews (soaked overnight, rinsed and drained)
1/2 cup nutritional yeast
2 cups almond milk
Serve with cauliflower rice or brown rice
Directions
In a large skillet over medium heat add oil, onion, garlic and mushrooms and saute for 8 minutes until mushrooms are cooked through and brown.
While mushrooms are cooking make the vegan cream sauce by adding rinsed cashews, nutritional yeast and almond milk into blender or food processor, blend until smooth and creamy.
When mushrooms are cooked add in the roasted red peppers, chickpeas, spinach, garlic powder and onion powder. Cook over medium low heat until spinach is wilted. Add in vegan cream sauce, you can thin out with more almond milk until desired consistency. If you want it thicker you can add in 1 tablespoon tapioca starch.
Serve over cauliflower rice or regular brown rice.
I love to add a dash of hot sauce to spice it up, I cook without adding salt you can add salt and pepper to taste.
If you make this recipe I would love to hear what you think in the comments below. If you make this recipe tag me in your pics over social media @pam_rocca.
As always sharing is caring, if you know someone who would love this recipe I would so appreciate you sharing it with them.
Happy Meal Prep Sunday,