This flavourful Spaghetti Squash Burrito Bowl checks all the boxes as it is loaded with plant-based nutrition and it is so delicious!
This recipe is a variation from my favourite Black Bean salsa recipe that works perfectly for fresh, summer buddha bowls. I also turned this salsa into a fun breakfast frittata which you can find that recipe over on my Instagram page. I wanted to turn this fresh salsa into a warming, comforting healthy plant-based dinner so I decided to pair it with spaghetti squash. Our family loves pasta but for me I find it sits heavy and is higher in calories. I like to serve up spaghetti squash instead of pasta as it is lower in calories, carbs, and it is loaded with fibre, vitamins, minerals and antioxidants. The best part is it sits so light and you can eat a decent sized meal and still reach your weight loss goals. I am a big fan of eating to fuel and nourish your body from a place of self-love not from a place of lack or restriction. OH the food has to taste fanastic too, life's too short for bland food.
Love to meal prep this dish during a Sunday meal prep session because if you are in the kitchen anyway it's easy to roast up some squash, and roasted veggies, get some quinoa cooking, and prep the black bean burrito mixture. You can eat it for dinner or save for easy lunches or dinners during the week.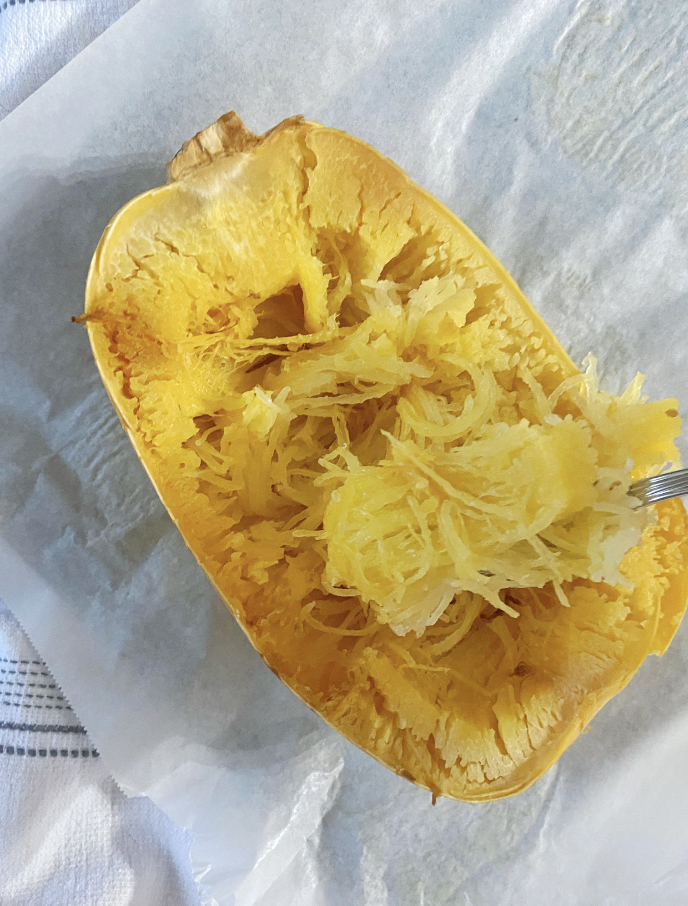 Black beans are rich in antioxidants, and vitamins and minerals such as:
Vitamin A
Calcium
Iron
Magnesium
Potassium
Black beans are high in protein making them an excellent plant-based protein source. In this recipe I used Eden Organic black beans to save time, if you wanted to bake from scratch you can wash beans bought from a bag thoroughly and then soak beans over night in water and then cook according to package instructions. Typically you would cook covered in water for about 2 hours until beans are soft. It's smart to batch cook and freeze in individual portions so you have beans ready to go at all times. If you experience gas when you have bean I highly recommend soaking and cooking from scratch.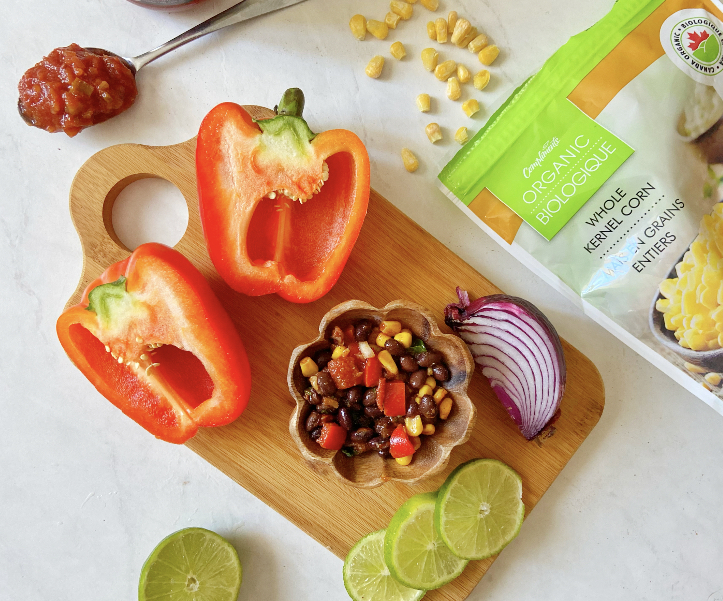 This Recipe is:
plant-based
gluten-free
can be dairy-free by using nutritional yeast instead of cheese for topping
delicious
Enjoy friends!
Spaghetti Squash Burrito Bowls
Makes: 2-4 servings
Prep Time: 10 minutes
Cook Time: 50 minutes plus 15 minutes
Ingredients⁠
⁠
1-2 spaghetti squash⁠
1 tablespoon avocado oil (or cooking oil)⁠
⁠
Black Bean Burrito Mix⁠
⁠
1 (16oz) can black beans, drained and rinsed⁠
1/2 cup corn⁠
1/3 cup red onion, diced⁠
1/2 red pepper⁠
1/2 cup chopped arugula or cilantro⁠
1/2 cup salsa⁠
1 tablespoon hot sauce (optional)⁠
1 tablespoon chili powder⁠
1 teaspoon cumin⁠
1/2 teaspoon paprika⁠
dash of salt and pepper⁠
⁠
Optional topper – 1-2 tablespoons nutritional yeast or melted cheese. ⁠
⁠
Directions⁠
⁠
1. Preheat oven to 400 F. ⁠
⁠
2. Cut squash open lengthwise and scoop out seeds. Coat open side of squash with avocado oil and place open side down on baking tray. ⁠
⁠
3. Bake 50 minutes. While squash is cooking make black bean burrito mixture. ⁠
⁠
4. In a large container or bowl add black beans, corn, red onion, red pepper, arugula or cilantro, salsa, hot sauce, chili powder, cumin, paprika, salt and pepper. Stir well to combine. ⁠
⁠
5. When squash is fully cooked, removed form oven and fork out squash flesh but leave in the bowls and add black bean mixture. Option to top with cheese or nutritional yeast. ⁠
⁠
6. Bake for another 10-15 minutes until heated through and cheese is melted. ⁠
⁠
⁠
⁠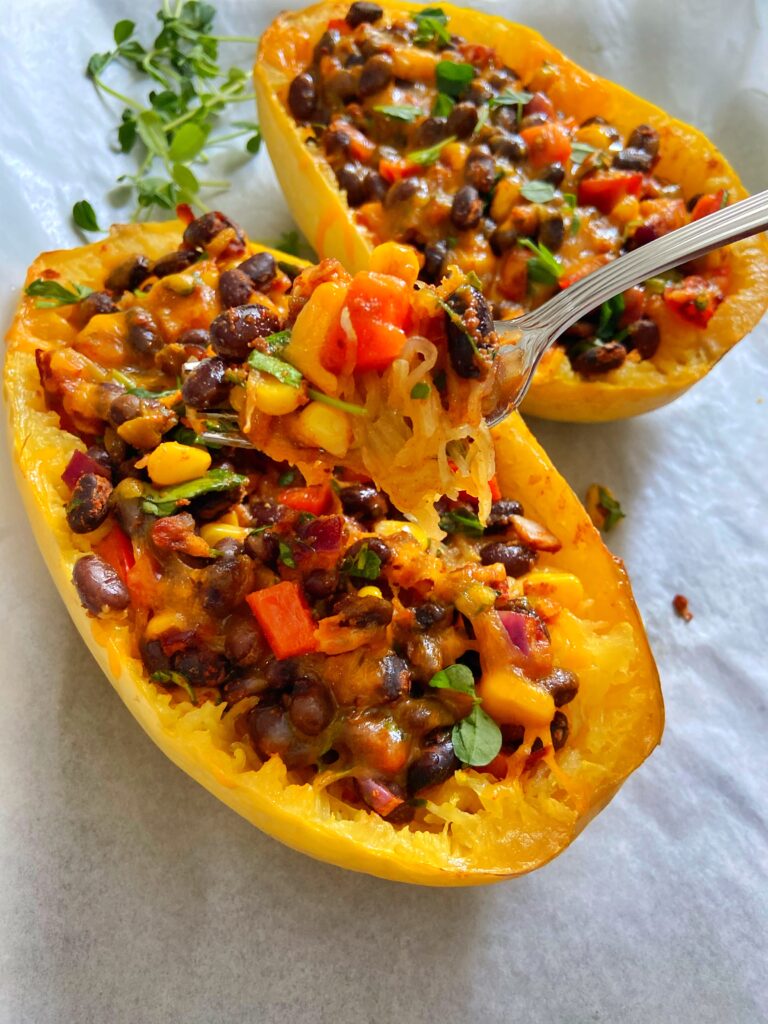 If you make this recipe I would love to hear what you think in the comments below or send me a message over on Instagram @pam_rocca. I love hearing what you are enjoying so I can create more goodies for you.
As always sharing is caring, if you know someone who would love this recipe I would so appreciate you sharing it with them.
Happy Meal Prep Sunday,