This Peanut Butter Protein Cup recipe is vegan, gluten-free, dairy-free, kid-approved and so delicious. These cups are sure to satisfy a sweet tooth or hunger strike and they provide the body with nutrients like healthy fats and protein with no added sugar.
Your day is about to get a bit brighter with this amazing snack recipe. With 3 growing kids our family is always looking for healthy homemade snacks that are quick to make and that the kids will actually eat. Rowan loved these so much that we needed to make a second batch.
We love to meal prep this snack on Sunday's so we have delicious, homemade snacks ready to go for the week. These cups freeze well for up to one month so feel free to double up the recipe and make extras.
This recipe is also very versatile, change it up and avoid snack boredom by tossing in some chocolate chips, nuts, seeds, or unsweetened coconut flakes.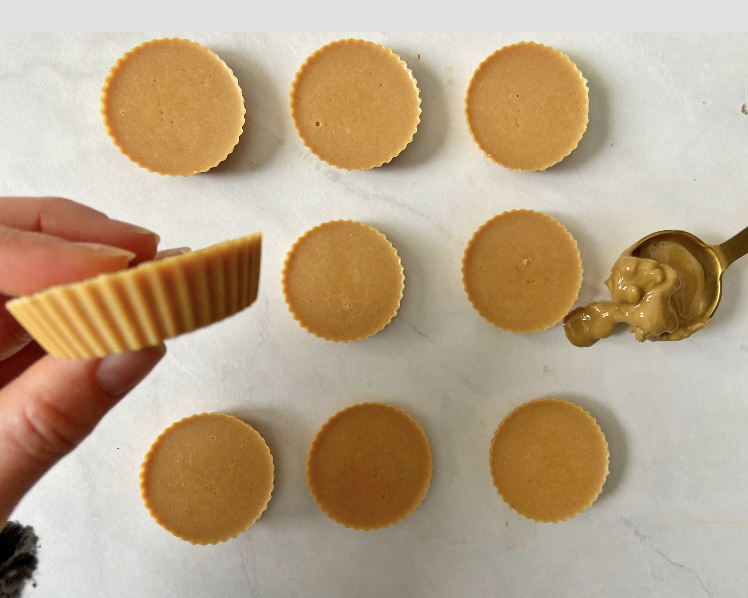 Coconut oil is an excellent substitute for butter in recipes so you can easily make recipes vegan. By having healthy fats and protein in this snack it can help keep you fuller longer, and more satiated which can aid in weight loss.
We hope you enjoy this recipe as much as our family. Now let's get to it.
Peanut Butter Protein Cups
Makes: 12 cups
Prep Time: 5 minutes
Freeze Time: 30 minutes
Ingredients
1/2 cup peanut butter
1/3 cup coconut oil
1/4 vanilla protein powder
sprinkle of sea salt
Directions
Line muffin tray with reusable liners and set aside.
In a small sauce pan over medium/low heat add peanut butter, coconut oil and vanilla protein powder. Stir frequently until everything is melted and combined together with no clumps.
Spoon mixture evenly into 12 liners, top with a dash of sea salt.
Place in freezer for 30 minutes until solid.
Store in air-tight container for up to 1 month.
Recipe note – you can add in chocolate chips, coconut flakes, nuts or seeds the combinations are endless. If you want to make this nut free you can sub peanut butter for sun butter.
If you make this recipe I would love to hear what you think in the comments below or be sure to tag me in your picture over on Instagram @pam_rocca.
As always sharing is caring, if you know someone who would love this recipe I would so appreciate you sharing it with them.
Happy Meal Prep Sunday,