I can't think of a better way to greet fall than with a warming squash soup. Winter squash is one of the best sources of nutrients you can find in the colder months. Winter squash includes: acorn squash, butternut squash and pumpkins. They are loaded with nutrients that can help boost immunity and they also happen to be delicious. They have a creamy, buttery texture that makes them feel like the ultimate healthy comfort food.
This soup is broth based if you wanted to make it a little bit creamier or to add in more calories if weight loss is not your goal, add in 1 can of coconut milk. I made this one broth based because I have already shared a coconut based version with my Coconut Curry Butternut Squash Soup. Coconut Curry Butternut Squash Soup – PAM ROCCA | Health & Nutrition Coach I love sharing recipes like this with coaching clients who have weight-loss as a goal. I want them to see that you can eat abundant, delicious food that tastes fantastic and still reach your goals.
I love to meal prep this soup Sunday night so I have healthy lunches prepped and ready to go for the week. In this recipe I bake the squash before adding it into the soup because I find it is easier to peel the skin off the squash once it is cooked, and then cube it. If you wanted to skip that step you could slice the squash length wise (like picture below), remove seeds, peel it with a peeler and cube it. Place the cubes of squash in the soup with the vegetables in the directions below.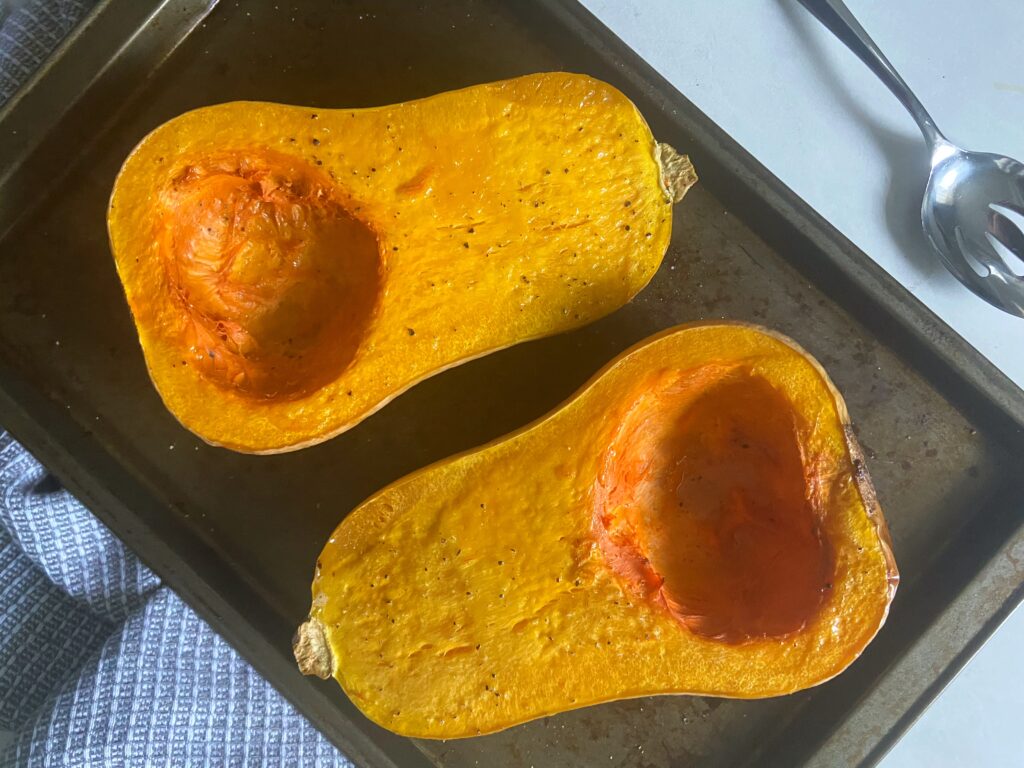 This Basic Butternut Squash Soup Recipe is the perfect bowl of comfort for the cooler fall days.
Butternut squash is in season during the fall and early winter months. It is loaded with powerful antioxidants including beta-carotene, Vitamin C and E. It is also high in potassium and low in fat. Butternut squash is actually considered a fruit, it is low in calories and high in fibre and has a comforting sweet flavour. It can be used as "comfort food" in recipes like this one and it can help with weight loss because it is lower in calories. Vitamin C and E are excellent for helping the body naturally improve immunity which is excellent as the seasons change and cold season arrives. Beta-carotene turns into vitamin A and aids in supporting eye health, also supports a strong immune system and helps with healthy skin. This is why I get so excited about creating recipes that are not only delicious, but they support your entire body internally and externally.
Let's Dig in!
This Recipe is:
vegan
gluten-free
dairy-free
nut-free
lower in calories
high in nutrients
absolutely delicious
Butternut Squash Soup
Makes: 6 servings
Prep Time: 10 minutes
Cook Time: 50 minutes
Ingredients
1 butternut squash, cut in half length wise
1 tablespoon olive oil
1/2 yellow onion, diced
3 cloves garlic, minced
1/2 head of cauliflower (2-3 cups cauliflower florets)
3 carrots, peeled and sliced
6 cups of vegetable broth
1 (16oz.) can white kidney beans
1 teaspoon onion powder
1 teaspoon garlic salt
dash of salt and pepper
Directions
Preheat oven to 350 degrees F.
Cut butternut squash length wise and scoop out seeds. Coat inside of squash with olive oil, salt and pepper. Place open side down and bake for 50 minutes.
In a large pot over medium heat add a tablespoon cooking oil, onion, garlic, carrots, cauliflower, onion powder and garlic salt and cook for 5-7 minutes until vegetables start to soften.
Add vegetable broth and cook until vegetables are fork tender, they should be very soft so that they puree easily.
Once squash is fully cooked, let it cool for a few minutes so you can handle it. Slowly peel the skin off and cube squash. Place all cooked squash in the soup pot.
Use a hand held immersion blender to puree soup. If you do not have an immersion blender you can use your food processor to puree.
Option to garnish with microgreens, pumpkin seeds or nutritional yeast.
Recipe variations:
You can easily flavour or punch up the spice in the soup by turning into a curry soup by adding 2 tablespoons yellow curry powder, 1 teaspoon cumin, 1 teaspoon garam masala, 1 teaspoon turmeric and 1/2 teaspoon chili powder.
You can play with the sweetness of the butternut squash and add 2 tablespoons maple syrup, 1 teaspoon cinnamon, 1/2 teaspoon pumpkin pie spice.
Drain and rinse white kidney beans and add them into the soup along with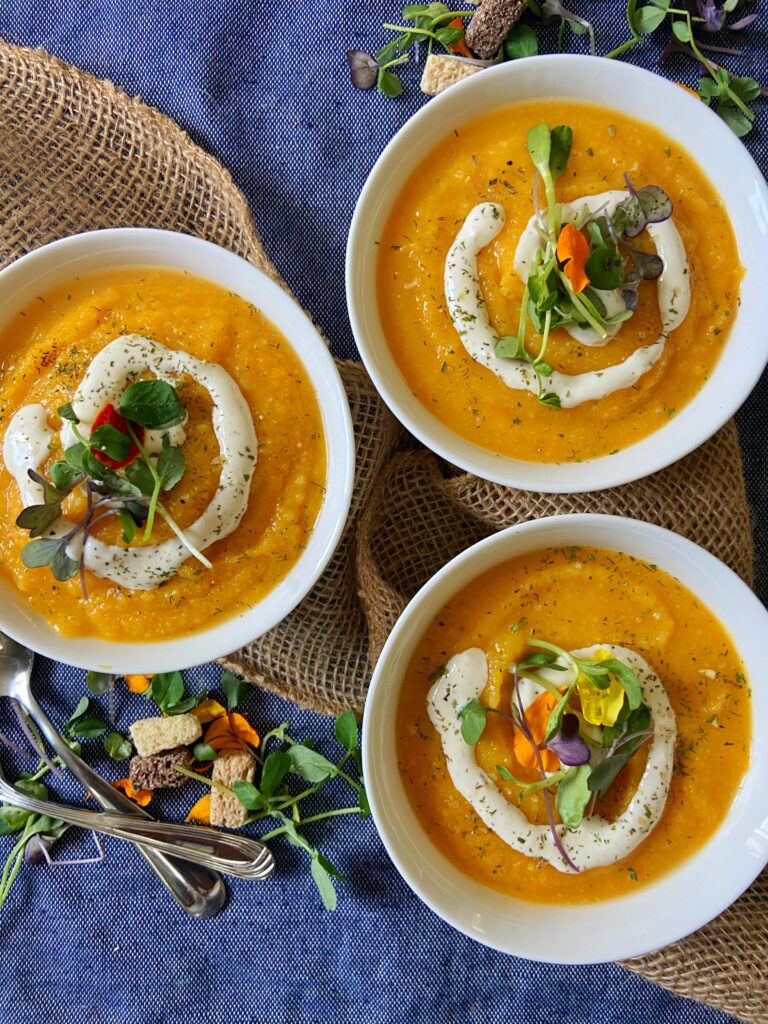 If you make this recipe I would love to hear what you think in the comments below. If you know someone who would love this recipe I would so appreciate you sharing it with them.
Happy Meal Prep Sunday,