It's Pumpkin Season! I love taking basic recipes like traditional overnight oats and putting a fun spin on them. Overnight oats are an amazing nourishing breakfast or snack that will fuel your body and your day. My favourite part is that they can easily be whipped up while you are in the kitchen making dinner.
This recipe is so nourishing, the chia seeds provide your body protein and healthy omega 3 essential fatty acids. This helps to keep you fuller longer and omega 3's can help reduce inflammation in the body. The oats contain a lot of soluble fibre, this can help lower cholesterol and blood glucose levels. Inside your digestive system, soluble fibre attaches to cholesterol particles and helps to take it out of the body. The extra protein powder is optional, I add it in so I ensure I have a lot of healthy plant-based protein in my day. Pumpkin is loaded with nutrition too. Technically it is a fruit, and pumpkin is packed with vitamin A, C, E, potassium, manganese and has some iron too. Besides being full or with vitamins and minerals is also relatively low in calories and adds so much flavour.
I love to meal prep overnight oats while making dinner, if you are in the kitchen anyway you might as well make great use of your time. Simply place all the ingredients in the bowl, give it a stir, cover it and place it in the fridge overnight. In the morning you can portion out your servings and you have a really convenient, yummy breakfast prepared to grab and go.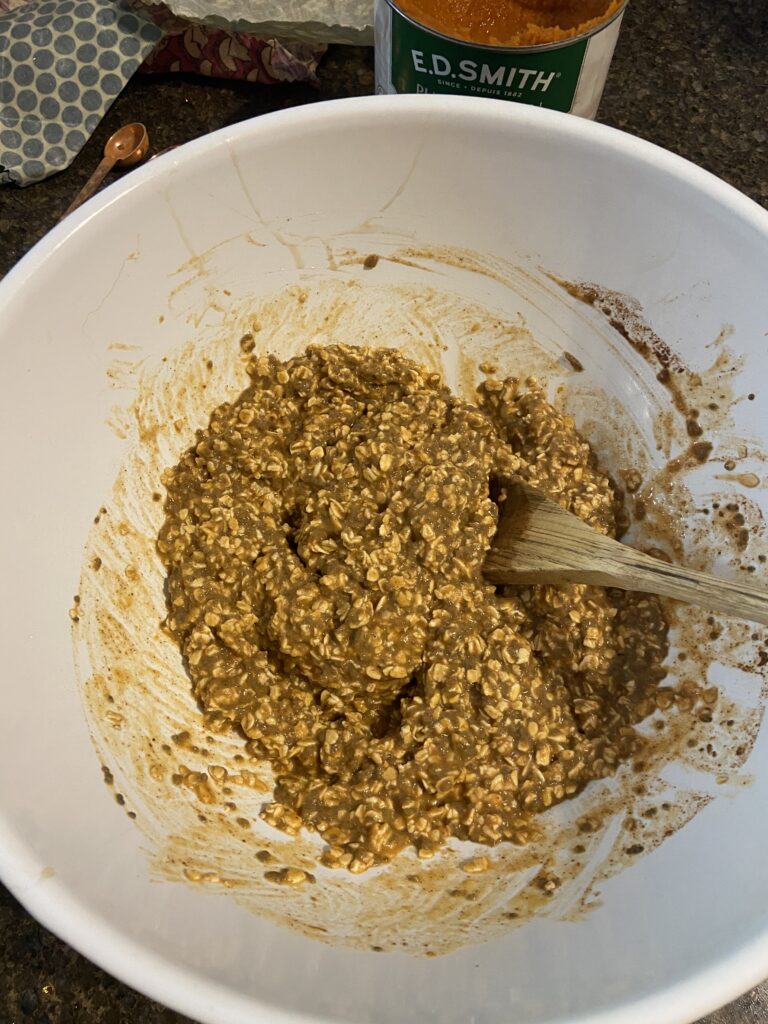 This simple Pumpkin Overnight Oat recipe checks all the boxes but most importantly it smells and tastes absolutely fantastic!
If you are not a fan of pumpkin you can easily substitute the pumpkin for 1-2 ripe banana's. Another fun variation it to use chocolate protein powder to do a chocolate pumpkin overnight oats. You can serve this dish up cold or warm, it's your preference. In this recipe I used canned pumpkin, you also have the option of baking a fresh pumpkin and using that instead. It's a time saving hack to use the canned version, but do what works best for you.
This recipe is:
vegan
gluten-free (use GF oats)
dairy-free
make it nut free by using oat or soy milk instead of the almond milk
nutritious
delicious
Enjoy!
Pumpkin Overnight Oats
Makes: 2-3 servings
Prep Time: 5 minutes
Chill Time: at least 30 minutes or overnight
Ingredients
1 cup rolled oats
1/4 cup chia seeds
1/4 cup vanilla protein powder (I used Genuine Health Vegan Fermented Protein)
1/2 cup pumpkin puree
1 1/2 cups original almond milk, unsweetened
1 tablespoon pure maple syrup (optional to sweeten)
1/2 teaspoon ground cinnamon
1/2 teaspoon pumpkin pie spice
Directions
In a medium bowl or container with lid add all ingredients and stir to mix well. 

Cover and refrigerate for 30 minutes or overnight. Portion into individual jars and option to top with your favourite fruit, nuts, seeds or super foods.
If you make this recipe I would love to hear what you think in the comments below. As always sharing is caring, if you know someone who would love this recipe I would so appreciate you sharing it with them.
Happy Meal Prep Sunday,