It's so fun to kick off fall with pumpkin flavoured foods, especially these healthy pumpkin spiced doughnuts. When it comes to Thanksgiving, I love whipping these up for a fun, nutritious dessert.
This recipe only has 8 ingredients and even if you are not a fan of baking I think you will enjoy the simplicity of this dessert. I love creating recipes that contain nutrients that fuel and nourish your body but also taste like a treat. This recipe checks all the boxes and it is easy to fancy them up with a easy homemade glaze or dark chocolate drizzle. See how in recipe notes.
If you are not a fan of pumpkin you can whip up my favourite healthy chocolate doughnuts https://pamrocca.com/2020/12/healthy-chocolate-protein-doughnuts/ or strawberry doughnuts https://pamrocca.com/2020/02/healthy-strawberry-doughnuts/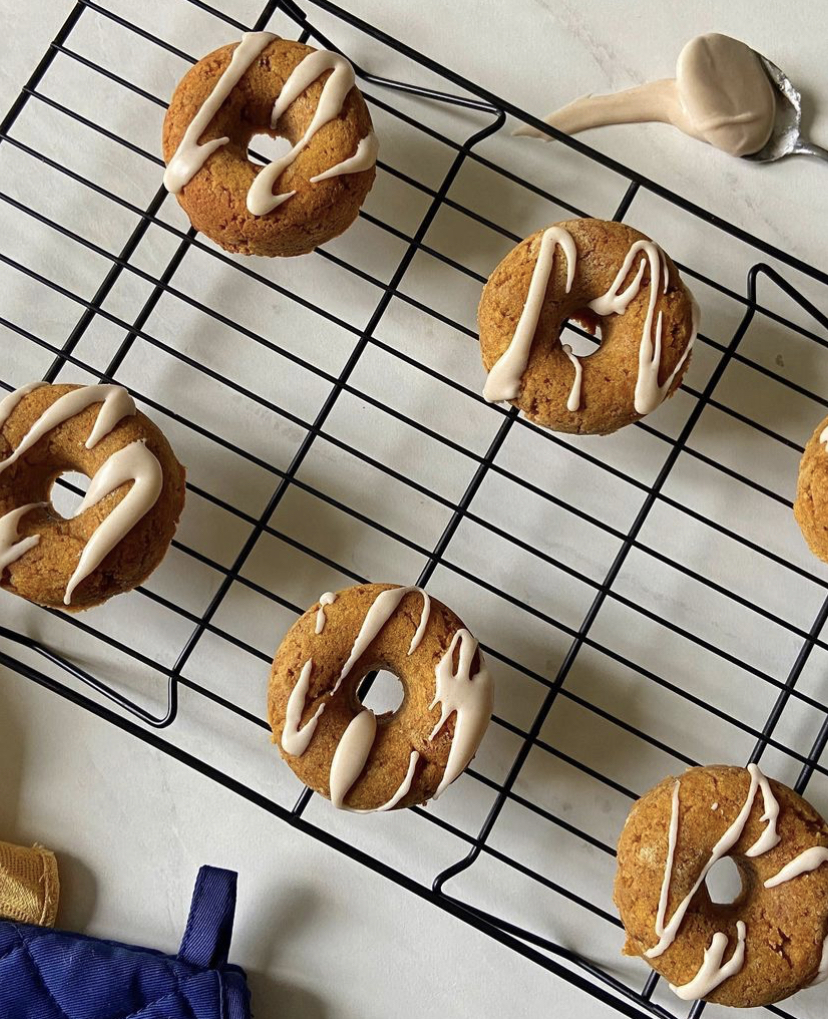 This simple doughnut recipe works for a healthy thanksgiving dessert, snack or fun breakfast.
In this recipe I used canned pumpkin puree for simplicity and to save time. If you don't want to use canned pumpkin you can bake a pumpkin by slicing in half, scooping out seeds bake at 350 for 50-60 minutes until soft and cooked through.
Let's Dig in!
This Recipe is:
gluten-free
dairy-free
nut-free
high in nutrients
absolutely delicious
Pumpkin Spiced Doughnuts
Makes: 6 servings
Prep Time: 10 minutes
Cook Time: 15-20 minutes
Ingredients
1 cup oat flour
1/4 cup vanilla protein powder
1/4 coconut sugar
1 tablespoon pure maple syrup
1 egg
1 teaspoon baking powder
1 teaspoon cinnamon
1 teaspoon pumpkin pie spice
Directions
Preheat oven to 350 degrees F and lightly grease pan.
Add all ingredients into a large bowl and stir to combine and mix well.
Evenly fill doughnut pan with batter to make 6 doughnuts.
Bake 15-20 minutes until fork comes out clean and doughnuts are cooked through. Let sit for 5 minutes on cooling rack.
Recipe variations
Add in chocolate chips into batter and bake.
Drizzle the top of the doughnuts with melted chocolate, melt in pot or microwave.
Drizzle with homemade glaze – combine 1/4 cup icing sugar and with a bit of almond milk slowly add in until desired consistency. Option to add sprinkle of cinnamon into glaze (shown above).
Make this recipe egg free by substituting egg with 1 flax egg. Mix 3 tablespoon ground flaxseed with 1/3 cup water, stir and let sit for 10 minutes.
If you make this recipe I would love to hear what you think in the comments below or tag me in your pics over on the social @pam_rocca.
If you know someone who would love this recipe I would so appreciate you sharing it with them. I hope you have the most amazing Thanksgiving, doing things you love, with people you love enjoy food that tastes fantastic.
Happy Thanksgiving,