Have your cake and eat it too with this healthier dessert alternative. This is the perfect snack or dessert moving into the Holiday season because it's loaded with healthy protein and fat that will keep you fuller longer. It also contains nutrients that give you energy to keep up with everything.
I originally shared this recipe post on Good Friday in 2019 so that you can have a day or two to whip these doughnuts as a healthy dessert for Easter if you celebrate this Holiday. This recipe is in my first cookbook but we like to decorate them up for Holidays and wanted to share this with all of you. We changed it up this year to enjoy at Christmas with crushed candy canes. The idea is to have fun with this recipe and make it work for you.
If you do not have a doughnut pan we ordered our on Amazon and it came in really quick. This is a link for the doughnut pans I use: https://www.amazon.ca/6-Cavity-Silicone-Non-Stick-Dishwasher-Microwave/dp/B07QS47R22/ref=asc_df_B07QS47R22/?tag=googleshopc0c-20&linkCode=df0&hvadid
I often get asked what protein powder do you use so I thought I would share – our family loves Genuine Health's Vegan Fermented Protein Powder here is the link: https://shop.genuinehealth.com/en-ca/fermented-organic-vegan-proteins?_ga=2.172393120.264676986.1610137954-524101339.1602026974
This recipe is great for a dessert or fun breakfast. There is no flour, butter, or refined sugar there are only real food ingredients that nourish. As a mom of 3 these are the kinds of desserts I feel great about serving up.
This recipe is:
gluten-free
dairy-free
kid approved
you can make this recipe nut-free by substituting almond flour for oat flour
make it vegan by substituting 1 egg for 1 flax egg (3 tablespoons ground flaxseed with 1/3 cup water – let stir and let sit for 10 minutes) and sub honey for pure maple syrup
So what are you waiting for? Grab this recipe now.
Healthy Chocolate Protein Doughnuts
Makes: 6 doughnuts
Prep Time: 5 minutes
Cook Time: 12-15 minutes
Ingredients
½ cup almonds, blended into almond meal (or almond flour)
1/2 cup chocolate protein powder
1 tablespoon melted coconut oil
1 tablespoon all natural peanut butter
2 tablespoons honey or maple syrup
¼ cup apple sauce
1 teaspoon baking powder
pinch of salt
1 egg
1 tablespoon cacao powder
can add cacao nibs or chocolate chips in mixture
Optional
1 cup chocolate chips
1 package mini eggs or 2 crushed candy canes
Directions:
Preheat oven to 350 F.
Pulse almonds in food processor to make almond meal (flour like texture).
In a medium bowl add almond flour, protein powder, cacao powder, salt and baking powder.
In another medium sized bowl add all wet ingredients – egg, coconut oil, peanut butter, pure maple syrup or honey and apple sauce.
Mix wet ingredients into dry ingredients and stir until combined.
Spoon into doughnut trays and bake until browned 12-15 minutes.
Let doughnuts cool on cooling rack.
Meanwhile in a microwave safe bowl add 1 cup chocolate chips and place in microwave for 2 minutes stir and chocolate should be melted. Dip top of doughnuts in chocolate. Top with 3-4 Mini Eggs in the centre of each doughnut for Easter or two crushed candy canes for Christmas.
If you make this recipe I would love to hear what you think in the comments below or tag me in your creations over on the gram @pam_rocca.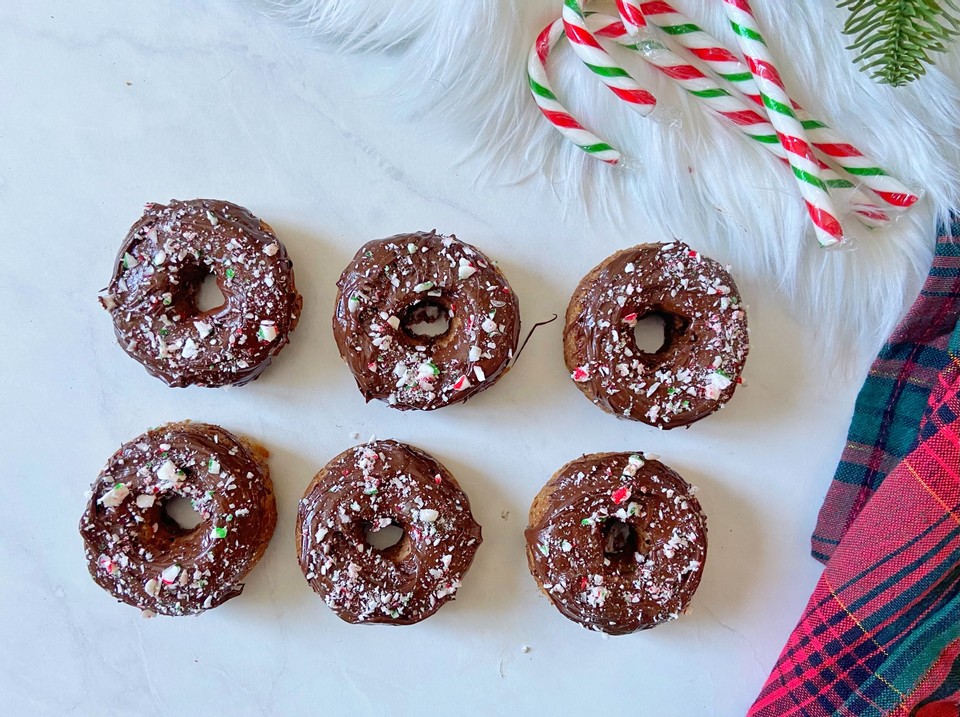 As always sharing is caring, if you know someone who would love this recipe I would so appreciate you sharing it with them.
Happy Snacking,