This flavourful smoothie is jam packed with nutrients and it tastes so delicious the perfect way to begin your day. This warmer weather kickstarts cravings for healthy, fresh, light, real whole foods.
Smoothies are a great grab and go breakfast you can even meal prep smoothie bags so everything is in one bag ready to go. This allows you to dump, blend and enjoy. I love the Ninja blender as it even has a to go individual container with a lid. Lately I am not on the run because I am working from home and I love to sip away as I work each morning.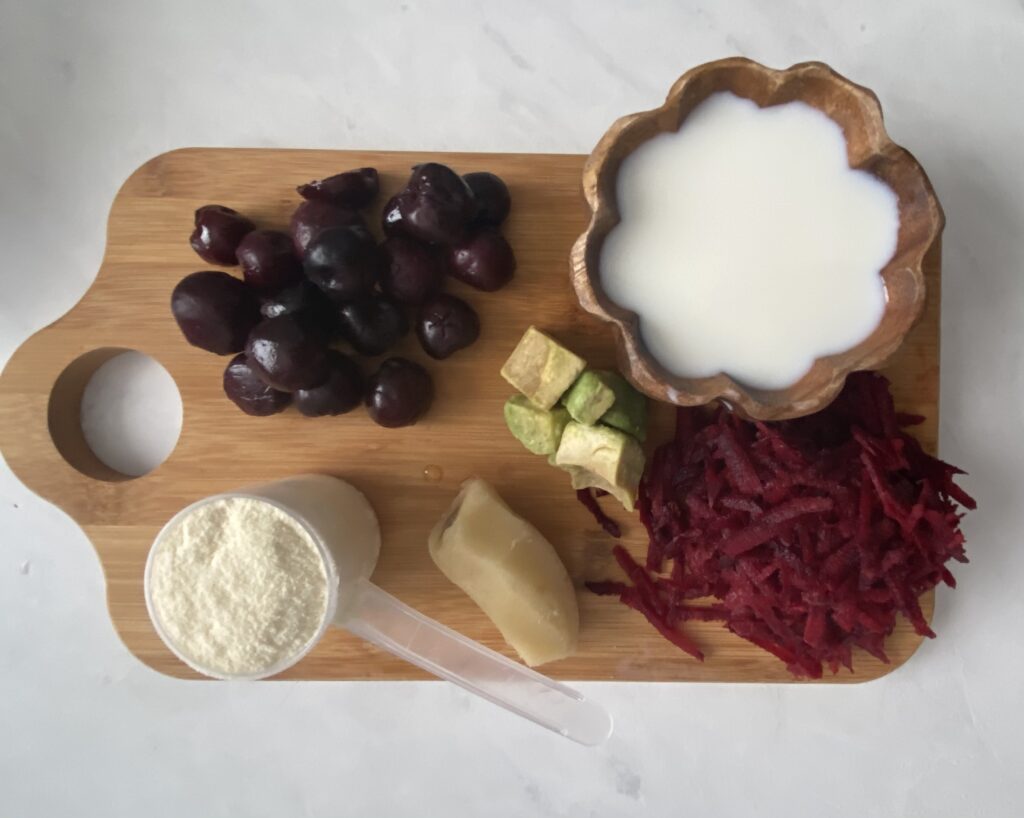 Smoothies are a great way to begin your day with nutrients you can easily add in whatever you need. By adding in 1 scoop (roughly 1/4 cup) protein powder you are getting 20 grams of protein, if you don't want to add protein powder you can add hemp hearts (shelled hemp seeds) instead. Avocados are added for healthy fats, this helps keep you fuller longer, absorb fat soluble vitamins and great for so many functions in the body.
The smoothie is so vibrant and bright it is sure to kickstart your day with good vibes!
Beets are an amazing under used and rated veggie. They help with phase 2 liver detoxification and they are loaded with immune boosting vitamin C, fibre, folate, manganese, potassium and antioxidants.
If you want to turn this smoothie recipe into an nice cream or dessert recipe add in more cherries or ice to thicken up into the yummiest treat. I have also made and froze this smoothie and saved it for a delicious dessert.
Beet Cherry Smoothie
Makes: 1 large serving
Prep Time: 10 minutes
Ingredients
1 large uncooked beet, peeled and shredded
20 frozen cherries, 3/4 to 1 cup
1/2 frozen banana, sliced
2-4 pieces frozen avocado
1/4 cup vanilla protein powder (I like Genuine Health Vegan Fermented Protein Powder)
1/2 cup unsweetened original almond milk (or your favourite dairy free milk)
Directions
Place all ingredients in blender and blend until smooth and no chunks remain.
Serve as a smoothie or a smoothie bowl by topping with fresh fruit, coconut flakes, chia seeds and hemp hearts.
If you make this recipe I would love to hear what you think in the comments below or be sure to tag me in your pic's over on the social @pam_rocca.
As always sharing is caring, if you know someone who would love this recipe I would so appreciate you sharing it with them.
Stay nourished,