This flavourful healthy spin on traditional Alfredo Pasta is going to be your new favourite comfort meal. It has been raining a lot lately and temperatures feel colder, this has me craving warm meals. I shared this recipe this week on the socials and it was a huge hit so I thought I would share it here too.
Why I love this recipe – Traditional pasta clocks in at about 250 calories per cup and spaghetti squash weighs in at around 50 calories so if weight-loss is your goal this is an easy swap. Spaghetti squash also contains more fibre, and nutrients giving more bang for your buck to your body. It is also naturally gluten-free and dairy-free. Gluten and dairy can be two of the biggest offenders when it comes to food intolerances, this can lead to inflammation in the body. If eating pasta makes you feel great, cool do it! I am not stopping you, it just doesn't agree with my body so I always use spaghetti squash instead.
Another perk – Traditional Alfredo sauce is loaded with cream, butter, cheese and oils that can sit really heavy, make you feel bloated afterwards. I love this dish because it is made without any dairy and it's so simple to make. I would even argue that it tastes better than store bought Alfredo sauce, although if you want to skip a step you can absolutely make this recipe with store bought sauce. The idea is to make each recipe work for you and your family. Now who is getting super excited for dinner tonight?
This comforting Spaghetti Squash Alfredo Pasta checks all the boxes but most importantly it smells and tastes absolutely fantastic!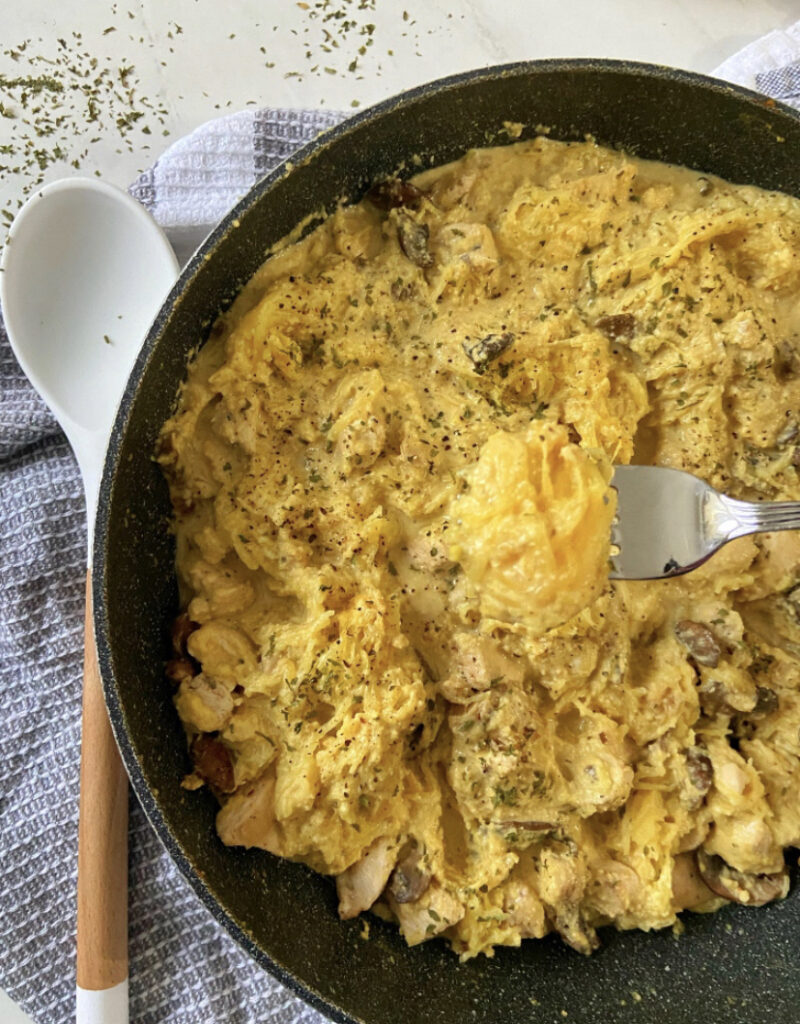 This dish can easily be made vegan by substituting 2 cups of cooked chickpeas (or 1 can of chickpeas) instead of chicken.
You can make this dish nut-free by adding in 1 block of crumbled firm tofu instead of the soaked cashews.
I love making recipes that work so if you need any other modifications please let me know in the comments below and I am more than happy to share suggestions with you so you can enjoy this dish too.
Let's dig in!
Spaghetti Squash Chicken Broccoli Alfredo
Makes: 2-4 servings
Prep Time: 15 minutes
Cook Time: 60 minutes
Ingredients
To Cook the Squash
1-2 spaghetti squash
1 tablespoon oil
dash of salt and pepper
For Dairy-free Alfredo Sauce
1 1/2 cups cashews, soaked overnight and drained
2 cups unsweetened original almond milk
1/2 cup nutritional yeast
1/2 tablespoon lemon juice
1 teaspoon garlic salt
1 teaspoon onion powder
For the Protein & Vegetable Add In's
1 tablespoon avocado oil
2 cloves garlic, minced
1/4 yellow onion, diced
2 boneless skin less chicken breast, cubed (or 2 cups cooked chickpeas)
2 cups broccoli, chopped into florets
1 (8oz.) package cremini mushrooms, sliced
Directions
Preheat oven to 350 degrees F. Cut spaghetti squash lengthwise, scoop seeds out and coat inside flesh with avocado oil. Sprinkle with a dash of salt and pepper and bake open side down for 50 minutes.
Meanwhile make the dairy-free Alfredo sauce by adding: drained cashews, almond milk, nutritional yeast, garlic salt and onion powder into blender or food processor. Blend until cream sauce forms and smooth. Set a side.
In a large skillet over medium heat add oil, onion, garlic and chicken and cook until chicken is cooked through, and no longer pink in the centre. Once the chicken is cooked set aside. In the same frying pan add broccoli and mushrooms and cook until mushrooms are cooked and brown in colour.
When squash is cooked fork noodles into large frying pan with chicken, cooked vegetables, and Alfredo sauce. Serve warm. Another option is to stuff the mixture into the squash bowls and bake with cheese or more nutritional yeast on top until cheese is golden and bubbly.
Recipe note: you can do 2 cups broth instead of original almond milk. If the mixture is too runny you can thicken it up by adding 1 tablespoon tapioca starch or arrowroot powder (or corn starch).
If you make this recipe I would love to hear what you think in the comments below or be sure to tag me in your pics over on Instagram @pam_rocca.
As always sharing is caring, if you know someone who would love this recipe I would so appreciate you sharing it with them.
Nourish & Be Happy,