Energy and granola bars are quick grab and go snacks, that are easy to pack. We rely on them all the time in our household. However a lot of store bought options are often not healthy and can be loaded with sugar, added preservatives and or artificial ingredients.
Want to try making your own, healthy nut and seed bars? This is a perfect rainy day project with the kids, or make them while putting dinner together one night. Double up the recipe and freeze a batch.
Stocking up your pantry with nuts and seeds can feel costly I get it, our family slowly built a solid pantry by buying our nuts in bulk. It is a lot more cost effective as a small can of almond can go for $7-10 dollars and you only get a small amount. Where as buying in bulk you can grab a large bag for $17-20 dollar and get multiple uses.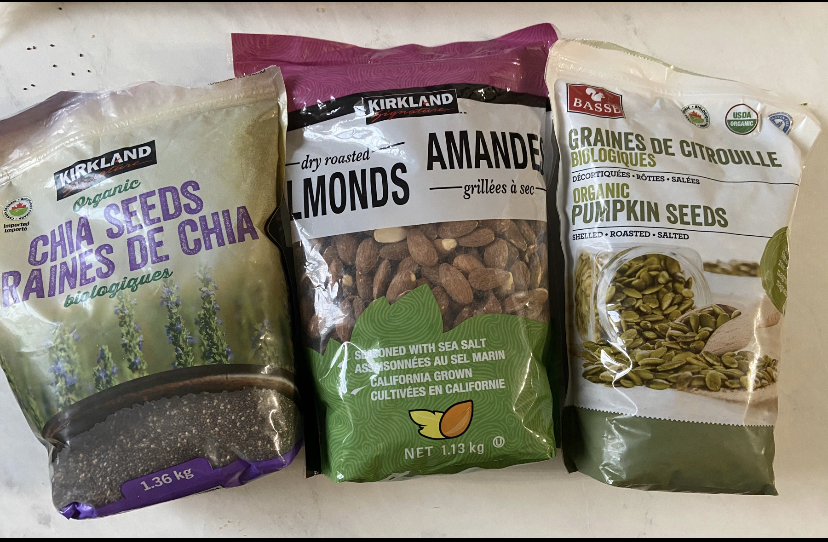 The above picture is an example of what our family buys in bulk from Costco you can also order from Amazon.
See Recipe below it is vegan, dairy-free, gluten-free and delicious. Enjoy!
Nut & Seed Energy Bars
Makes: 6-9 bars
Prep Time: 15 minutes
Cook Time: 25 minutes
Ingredients
·       ½ cup whole almonds
·       ½ cup raw cashews
·       ⅓ cup raw pepitas (pumpkin seeds)
·       ¼ cup raw sunflower seeds
·       3 tablespoons ground flaxseed
·       ¾ cup pitted chopped dates
·       ¼ cup maple syrup
·       ½ teaspoon salt
Directions
1.     Preheat oven to 300 degrees. Place parchment paper on cookie sheet, and spread almonds, cashews, pumpkin seeds, sunflower seeds and sesame seeds. Bake until pale golden and fragrant (stirring occasionally) 15 mins.
2.     Grind cooled nuts in food processor, pulse until coarsely chopped about 5 pulses; transfer to large bowl. In food processor add 1/2 cup dates, water, maple syrup, , salt and ground flaxseeds and process until smooth, scraping down sides of bowl as needed, 30 seconds to 1 minute. Stir date mixture and add remaining 1/4 cup chopped dates into the nut mixture until well combined.
3.     Place mixture into into 9 x 9 inch pan lined with parchment paper, press firmly into even layer. Bake bars until light golden about 20-25 minutes.
4.     Let bars cool for 15 minutes, then remove from pan and transfer to cutting board. Makes 8-12 bars. Space evenly on parchment paper-lined baking sheet and bake until golden, another 15 minutes. Let bars cool completely before storing in air-tight container, bars keep for up to one week.
Note: I have been really lazy before and skipped roasting the nuts ahead of time and they still turn out fine.
Get creative and add in your own mixture of dried fruit. Want to make it school safe? skip the almonds and cashews and adding in more pumpkin and sunflower seeds for a school safe snack for the kiddos.
If you make this recipe I would love to hear what you think in the comments below or be sure to tag me in your pics over on the gram @pam_rocca.
As always sharing is caring, if you know someone who would love this recipe I would so appreciate you sharing it with them.
Happy Meal Prep Sunday,