We all have those days where we crave something sweet but don't want to eat anything that will set us back form our health goals. I am a big fan of creating healthier alternatives so you can have your cake and eat it too. That's why I continue to create and share delicious recipes for other to enjoy, like this simple healthy Peanut Butter Cup recipe.
Here are a few tricks to finding healthier alternatives:
Go for the homemade option vs. processed – this ensure you know exactly what is in your food.
Use ingredients that provide nutrients for your body vs. empty calories. Empty calories are foods that contain no real nutritional value but we still get the calories – a great example is a can of Coke, it provides nothing for us and delivers 150 calories. You are better off consuming foods that contains macronutrients, vitamins, minerals and phytochemical aka real food.
Look up healthy swaps using almond flour instead of white flour, dates in place of sugar, finding real foods in their most natural state will give you the healthiest snack option.
Look up healthier recipes – they are out there and often times they are not too complex to make. It just takes a little momentum to look it up and try something new.
This is one of my favourite healthy snack alternatives as it has some fat, protein and it's seriously delicious. When you have desserts that provide the body nourishment especially with healthy fats and protein it allows you to feel satisfied and more satiated so you actually eat less and feel fuller longer. With protein and fat you also help to control blood sugar spikes which can help with weight loss.
Enjoy this tasty vegan snack that is naturally gluten-free and dairy-free yet full of flavour.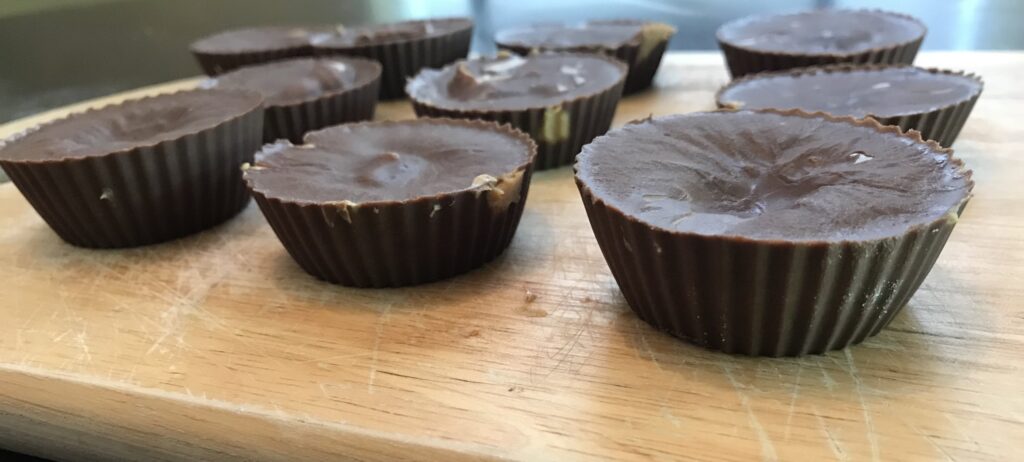 Healthy Peanut Butter Cup Recipe
Makes: 12 cups
Prep Time: 5-10 mins
Freeze Time: 30 minutes to 1 hour
Ingredients
1/2 cup solid coconut oil
1/2 cup chocolate protein powder
2 teaspoons cacao powder
all natural peanut or almond butter
Directions
Line muffin tray with reusable liners and set aside.
In a small pot add coconut oil, protein and cacao powder. Turn on stove over medium heat, stirring often. Once coconut oil is melted and mixture is well combined spoon a layer in each muffin cup so the bottom is covered (do not use entire mixture, you should still have some remaining).
Spoon a small dollop (1 teaspoon) of all natural peanut or almond butter into each cup. Top with remaining chocolate mixture.
Place tray in freezer until solid. Remove from tray and place in air-tight container and store in freezer, pull out just before eating. Enjoy!
Note – you can get creative with filling in the middle if you didn't want to use peanut butter you could make them nut free with sun flower seed better or almond butter and jam.
If you make this recipe I would love to hear what you think in the comments below or be sure to tag me in your creations over on the socials @pam_rocca.
As always sharing is caring, if you know someone who would love this recipe I would so appreciate you sharing it with them.
Happy Meal Prep Sunday,