The cooler weather has me craving comfort food, you know the warming, delicious meals that feel like a warm hug on your insides? Although I don't like the heaviness of "traditional" comfort meals. I am a big fan of creating lighter and healthier alternatives and want to share with all of you. That's why I had to share this delicious Vegan Zucchini Noodle Lasagna that you can make with your choice of Basil Cashew Cheese or Tofu Ricotta.
Lasagna is one of our families favourite comfort meals. It's a great dish that can be prepared in advance as it freezes really well. Here is my healthy spin on traditional lasagna. This low-carb, gluten-free Lasagna is one of the most popular recipes with clients who attend our meal prep workshops. It is versatile and delicious and but the best part is that it can be whipped up in under 15 minutes!
Feel free to use regular noodles, make it vegan, vegetarian or add your favourite meat or lean protein source. Customize your veggies and if your kids are like mine (they hate anything chunky) puree your spinach and roasted red peppers (any any other veg) and mix it in with the sauce. Even if you are not a great cook I promise you, this dish is easy to put together and it will be a hit with the family. The idea is to customize and make it work for you.
It's time to get excited about what's for dinner!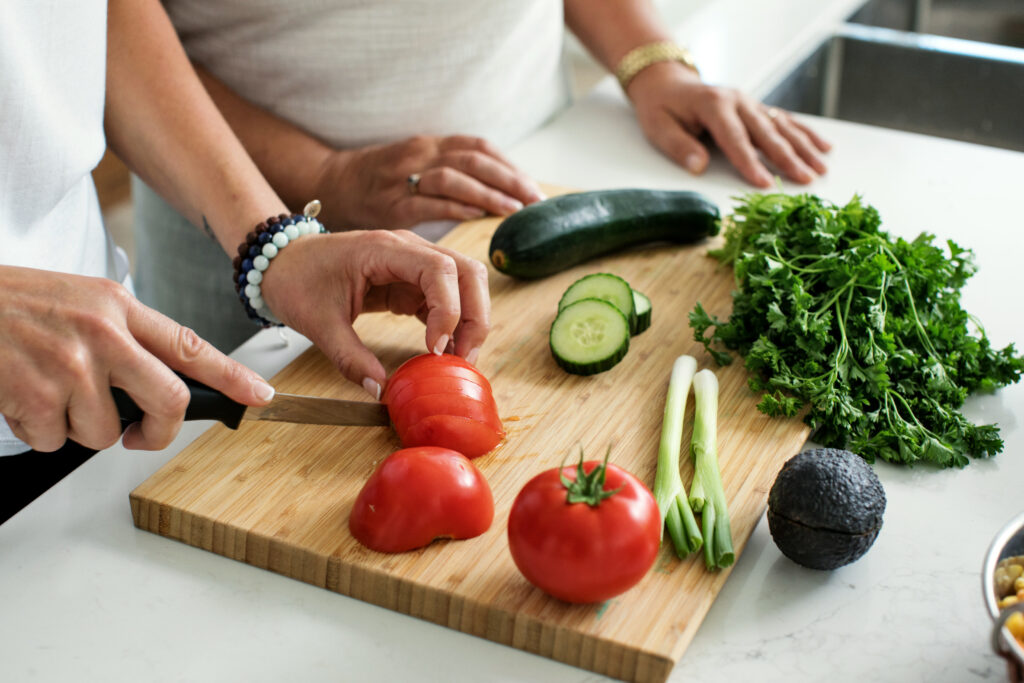 Vegan Zucchini Noodle Lasagna
Makes: 6 servings
Prep Time: 15 minutes
Cook Time: 30 minutes, cool 10 minutes
Ingredients
4  Zucchini sliced lengthwise into "lasagna" noodles (salt lightly to remove water)
* note can use oven ready lasagna noodles instead of zucchini noodles
2 jars of marinara sauce
1-2 cups baby spinach
1 package cremini mushrooms
1 jar roasted red peppers
Vegan Tofu Ricotta
1 package extra firm tofu, drained, rinsed, pressed
10 oz. tub garlic hummus (1 heaping cup)
¼ – ½ cup nutritional yeast
¼ cup fresh basil, finely chopped (optional)
1 tablespoon Italian seasoning
1 tsp salt
1 tsp garlic powder
OR
Vegan Cashew Cheese
1½ cups cashews (soaked overnight)
1 cup unsweetened almond or cashew milk
2 tablespoons nutritional yeast
1/2 cup basil
2 cloves garlic, minced
½ teaspoon salt and pepper
Directions
1.     In base of 9" x 13" lasagna pan place a layer of sauce to cover the bottom of the pan.
2. Cut zucchini noodles lengthwise with a mandolin. If you do not have mandolin you can cut with a large knife, aim to cut noodles thin. Lightly salt zucchini noodles and let sit for 5 minutes. This allows water to be drawn out of noodles which gives you a less watery lasagna.
2.     In a small bowl add cottage cheese and Italian seasoning and stir. Or make vegan tofu "cheese" mixture by combining ingredient in a small bowl. My favourite is the Cashew "cheese" add all ingredients in a small food processor and mix until smooth. Set Aside.
3. Chop your desired veggies.
4. Place zucchini noodles in large pan on top of sauce layer, next add 1/2 "cheese" mixture on top of lasagna noodles, add 1/2 veggie mixture on top of "cheese" mixture. Add another layer of sauce, noodles, cheese and veggies. Finish with sauce, noodles then sauce on top.
5. Preheat oven to 350.
6. Cook covered for 30 minutes. Cook 10 minutes uncovered. Let sit for 5 minutes and serve.
If you make this recipe I would love to hear what you think in the comments below or be sure to tag me in your creations over on social media @pam_rocca.
As always sharing is caring, if you know someone who would love this recipe I would so appreciate you sharing it with them.
Happy Meal Prep Sunday,