This past week I was at an event called Flavours located in the Muskoka area, I made and brought over 250 lemon balls and they got snatched up so quickly. I even had people stopping by staying that someone told them that they needed to stop by my table to try the delicious healthy balls. This made my heart so happy!
This recipe is in the cookbook so I never thought to put it on the blog but realized that anytime I have an event these are my go to because they are a hit with kids as well as adults. I did bring these to a school event and kids were asking for seconds, so it is kid approved. This is a great recipe that you can whip up with your kids during the summer break so you have healthy snacks to keep up with the busy days. With only has 5 ingredients there is no excuse why you can't make this yummy snack this week.
This recipe is:
gluten-free
dairy-free
plant-based
nut-free (use oat flour instead of almond flour)
kid approved
delicious
Enjoy!
Lemon Balls
Makes: 10-14 balls
Prep Time: 10 minutes
Ingredients
1 cup almond flour
2/3 cup coconut flakes
1/4 cup vanilla protein powder (I use Genuine Health Vegan Fermented Vanilla Protein Powder)
2 tablespoons freshly squeezed lemon juice
1/4 cup honey
Directions
Place all ingredients into a large bowl and mix with hands to combine. If mixture feels too dry add a little more lemon juice until desired consistency.

Roll into balls and store in air-tight container in fridge for up to one week.

Pro tip – double or triple this recipe and freeze a batch.
That's it you guys! Easy, peasy!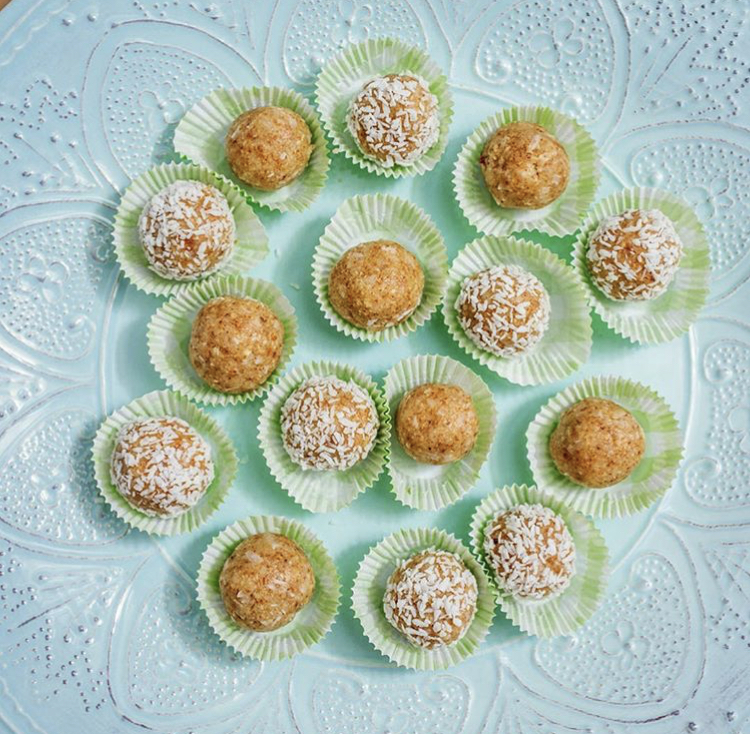 If you make this recipe remember to tag me in your creations over on Instagram @pam_rocca, love seeing what recipes everyone is enjoying.
If you make this recipe I would love to hear what you think in the comments below. As always sharing is caring, if you know someone who would love this recipe I would so appreciate you sharing it with them.
Happy Meal Prep Sunday,