This delicious plant-based Taco "meat" might be your new favourite meatless Monday meal. It is simple to create and SO flavourful. Why not spice up your next Taco night with this healthy alternative. Variety is the spice of life am I right?
Tofu is an excellent source of protein and it is a complete plant-based protein source as it has all nine essential amino acids. It is also beneficial to the body because it contains fibre, iron, calcium, manganese and phosphorous. It also doesn't contain the cholesterol and saturated fats that are found in meat which could make this option a delicious alternative to traditional tacos. Even if you are a meat lover it's fun to add in a new, fun way to enjoy taco's and help the environment by testing out a meatless meal. If we all (as a collective society) did a few more plant-based/vegan meals it would hugely help the environment and our bodies too.
You can even make this as a meal prep dish for lunches, pull out three to four containers and fill with your favourite ingredients. I have even done a really simple lunch with leftovers where I stir-fry cauliflower rice (or rice), this tofu "meat" and 1/4 cup of salsa with a few slices of fresh avocado.
This even works as a healthy snack, one night I was craving chips and I made this tofu taco "meat" recipe and put some in a bowl for a very satisfying snack. Not only is this a healthier alternative as it is lower in calories, it also provides my body with more protein and nutrients. I highly recommend trying it out.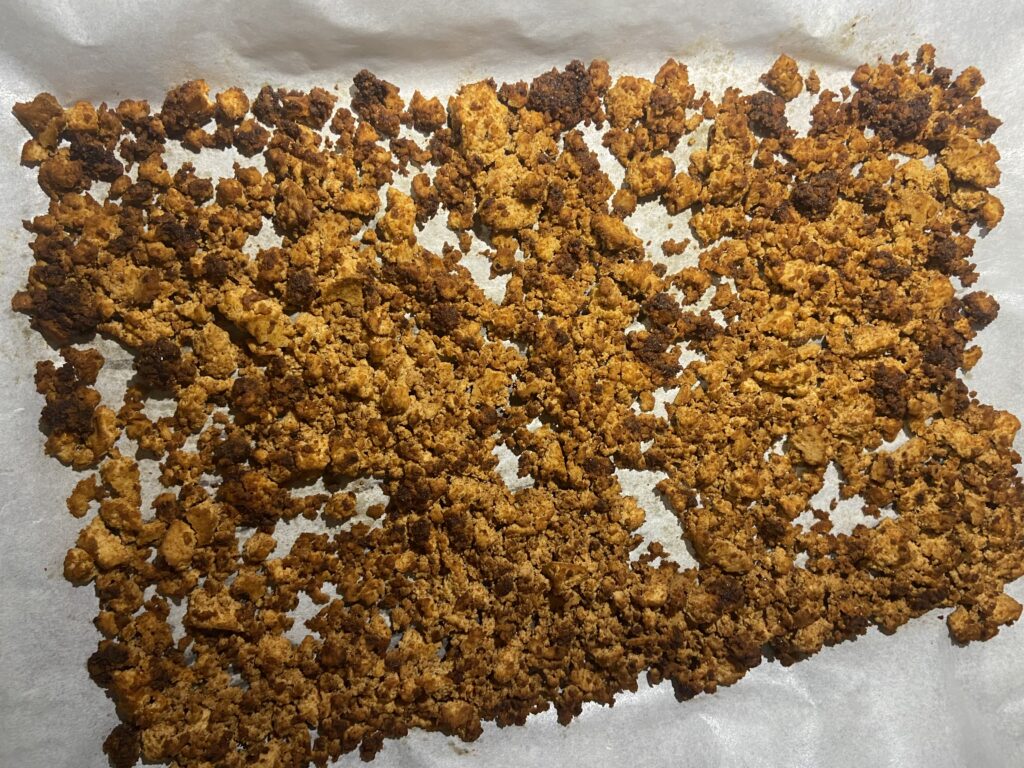 This is a fun dish that can work for the whole family! My kids love it with wraps and cheese with cucumbers on the side, my husband and I love this in a delicious customizable bowl. Make this recipe work for you and your family.
This tofu taco "meat" can be eaten as a high protein snack just as is, in tacos, lettuce wraps or in a bowl as shown.
This recipe is:
plant-based/vegan
dairy-free
gluten-free
nut-free
kid & husband approved
delicious
Ok let's jump in so you can see how easy this recipe is to create.
Tofu Taco Bowls
Makes: 3-4 servings
Prep Time: 15 minutes
Cook Time: 25 minutes
Ingredients
1 package extra firm tofu
1 tablespoon avocado oil
2 tablespoons tamari or soy sauce
1 ½ tablespoon chili powder
1 teaspoon paprika
½ teaspoon cumin
½ teaspoon garlic powder
½ teaspoon onion powder
¼ teaspoon cayenne pepper (optional)
For the Taco Bowl
1 cup brown rice, cooked
1 avocado, diced
1 tomato, diced
1 yellow bell pepper, diced (option to substitute for 1 cup cooked corn)
2 cups cooked black beans (or 1 can black beans drained and rinsed)
Directions
Preheat oven to 350 degrees F and line baking tray with parchment paper, set aside.

In a large bowl add avocado oil, tamari, chili powder, paprika, cumin, garlic powder, onion powder, and cayenne (if you like spice). Stir until you make a well combined paste mixture. 

Crumble tofu in the sauce bowl with your fingers until there are no large pieces and it resembles a taco "meat" consistency. Stir until well mixed and spread taco crumble evenly onto prepared baking sheet. 

Bake for 20-25 minutes until smaller pieces are golden brown or medium brown in colour. 

Meanwhile cook rice according to package directions. Prepare vegetables by dicing yellow pepper, tomatoes, and avocado.

Make bowl by adding rice, cooked brown beans, warm tofu, yellow peppers, tomatoes, and avocado. 
Top with your favourite fixings like homemade vegan sour cream, diced red or green onions, sprouts, shredded carrots or shelled hemp seeds. 
Option to make a Chipotle Mayo to top bowl by mixing 4 tablespoons vegan mayo (or homemade cashew sour cream) with 1 tablespoon Sriracha. 
If you make this recipe I would love to hear what you think in the comments below. If you try it out be sure to tag me in your pics on the socials @pam_rocca, I always love seeing what you lovelies are creating and enjoying.
As always sharing is caring, if you know someone who would love this recipe I would so appreciate you sharing it with them.
Happy Meal Prep Sunday,