One of the easiest ways to improve your health and the way you eat is to consume more fruits and vegetables. They tend to be lower in calories, high in essential nutrients like vitamins and minerals, high in fibre, antioxidants and phytonutrients. The problem is that most people don't consume enough, which can lead to a deficiency in certain nutrients. Did you know that 6 of the leading causes of death can be prevented from a healthy diet and physical activity? I am not sharing that to scare you, I am sharing to motivate you to focus on optimal health as your goal.
When you think about healthy eating do you think of eating in a way to lose weight? or is it to sustain health and longevity over your life?
Begin to think of food as fuel and it know that it can still be delicious and enjoyable too. The idea is to find foods that you enjoy in a way that works for your lifestyle. I always ask clients "could you eat this way (or want to eat this way) until your 70 years old?" if the answer is no you might be doing it wrong. If you feel that you are not overly healthy right now, how can you shift your focus to finding joy in improving your health?
The problem with healthy eating and nutrition is that everyBODY is different. What works for one person might not work for another person. The idea is to start listening to how your body responds to food, hunger and satiation cues. The other problem is that we tend to be a society of ALL OR NOTHING. It's not the one thing that causes damage to our health goals it is the mindset of "well I already messed things up so I might as well eat all the things and start fresh tomorrow." Each meal and moment is a fresh start to fuel yourself in a way that makes feel your best, so start thinking about how you can improve the way you fuel your body and the mindset behind why.
To get started I wanted to share this article to help make it easier for you to add more fruits and vegetables into your daily living in a way that works for you. If you currently don't eat many veggies, pick one tip that resonates with you the most and begin with that.
Let food be your medicine and medicine be your food.
-Hippocrates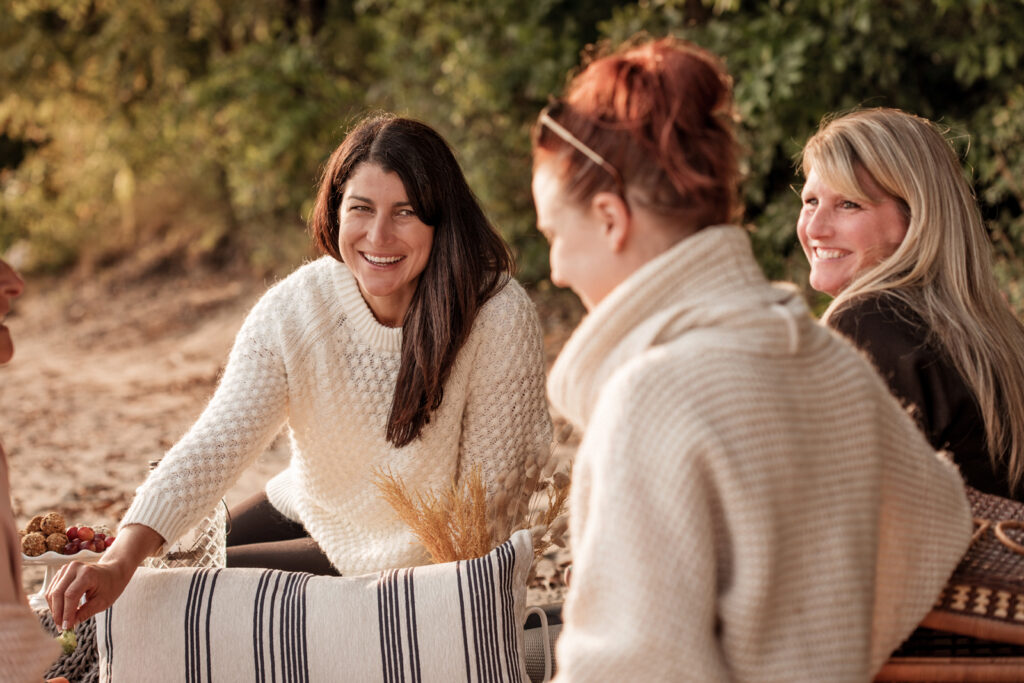 10 Ways to Add More Fruits and Vegetables into Your Life.
1. Buy more fruits and veggies each week that you enjoy with a plan on how you are going to eat them. Meal and snack planning play a big part in being successful with eating healthier.
The planning is the part that is often missing which can lead to a lot of expired goodies that fill your green bin instead of your body. If you have apples plan to have them as a snack, or bake in oatmeal or overnight oats, or cut for apple dips for the family snack. If you pick up broccoli know what meal or dish it is going into.
2. Prep your fruits and veggies by cutting them or washing them and storing them in your fridge.
By setting aside time to veggie prep it makes it easier to grab for an easy snack, or to add into soups, salads, or stir-fry's.
Carrots and celery are great stored cut up in a container of water so they stay crunchy, simply drain water and pull out for a snack with hummus.
Cut up bell peppers into strips and store in container.
Cut up whole red or green cabbage and store in container for easy soups, salads or roasted in bowls.
Diced up all your garlic and store in a small jar with oil for ultimate freshness.
Shred beets and carrots for easy salad or bowl toppers.
Spiral your zucchini so it's ready for your salad or stir-fry bowl.
Cut up and roast a tray of veggies so you can easily add them to meals, bowls or snack on instead of chips.
Cucumbers and mushrooms I cut right before I use so they don't get soggy.
3. If you don't have time to veggie prep, or you just don't like doing it fine a way that you can purchase your veggies already prepped.
Here are a few ideas:
cauliflower rice (fresh or frozen)
zucchini noodles
broccoli or kale slaw
pre-made salads
shredded beets or carrot sticks
pre-cut butternut squash (fresh or frozen)
pre-packaged stir-fry vegetables
4. Buy bags of frozen fruits and veggies so you always have them on hand.
Frozen fruit can create amazing smoothies, nice cream bowls, popsicles, or desserts like fruit crumbles or breakfast treats like blueberry oatmeal.
After fresh, frozen is best because the fruit is picked and frozen when it is ripe and in season. If you live in Canada like me, you know that during some months fresh fruit just doesn't taste the same because it's not in season. This is great to know heading into our fresh food season, our family often picks berries from local farms and we eat and enjoy some of our haul but freeze a lot for winter months so we can have delicious farm picked blueberries and support a local farmer.
Buying frozen can also save you time and money because foods won't go bad. Think of frozen mangos, no more waiting for them to ripen and trying to cut them. Love frozen avocados for the same reason. You can also get a lot of variety in fruit medley bags, think mixed berries or tropical (pineapple, peaches and strawberries). If you are on a budget this is a great way to add in a lot of variety at a lower cost.
A food saving hack is to freeze any fruits (or certain veggies) that are going to expire and you don't have time to use them up. Freeze berries, spinach, cauliflower, bananas for smoothies etc.
5. Think of a way you can add in a vegetable or fruit at each meal throughout your day.
Examples:
Breakfast – spinach and red pepper omelette, or blueberry smoothie.
Lunch – big salad with protein and healthy fat like avocado (protein can be chicken or plant-based – think chickpeas, lentils, tempeh and tofu).
Dinner – protein and veggie – can do roasted veggies with your favourite lean protein source or check out the chickpea, veggie stuffed pita's below for some inspiration.
Snack – baked fruit like baked apples and cinnamon or apple crisp (check my blog for recipe).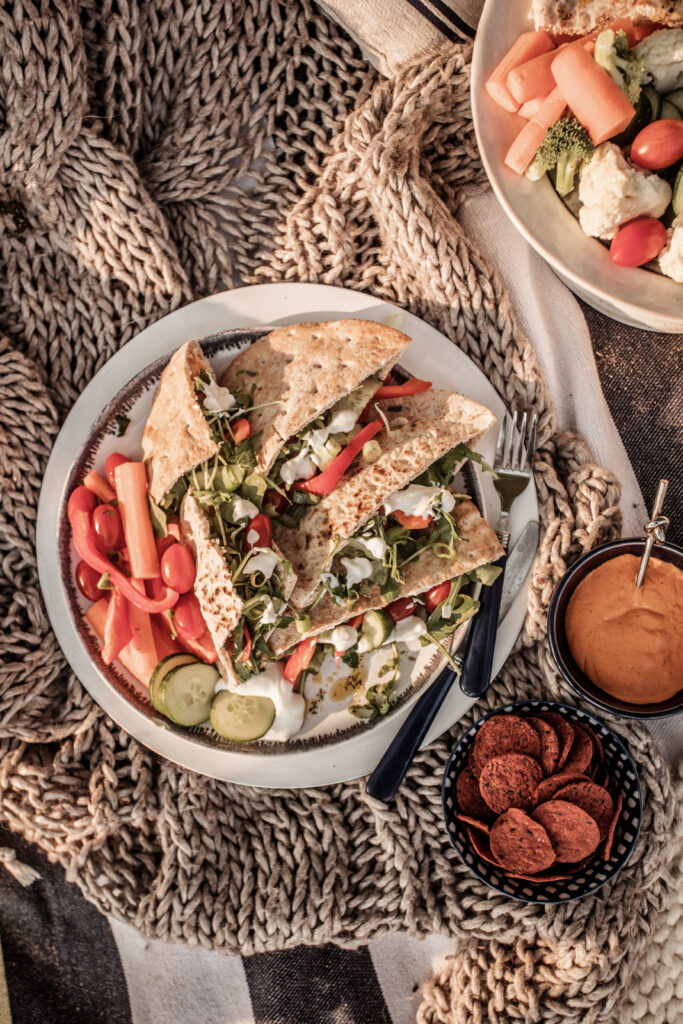 6. Add fruits and veggies into desserts like chocolate avocado mousse, it contains avocado and bananas as well as other real foods and less processed sugars.
You can also make chocolate zucchini brownies or muffins which are a great way to sneak veggies.
The Chocolate Mousse recipe is in my first Cookbook if you are interested in a copy check it out here: https://pamrocca.com/product/prep-with-pam-plant-based-foods-that-taste-like-love/
If you are lacking motivation to eat well get inspired by picking up a new healthy recipe or Cookbook like the one above. I also have a Sugar Detox in 10 Days Cookbook with loads of low sugar recipes.
7. Eat a variety of different vegetables, with a variety of colours. Different colours contain different nutrients so eat the rainbow.
Think greens, red, purple, blue, yellow, orange, white.
If you eat well you basically feel like a magical freaking rainbow unicorn so dig in!
8. Experiment or try one new fruit or vegetable per week.
If you have never tried eggplant find a fun recipe that looks delicious to you and try it out. Zucchini can be made so many different ways even if you have tried it see if there is a new way you can add it in. Think zucchini noodles, stuffed zucchini boats, zucchini fries, zucchini chips, zucchini fritters.
If you've never tried papaya pick one up and test it out, dragon fruit? leeks? microgreens? parsnips? If you are not sure how to prepare them just search it up on YouTube, there is so much good, free information available to you right now.
Variety makes cooking so much more fun!
9. Find fun ways to enjoy veggies.
Love to spice up & roast broccoli for a crunchy snack. They don't have to be raw, bland or boring. Spice them, roast, bake, bbq, grill, marinade, stir-fry stuff, you get the idea there are so many ways to make vegetables delicious.
Make fun veggie sides like cauliflower mash with balsamic grilled mushrooms or grilled eggplant with a roasted red pepper dressing. I share a ton of recipes like this over on Instagram head over and give me a follow @pam_rocca to enjoy a little food inspiration.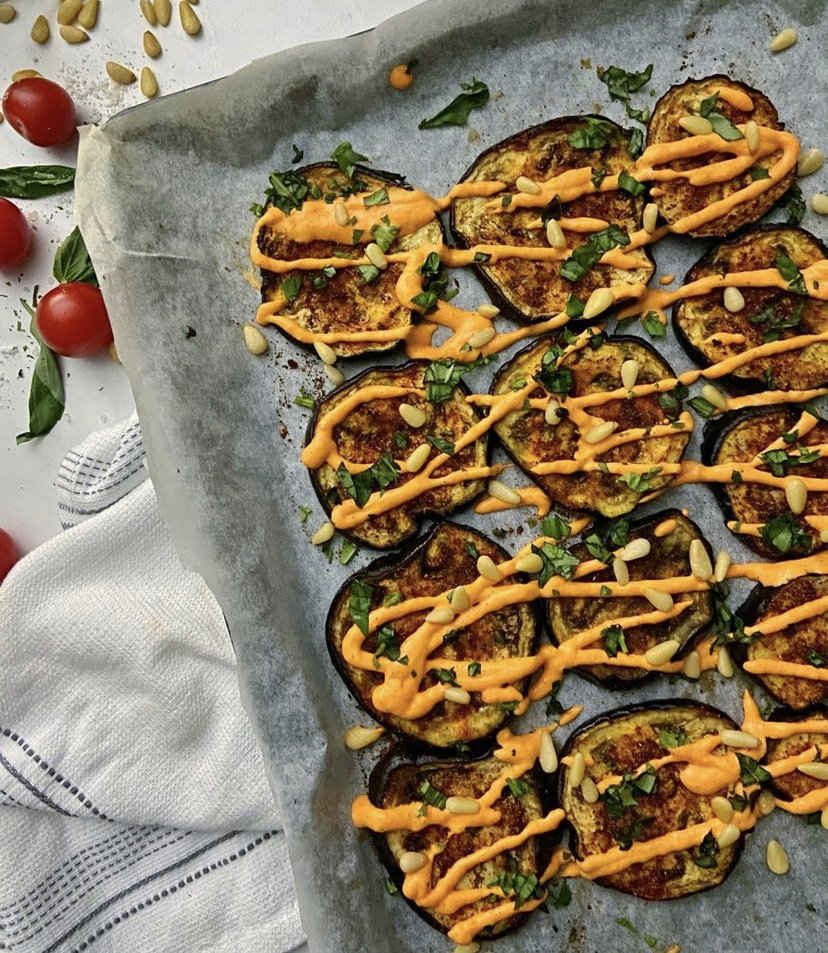 10. Sneak them in!
If you are a picky eater or you have picky eaters on your hands I feel your pain. Two of my kids don't overly like veggies so I have to be a ninja to sneak them into their day.
Here are a few examples of how to sneak them in:
add cauliflower to mashed potatoes (they don't even notice)
add fruits and veggies to smoothies
puree spinach and red pepper into pasta sauce
cook carrots and potatoes and add nutritional yeast for a vegan cheesy sauce on chickpea pasta
blend them into fun snacks like broccoli cheddar bites so there are no big chunks my kids also love sweet potato tots.
For picky eaters the goal is to NOT make meal time a fight, sneak them in but also educate them to make empowered choices – you need one veg on your plate which one will you have tonight? In my experience the more you get the kiddos involved the more likely they will try something new.
Consistency is key!
If this article resonated with you, I would love it if you could let me know in the comments below. I am so passionate about simplifying healthy eating and educating on this topic because knowledge = empowered choices.
If you found this article beneficial I would so appreciate it if you shared with a friend who would enjoy it too. Let's be apart of the change and create the world we wish to see.
With love and light,