Smoothies are an amazing way to start the day especially during the warmer months. Not only are they a cool treat to kick off your day, smoothies can be jam packed with nutrients that will fuel your body. I am boring and tend to stick with green smoothies but my girls LOVE mango smoothies from Booster Juice so I created this recipe for them and for you too.
Mango's are so nutritious!
Did you know that mangos are high in antioxidants? can help boost immunity? improve digestion? They also contain vitamin K, C, folate and fibre. The daily recommended amount of fibre is 25 grams for females and 38 grams for males having a smoothie is an easy way to get in lots of healthy fibre.
This recipe comes together in under 5 minutes so not having time to eat healthy can no longer be your excuse. This recipe is a crowd pleaser with the kids and husband, you can get create with your add in's too. Add more spinach, frozen cauliflower, pineapple, strawberries or your favourite fruits and veggies.
You can make this thicker to make it more like Mango Ice Cream for a cool, sweet, healthy treat.
This recipe has vanilla protein powder, it is an easy way to start your day with 20 grams of plant-based protein. I often get asked which protein powders I use so I thought I would share my fav's:
Genuine Health Vegan Fermented Organic Protein Powder – https://genuinehealth.ca/products/fermented-organic-vegan-proteins-vanilla?variant=37783846879404&currency=CAD&utm_medium=product_sync&utm_source=google&utm_content=sag_organic&utm_campaign=sag_organic&gclid=Cj0KCQjwwLKFBhDPARIsAPzPi-LDss021Cjs0KaFOMW-uYHJtb-0DY1Vnu0CE8M-POBqwwlMQMKn4_caAl8vEALw_wcB
IronVegan Sprouted Protein – https://www.ironvegan.ca/products/sprouted-protein?variant=31654974652498
Sun Warrior – https://sunwarrior.com/products/organic-warrior-blend-vegan-protein-powder?variant=33396138541101
Arbonne – find a rep and order both chocolate and vanilla are delicious and it is a pea and rice protein so it's vegan, clean and a complete protein souce.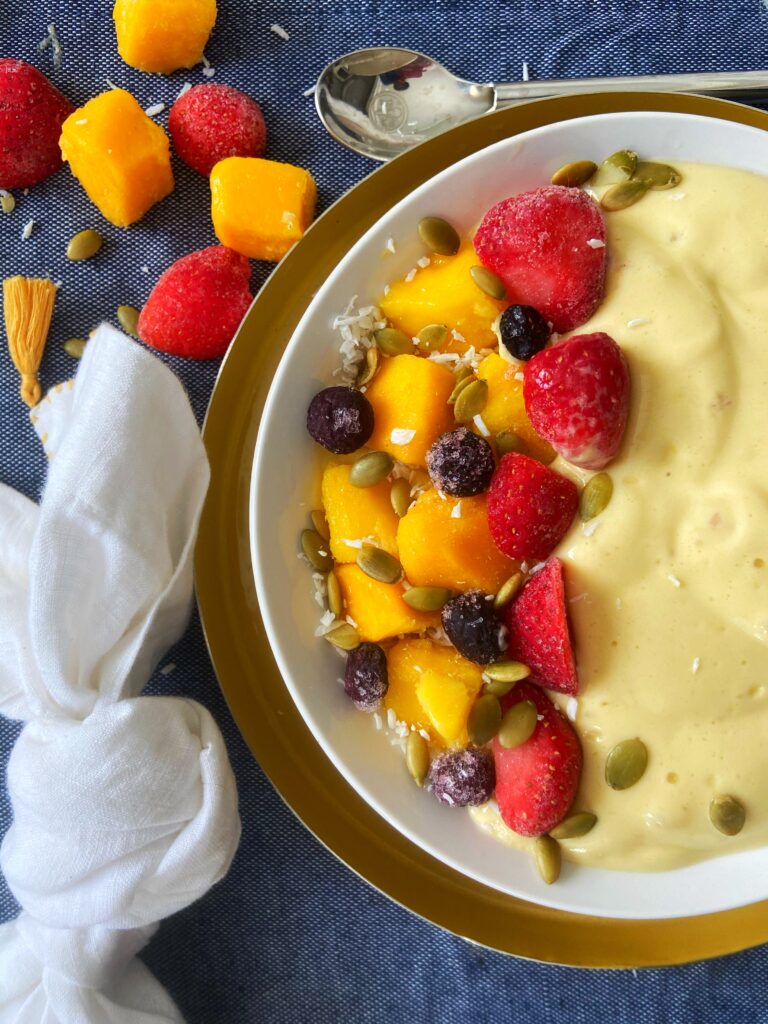 This recipe is:
vegan – plant-based
dairy-free
gluten-free
kid and husband approved
so delicious
Let's dig in to this recipe!
Mango Smoothie Recipe
Makes: 1 large smoothie
Prep Time: 5 minutes
Ingredients
3/4 cup frozen mango
1/4 cup vanilla protein powder
4 pieces of frozen avocado (or 1/4 cup)
1/2 banana, sliced (optional)
3/4 cup unsweetened original almond milk (or any dairy-free milk)
Directions
In a Vitamix, Ninja or blender add all ingredients and blend until smooth. Pour in a cup and enjoy.
Option to turn it into a smoothie bowl by pouring into a bowl and adding toppings like fresh fruit, unsweetened coconut flakes, shelled hemp seeds, chia seeds or any favourite seeds. See sample below for inspiration. The trick with smoothie bowls is to make the smoothie extra thick, more frozen fruit or foods (ice) and less liquid.
Note – You can sub protein powder for a few tablespoon shelled hemp seeds.
If you want more recipes like this grab my 7 Day Smoothie Recipe Guide. When it's this warm I find I want cooling foods, smoothies are a great way to fuel your day. Grab the guide:
When you begin your day in a healthy way it leads to more healthy choices and can give you the energy you need to live a life you love in a body that feels great. If you want more suggestions on how to make your morning great check out another blog post on creating your own magic morning routine. https://pamrocca.com/?s=morning+routine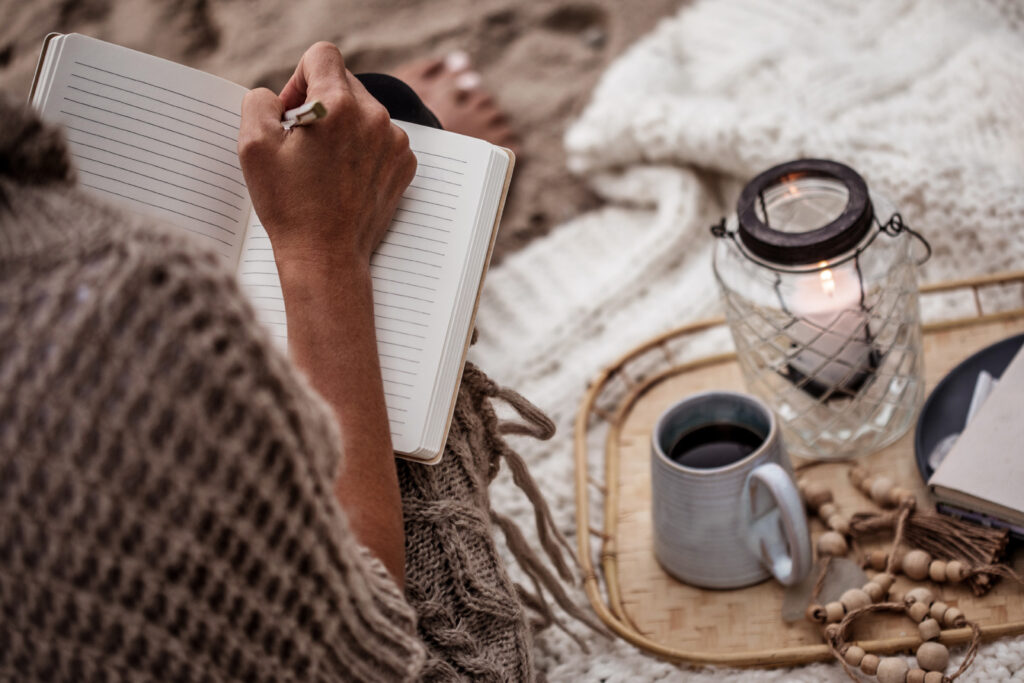 If you make this recipe I would love to hear what you think in the comments below. If you make this recipe be sure to tag me on the socials @pam_rocca, I love seeing what you are making and enjoying.
As always sharing is caring, if you know someone who would love this recipe I would so appreciate you sharing it with them.
In love and light,