Happy Family Day Weekend! We always book this weekend off to do fun outdoor adventures together as a family. This often means we need healthy snacks prepped and on hand. The family wanted to share a recipe that would be an easy delicious snack for you and your family and it's something fun that you can all whip up together.
Energy balls are a great way to sneak in super foods into your kiddos. One of our families best meal prep tips is to get each person in the household to commit to helping with making one thing. Our kids are 6, 8 and 10 so they are a little older and are really capable of helping in the kitchen, but the truth is we got them involved in a small way even when they were really young. Not only are you bonding in the kitchen and investing in having healthy food and snacks prepared you are also teaching your children essential life skills. The kids love to help by making balls, bars, cookies, desserts, peeling veggies, making soup or their fav dinners. If you make it fun and get them involved they feel empowered in their food choices and you end up getting some help in the kitchen. Sure, it might get a little messy but I promise you fun memories are being made so it's totally worth it.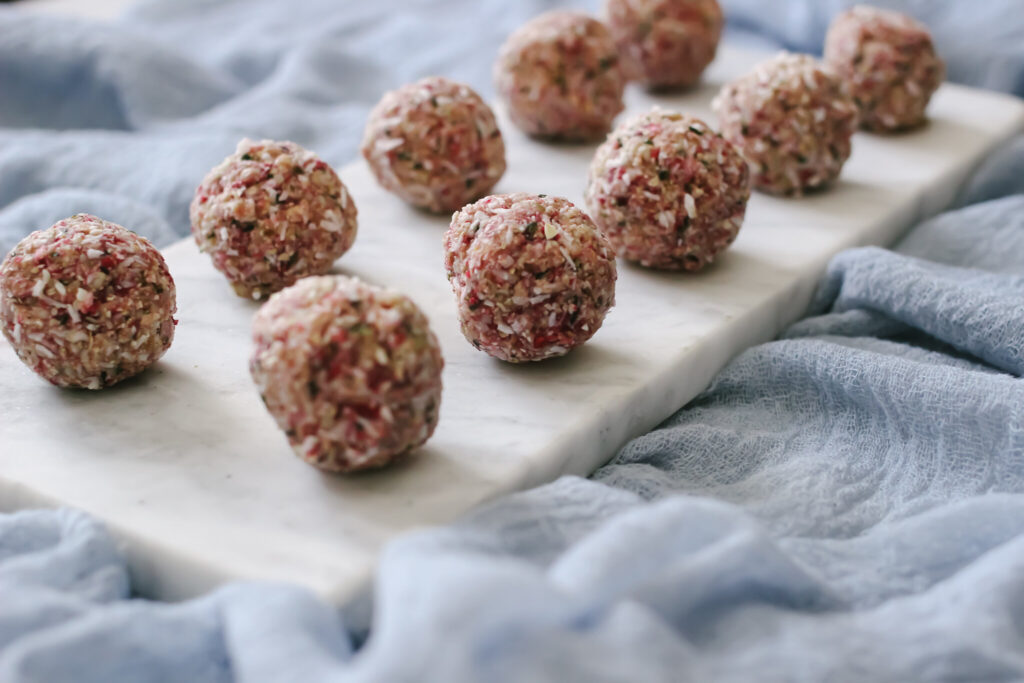 This recipe is actually inspired by my Lemon Balls from my Cookbook I just simply changed up the fruit. This recipe also works with raspberries too! Have fun and get creative to make your energy balls work for you and your families preferences. If you want to grab more recipes like this or grab that lemon ball recipe check out my cookbook: https://pamrocca.com/shop
So go grab your apron and get ready to create some magic!
Strawberry Balls
Makes: 12 balls
Prep Time: 10 minutes
Cook Time: 10 minutes
Ingredients
1 cup oat flour (1 cup oats processed into flour)
¼ cup vanilla protein powder (can sub for ground flax)
½ cup unsweetened coconut flakes
¼ cup honey
5 large strawberries (about ½ cup cooked)
Directions
1. Wash strawberries and cut green tops off. Slice in half and place in a small pot.
2. On low heat cook strawberries for about 10 minutes, stirring often and mashing with a fork to create a paste or jelly like mixture. When all big chunks are gone remove from heat and let cool.
3. In a large bowl add oat flour, protein powder (or ground flaxseed), coconut flakes, honey and cooled strawberry mixture.
4. Mix well with hands and roll into 12 balls. Store in air tight container in fridge and enjoy.
You can replace oat flour with almond flour if you cannot have oats, you can also substitute protein powder with shelled hemp seeds or ground flaxseeds and adjust sweetness accordingly. Our favourite protein powder is Genuine Health Vegan Fermented Protein Powder because it is clean and tastes amazing. https://www.genuinehealth.com/en-ca/products/fermented-proteins/
If you make this recipe I would love to hear what you think in the comments below. As always sharing is caring, if you know someone who would love this recipe I would so appreciate you sharing it with them.
Happy Meal Prep Sunday,