One of my favourite things about having young kids is how excited they get for each and every holiday. They make me think of holidays differently, I try to make them as memorable and special as possible. This month we have Valentines and all things red and pink on our radar.
As soon as the month of February arrives each year our oldest daughter Layla always wants to make cards and treats for her friends. She's got a huge heart and I adore that about her. One of my favourite ways to show love is with quality time and serving up food that nourishes. I tried to think of fun kid desserts, pink breakfast ideas, heart shaped lunches and mains. A little detail goes a long way and it can be as simple as chocolate dipped strawberries, cupid kabobs, heart shaped cake, pink bark, strawberry oatmeal have fun with it. If you search up a lot of Valentines's day desserts for kids most of them are loaded with sugar.
I really like sharing recipes that are still fun and tasty but contain real whole foods this Strawberry Doughnut Recipe checks all the boxes. Even if you don't have kids you will still enjoy this as a fun breakfast, snack or healthy dessert.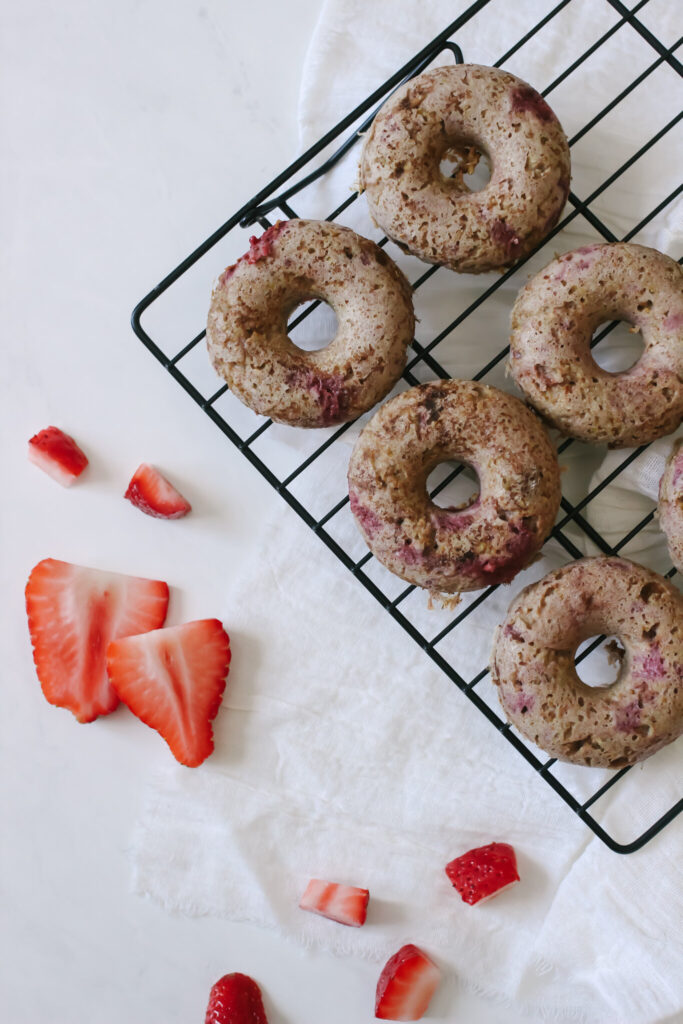 After writing my Sugar Detox Book I can't help but want to share more on the effects of sugar on the body and why you should seek healthier alternatives. Please don't stop reading, I totally think life is too short to eat bland or boring food…I think you can have your cake and eat it too, let's just make a better cake.
Why Do We Crave Sugar? And How Does It Affect Us?
There is a reason why sugar addiction is a real thing, when you consume sugar your body releases dopamine which is a "feel good" neurotransmitter. Dopamine helps to control feelings of reward and pleasure, so the more sugar you consume the better you feel. The problem is that the "good" feeling is temporary, and it will inevitably go away and leave you craving more dopamine and therefore more sugar. This would not be detrimental if you were getting sugar from nutrient dense whole food sources like strawberries and mangos. The problem is that today refined sugar foods are all around us and despite being easily accessible to us, most are "nutrient dead" meaning they that lack nutrients or contain no nutritional value to the body. Meaning it gives us lots of calories with no benefit to the body. That is one of the reasons why I am super passionate about creating homemade treats or desserts that contain nutrients that allow you to thrive even you want to indulge in a sweet treat. Learn more about sugar and the negative effects it can have on your body by grabbing my book: https://www.amazon.ca/Sugar-Detox-10-Days-Eliminate/dp/1646117522
Grab this Strawberry Doughnut recipe, they are gluten-free, dairy-free, healthy and kid approved.
Strawberry Doughnuts
Makes: 6 doughnuts
Prep Time: 10 minutes
Bake Time: 15-20 minutes
Ingredients
½ cup almond meal or flour (make it nut free see tip below)
¼ cup vanilla protein powder
4 tablespoons boiled strawberries (1/2 cup strawberries)
1/2 tablespoon pure maple syrup
¼ cup apple sauce
1 egg
1 teaspoon baking powder
pinch of salt
Directions
1.     Preheat oven to 350°F. Lightly grease doughnut pan.
2.     Place strawberries into a small pot and cook over medium to high heat stirring to breakdown strawberries to make a jam or preserve like consistency. About 5-7 minutes.
3.     Add almond flour, vanilla protein powder, baking soda and salt into a large bowl and stir.
4.     Add 4 tablespoons strawberry jam mixture, maple syrup, apple sauce and egg into bowl with dry mixture and stir to combine.
5.     Spoon mixture into greased doughnut pan and bake 12-15 minutes until golden and cooked through. Insert toothpick into one doughnut it will be free of batter when baked through.
6.     Let cool for a few minutes in pan before removing and cooling on baking rack.
7.     Store in air-tight container for up to 3 days.
Recipe Notes
1.     You can make this nut free but substitution almond flour for oat flour.
2.     You can substitute protein powder for ground flaxseed you will want to add a little bit of something to sweeten, so add 1 tablespoon coconut sugar into flax mixture to get ¼ cup of dry food to substitute for ¼ cup protein powder.
3. Option to drizzle with white chocolate, place ¼-1/2 cup of white chocolate into a small pot and heat over medium to low heat on stove top stirring frequently to avoid burning and to melt quicker. Spoon or drizzle melted chocolate over the doughnuts.
4. Vegan option – substitute 1 egg for vegan flax egg by mixing 3 tablespoons ground flaxseed with 1/3 cup water, stir and let sit for 5-10 minutes until resembles egg like consistency.
If you love doughnuts you might also like my Chocolate Protein Doughnuts or Pumpkin Spiced Doughnuts, grab the recipe on the blog under the search function.
If you make this recipe I would love to hear what you think in the comments below. As always sharing is caring, if you know someone who would love this recipe I would so appreciate you sharing it with them.
Happy Snack Prep Sunday,