This Chocolate Peanut Butter Protein Ball recipe is one of the most popular snack recipe from my old blog. It is no bake ball so it's easy to whip up in under 10 minutes and it only has 7 ingredients.
Our family loves to add at least one ball recipe to our Sunday meal prep so we have healthy snacks on hand for the week. Since we are a family of 5, we often double or triple the recipes. You can easily keep one out for the week and freeze the extras. We store our in a glass jar at eye level so they can easily be seen when hungry strikes or someone needs a quick snack. Rowan has been making these since he was 4 years old, we often joke if he can make them so can you.
Why not get in the habit of getting your kids to help out in the meal prep fun, this is a perfect recipe for them to get started. Know that when they help make food they are more inclined to try the food they made, and they also have a sense of achievement which makes them feel proud. Confidence in the kitchen at a young age is a really beautiful thing.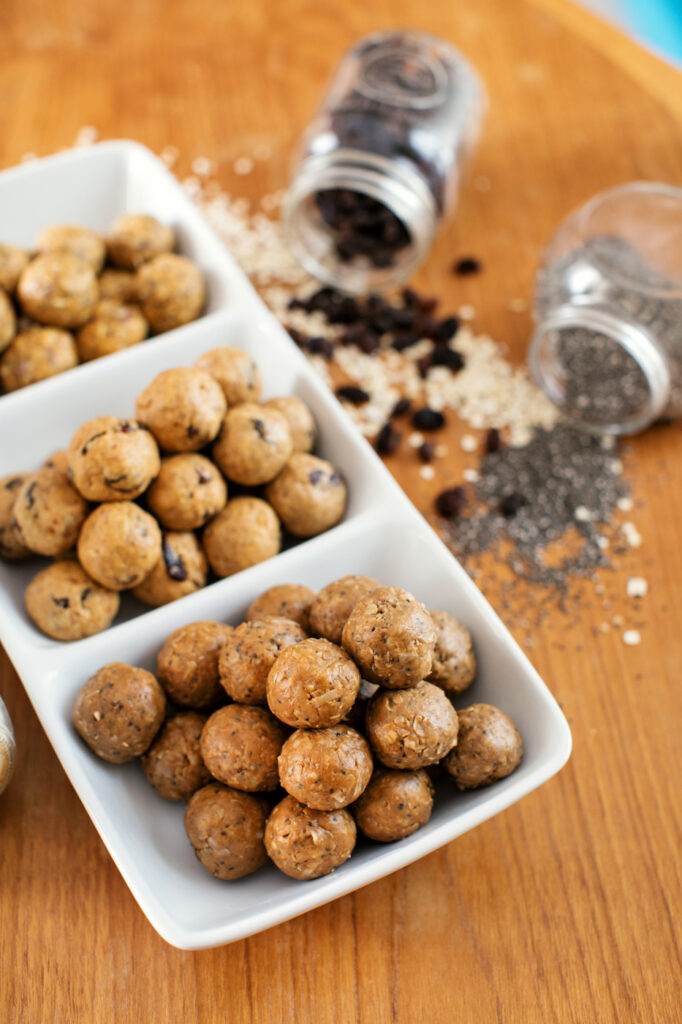 Healthy snacks should still taste good! They don't need to be boring or time consuming to create.
We love this recipe because it's highly nutritious too. Cacao powder is a healthier alternative for recipes that call for cocoa powder. Cacao powder is processed at a lower temperature then milled into a powder. It is more bitter than cocoa because it is less processed but it contains more of the original nutritional value. Cacao contains flavonoids, polyphenols, fibre, potassium, magnesium, iron and protein.
One tablespoon contains (approximately):
60 kcal
3-4 grams protein
3 grams fat
6 grams carbohydrates
4 grams fibre
0 grams sugar
Cacao has a wide variety of benefits to the body due to the it's nutrients. It is thought to help with inflammation, blood pressure, insulin sensitivity, weight loss, blood sugar levels. It's a nice low sugar flavour enhancer that provides nutrients to your favourite healthy desserts and snack recipes.
Try this recipe today as it is:
gluten free
dairy free
kid approved
delicious
You can make this recipe nut free by using Sun Butter or your favourite nut free butter. You can also make this recipe vegan by using rice syrup or pure maple syrup instead of honey. Enjoy!
Reese Chocolate Peanut Butter Balls
Makes: 12-14 balls
Prep Time: 10 minutes
Ingredients
1 cup gluten free oats
2/3 cup unsweetened coconut flakes
1/2 cup all natural peanut butter
1/4 cup chocolate protein powder
1/4 cup honey
1 tablespoon cacao powder
1 teaspoon vanilla
Directions
Add all ingredients into a large bowl and mix with hands until well combined. If the mixture feels a little crumbly or dry add in a little more peanut butter.
Roll into 1 1/2 inch balls and store in container for up to 1 week.
Meal prep tip – double up the recipe and place extra balls in freezer in an airtight container.
Recipe tip – you can substitute peanut butter for almond butter or sunbutter (to make it nut-free).
If you make this recipe I would love to hear what you think in the comments below or be sure to tag me in your pics over on the gram @pam_rocca. Love seeing what you are creating and enjoying from the blog and the socials.
As always sharing is caring, if you know someone who would love this recipe I would so appreciate you sharing it with them.
Happy Meal Prep Sunday,