Ok we are about to head into week 6 of quarantine life and our family was missing pizza because we have been take out free this whole time. Our daughters decided to make homemade pizza dough so they could create their own favourite pizza. I wanted a cleaner (gluten free) version that would allow me to stick with my healthy eating goals, because over the last few weeks I have been using this time to focus on really cleaning up my diet and I have been feeling SO good.
Honestly, my energy levels have gone up, brain fog is gone, less bloating, better complexion and lost a few inches in my waist and a few pounds but the biggest win is that i feel so GOOD. I noticed that when I feel this good it makes it easier to say no to homemade pizza dough, chips, cheesecake (yes my daughter made one for the hubs bday) or things that will move me farther away from my goals. The hardest part about staying motivated to eat healthy is that it usually takes a while to see results (about a month or more) so it's easy to give up or sneak in a few extra's. If you just stick with it knowing you will see results if you just keep investing in yourself (and give up the extras), that's when things get easier. Seeing results makes it so much easier to get excited for veggies and hummus or roasted chickpeas instead of chips. Not because you can't have chips, it's because you really just don't want them. I called it "empowered eating".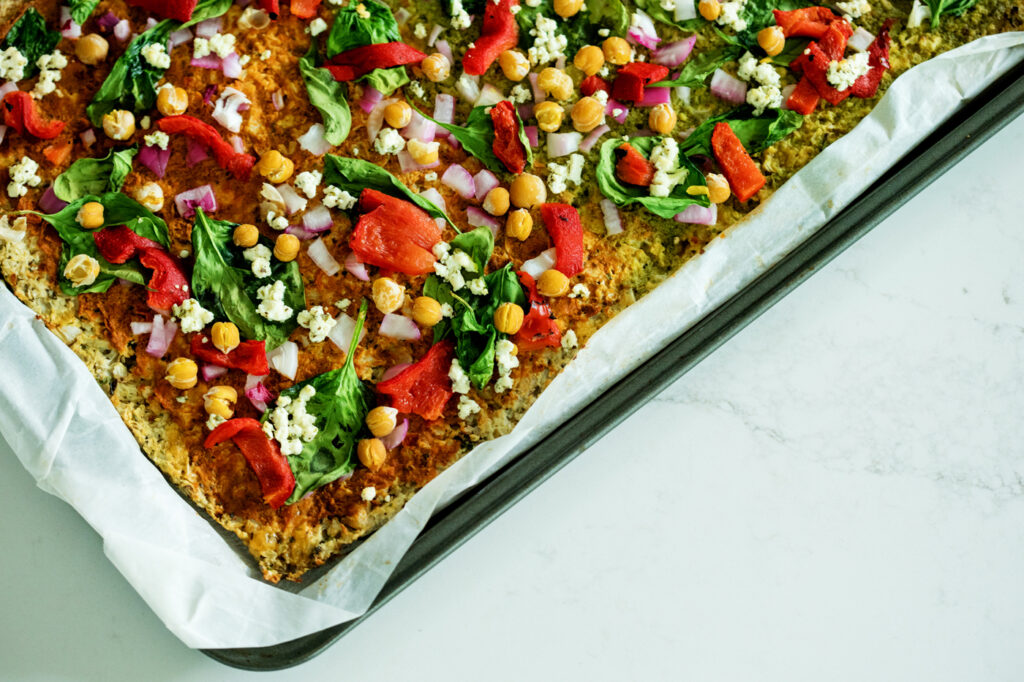 Anyway back to pizza! This pizza is so delicious I actually crave and prefer this to traditional pizza. It is also really versatile you can top it with your favourite variations see tips below.
Cauliflower Pizza
Makes: 6 large slices
Prep Time: 15 minutes
Cook Time: 15-20 minutes
Ingredients
1 head cauliflower, grated (or pulsed into rice in food processor) about 3 cups
¼ parmesan cheese (can use real or vegan)
1/4 cup shredded cheddar or mozzarella cheese (optional but gives firmer crust)
2 eggs (can substitute with ground flax eggs 3 tablespoons flax with 1/3 cup water)
1 teaspoon oregano
1 teaspoon basil
1 teaspoon parsley
1/2 teaspoon salt
dash of pepper
Toppings
pesto or tomato sauce

roasted red peppers or Sun-dried tomatoes

green olives, sliced

mushrooms and carmalized onions

chickpeas

beets, diced

arugula and kale

caramelized onions
Directions
1.     Chop up cauliflower into small florets. Place florets in food processor and pulse until finely chopped. If you do not have a food processor you can grate cauliflower with cheese grater on largest setting.
2. Place cauliflower in bowl in microwave for 4 minutes. Let cool for a few minutes. Put cauliflower mixture in cheese cloth and squeeze out excess water. Don't skip this step, it is what gets all the water out so you have a solid crust. If you do not have cheese cloth you can use a clean dish towel.
3.     Place cauliflower back in bowl. Add two eggs, parm cheese and spices. Stir to combine. You can add extra shredded cheese if you want a cheesy crust, you can also play around with spices for your crust this is a basic crust. You can add extra shredded cheese if you want a really firm crust.
4.     Place on cauliflower on baking sheet lined with parchment paper and spread out evenly to make crust. Gently press ends together with spatula. Bake in oven 400 F for 10 minutes to firm up crust (without toppings), remove from oven.
5. Top with desired toppings and cook for 15-20 minutes until golden brown. This pizza has tomato sauce, arugula, kale, green olives, beets, chickpeas, tomatoes, a sprinkle of vegan parm and nutritional yeast.
Recipe note – I omit cheese as I don't do dairy well so I eat my pizza with a fork, I use eggs and vegan parm with nutritional yeast.
If you know a friend who would enjoy this cauliflower pizza recipe I would so appreciate you sharing this recipe with them. If you make the pizza I would love to know what you think in comments below or DM me on the socials @pam_rocca.
Happy Sunday,