If you have been following me during the winter months you know that I am in love with soup. I could eat it for breakfast, lunch and dinner. To avoid food boredom and to change up the nutrients coming into my bod I simply make a new soup weekly or bi-weekly. Soup is an easy freezer meal you can toss ingredients in freezer bag and pull out and toss in the slow cooker or large pot. Soups are also a really great way to use up any leftover veggies near the end of the week to avoid food waste or to repurpose leftovers.
Butternut squash is an orange winter squash that has a sweet and nutty flavour, it is low in calories and high in nutrients such as vitamin A, C, magnesium, potassium & fibre. Vitamin A and C work as antioxidants to protect your body from free radical damage. Vitamin C also helps with immune function which is beneficial during the winter months when people tend to be more susceptible for getting sick.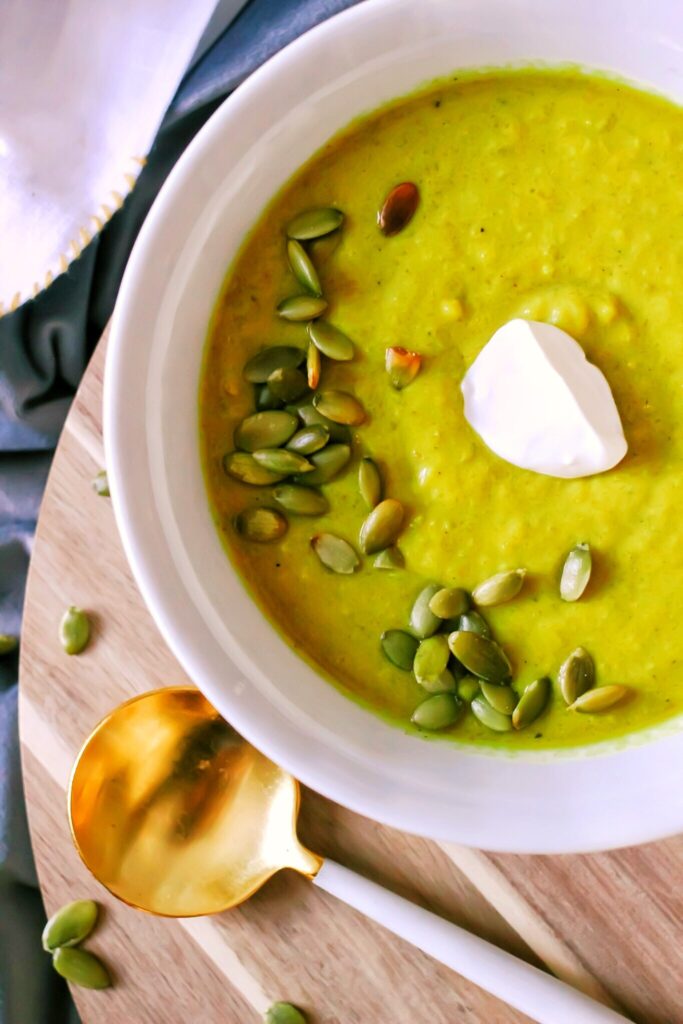 I absolutely love all things curry for a few reasons the first is all the health benefits from the warming spices, the second is the depth of colour and aroma it makes your food look and smell even better. Being a total foodie I am all about finding ways to make healthy foods and veggies look and taste amazing!
If you don't love curry or you want to make this a family meal see recipe variation below, there are so many ways to flavour up a butternut squash soup and truth be told you can keep it super basic and it's good with just a little salt and pepper.
Coconut Curry Butternut Squash Soup
Makes: 4-6 servings
Prep Time: 10-15 minutes
Cook Time: 1 hour 10 minutes
Ingredients
1 butternut squash (or 6 cups cubed)
1 tablespoon avocado oil
½ cup chopped onion
4 cloves garlic, minced
1 inch fresh ginger, minced
1 (14oz.) can coconut milk
4 cups vegetable broth
2 tablespoons curry powder
1 teaspoon turmeric
1 teaspoon cumin
1 teaspoon coriander
1 teaspoon garam masala
1 teaspoon sea salt
1 teaspoon pepper
Directions
1.   Preheat oven to 350 degrees F. Cut butternut squash length-wise and scoop out seeds with spoon and discard. Peel squash and cut into cubes, place cubes on baking tray. Coat with 1 tablespoon avocado oil, season with salt and pepper. Add chopped onion on tray with squash. Bake for 40-50 minutes until squash is fork tender.
2. Place cooked squash, garlic, ginger, spices and can of coconut milk in large food processor and puree.
3. Take the squash mixture into a large pot over medium heat and add broth. Simmer low to medium heat for at least 20 minutes.
4. Serve warm with vegan sour cream and pumpkin seeds.
Recipe note – if you do not have a food processor you could use a good quality blender or immersion blender.
Recipe Variations:
If you do not enjoy curry simply omit spices and add in 1 cup apple sauce (or 1 shredded apple), 1 tablespoon maple syrup, 1/2 teaspoon nutmeg and top with slivered almonds.

If you don't like butternut squash or want to add a mix of veggies you can do sweet potato instead or a combo of the two.

If your goal is weight loss and you want to reduce calories you can omit the coconut milk and swap for more broth, it won't be as thick and creamy but will be lower in calories with all the health benefits.
Tip saving tip:
As a mom of 3 I get time saving hacks, obviously using fresh butternut squash is best but they can take time to peel and chop. So sometimes I use the fresh or frozen already cubed squash it saves about 10 minutes and tastes just as good
This recipe freezes well so it can easily be added to your meal prep routine, you can freeze it individually or all together depending on your needs.
If you try out this recipe I would love it if you could let me know what you think in the comments below or send me a DM on the socials @Pam_rocca. As you know I am a big fan of spreading health, so if you know someone who might enjoy this recipe as much as you please share away. If you have a different favourite way to enjoy butternut squash soup let me know in the comments below, I love trying new things in the kitchen.
Happy Meal Prep Sunday,