It's strawberry season! Each year our family goes strawberry picking at a local farm, it is one of our summer traditions. We love to make homemade chia seed jam, healthy desserts and we freeze extra's for when strawberries are not in season.
These sweet berries are a juicy, summery, and delicious superfood that contains powerful antioxidants that don't spike blood sugar levels. Strawberries are packed with vitamins C, manganese, potassium and fibre. Fibre helps to keep you fuller longer and helps with better bowl movements. Vitamin C is a known immune booster and has a whole host of benefits to your body.
This recipe was a spin off from my Apple Crisp recipe which was a huge dessert hit. To be honest, I think this recipe is even better. Strawberries remind me of my Grandmas Desneiges, she was the absolute best, she always had strawberry preserves for dessert when I came for dinner because she knew it was my favourite. Strawberries and dessert just make the perfect pairing. This crisp is a healthier alternative to traditional crisps that are often loaded with white flour, sugar and butter. This recipe nixes all of those and replaces it with more whole food options like dates, pecans, oats and pure maple syrup.
Strawberries are in season May to October but are at their very best June and July.
This Strawberry Crisp is the best, freshest summer dessert! Fresh local strawberry blanketed with a healthier lower sugar topping of oats, dates, pecans, coconut oil and pure maple syrup. This recipe is fool proof and simple to create. The whole family will enjoy this healthy dessert, breakfast or snack. A recipe to celebrate the season.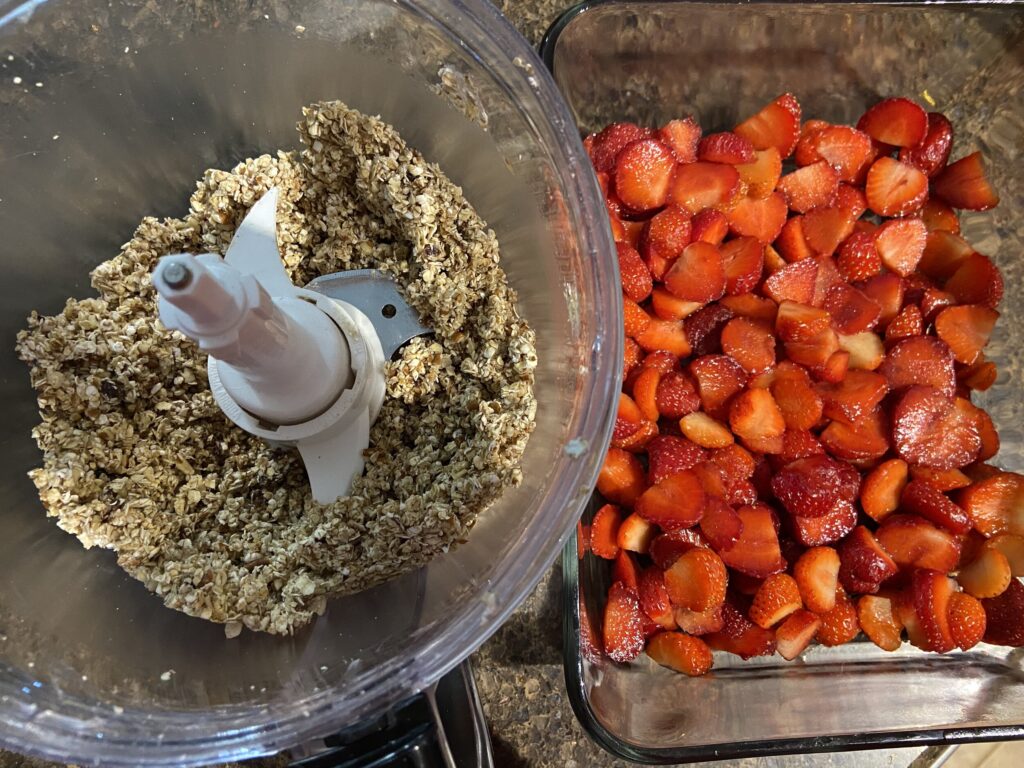 If you are looking for more fun Strawberry recipes download this recipe book for 7 breakfast and 7 snack ideas.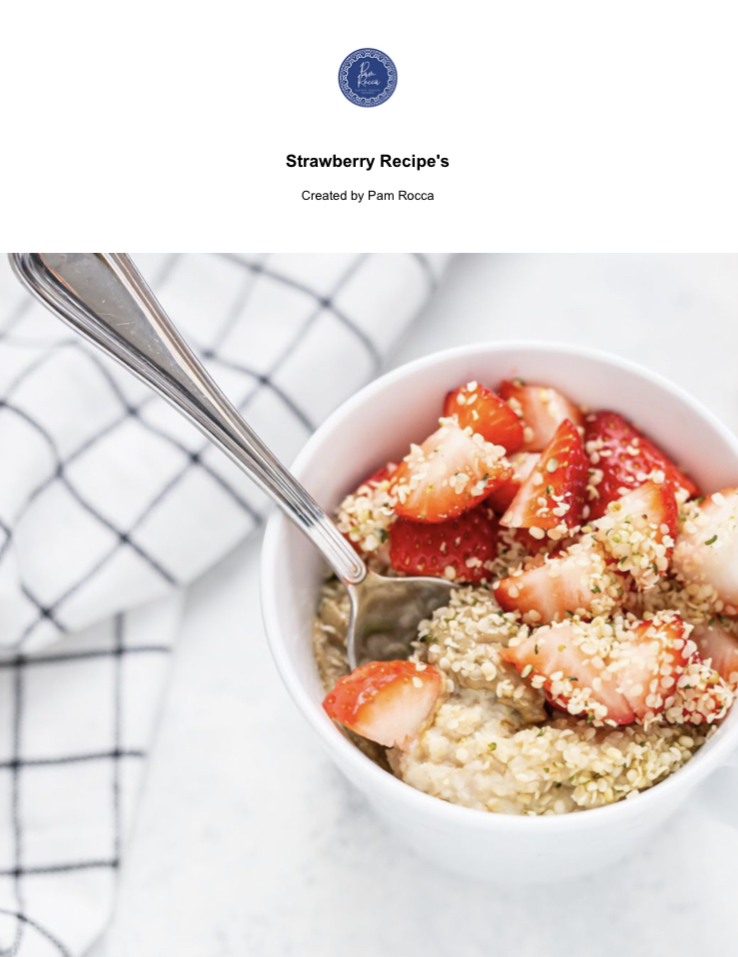 Healthy Strawberry Crisp
Makes: 6-8 servings
Prep Time: 10 minutes
Cook Time: 40 minutes
Ingredients
4 cups strawberries, sliced
1 tablespoon pure maple syrup or coconut sugar
Crust
1 ½ cup oats
½ cup pecans
8 pitted mejool dates
3 tablespoons vegan butter or solid coconut oil
1 tablespoon pure maple syrup
Directions
1.     Preheat oven to 375 F.
2.     Wash and slice strawberries, and place in the bottom of an 8 x 8 inch tray.
3.     Drizzle 1 tablespoon maple syrup over the strawberries, this step is optional it is just to add a little sweetness.
4.     Make crust by placing oats, pecans, dates, butter or coconut oil, and maple syrup in food processor. Pulse until well combine and crust sticks together.
5.     Place crust on top of strawberries to cover.
6.     Bake for 40 minutes until the top is golden brown.
7.     Best served warm. Pairs well with homemade nice cream or vanilla ice cream.
If you are using frozen strawberries thaw in fridge overnight or at room temperature for about 2 hours. If they are not sliced, do so before adding them to the filling.
You can serve this up as a healthy dessert or my husband loves it for breakfasts and snacks. If you try this recipe out let me know what you think in the comments below or tag me in your creations on the socials @pam_rocca. If you know a friend who loves strawberries and would love this recipe, I would so appreciate you sharing this recipe with them.
With Love & Light,