As the colder weather approaches there is often a strong desire for warming, comforting foods. This Smokey Wild Rice Skillet is so comforting and it is also loaded with vitamins, minerals, fibre and plant-based protein. This recipe can be whipped up in under 20 minutes and it is a one skillet meal. Simplicity with cooking makes it easier to get dinner on the table, I love sharing recipes that check all the boxes for you.
When creating comfort food recipes I love to start with adding in a lot of vegetables to ensure there is a variety in nutrients and flavours. Cooking up garlic and onions add so much flavour and aroma to a meal and they both are also natural pre-biotics. Pre-biotic are so important for gut health, they help to feed probiotics kind of like miracle grow for your flowers. Red peppers are an amazing source of vitamin C, this helps support your body's natural immune function. Carrots contain beta-carotene, which gets converted into vitamin A, which helps to support your vision. Peas add a fun pop of colour, protein, vitamin C, fibre, and vitamin B6. Aim to add in more colours of the rainbow to each meal. If there is a vegetable listed that you don't have or enjoy simply change it for ones that you love.
Crimini mushrooms are darker in colour than white mushrooms, this gives them a more complex flavour and a fun texture for plant-based meals. When beginning to eat plant-based I thought I would miss the texture of meat but when you layer on so many textures and flavours you won't miss a thing. Plant-based comfort foods are amazing because they are filling but sit light.
Next I think about adding in a healthy protein source to support so many functions in the body, this recipe contains chickpeas. Chickpeas are a great source of carbohydrates, plant-based protein, fibre and a little iron and potassium. If you are not a fan of chickpeas you can easily change up to any one of your favourite protein sources (see suggestions in recipe below).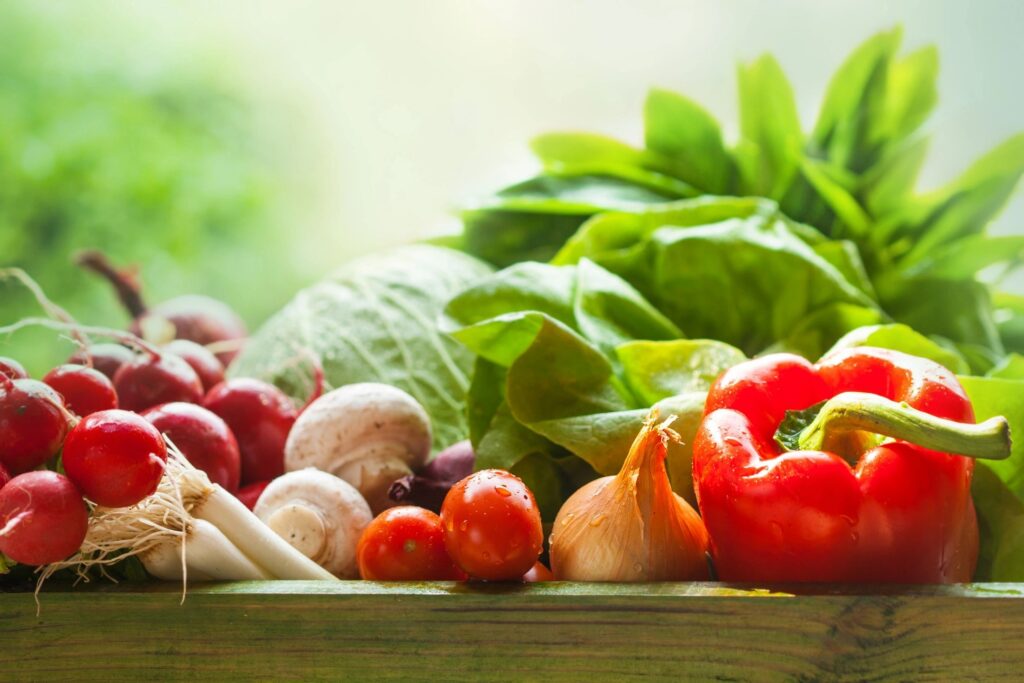 Wild rice contains so many health benefits that people often overlook when they aim to cut carbohydrates out of their lifestyle. Wild rice contains carbs as well as 5-15 grams of protein per 100 gram serving depending on the kind of rice. It also contains potassium, iron, vitamin B6, magnesium and fibre.
Enjoy this comfort food recipe that is so good for you!
This recipe is:
plant-based
dairy-free
gluten-free
make it nut-free by substituting almond milk for oat or soy milk
comforting and delicious
Smokey Wild Rice Skillet
Makes: 2-4 serving
Prep Time: 10 minutes
Cook Time: 20 minutes
Ingredients
1/2 tablespoon avocado oil
3 cloves garlic, minced
1/2 yellow onion, diced
1/2 teaspoon garlic salt
1/2 teaspoon onion powder
1 (8oz.) package crimini mushrooms, sliced
1/2 red pepper, diced
1 carrot, peeled and cut into half moons
1 (6-8oz.) package wild rice (I used 250 grams cooked long grain wild rice)
1 (16oz.) can chickpeas, drained and rinsed
1/4 cup bisto
3 cups unsweetened original unsweetened almond milk
1 cup frozen peas or 2 cups baby spinach
pinch of salt and pepper
Directions
Cook rice according to package directions.
In a large skillet over medium heat add oil, onion, garlic, red pepper, mushrooms and carrot over medium heat for 5-10 minutes until vegetables soften.
Add in chickpeas, garlic salt, onion powder, cooked rice, bisto, almond milk and frozen peas. Stir to mix well and simmer on low heat for 10-15 minutes.
Serve warm option to top with fresh thyme.
Recipe variations
Make this recipe nut free by using any nut free milk (oat, soy)
If you are not a fan of chickpeas you can use plant-based sausages instead or boneless skinless chicken breast (if you are not looking for a plant-based recipe).
If you make this recipe I would love to hear what you think in the comments below or tag me in your pics over on Instagram @pam_rocca.
As always sharing is caring, if you know someone who would love this recipe I would so appreciate you sharing it with them.
Happy Meal Prep Sunday,