This soup has a rich creamy texture that is dairy-free and delicious. The red curry adds so much flavour that you will want to make this recipe again and again.
Each soup recipe you will notice a rainbow of vegetables for a variety of micronutrients, fibre and texture. This recipe has red pepper which is loaded with vitamin C and helps to support your immune system. Broccoli is a green in this soup and contains more vitamin C and is part of the cruciferous vegetable family. Cruciferous vegetables help your body naturally detoxify and reduce oxidative stress. Carrots are high in vitamin A, one serving gives you your daily requirement. Vitamin A is associate with eye health and night vision which is probably why when you were a kid your mom told you to eat your carrots.
I love to meal prep this dish for easy, warming lunches during Canadian Winter's. One of the keys is to make the pot, let it cool and store into individual containers so it's ready to go. Don't be afraid to freeze leftovers for a lunch on another day. Although this soup is so yummy I doubt you will have that problem.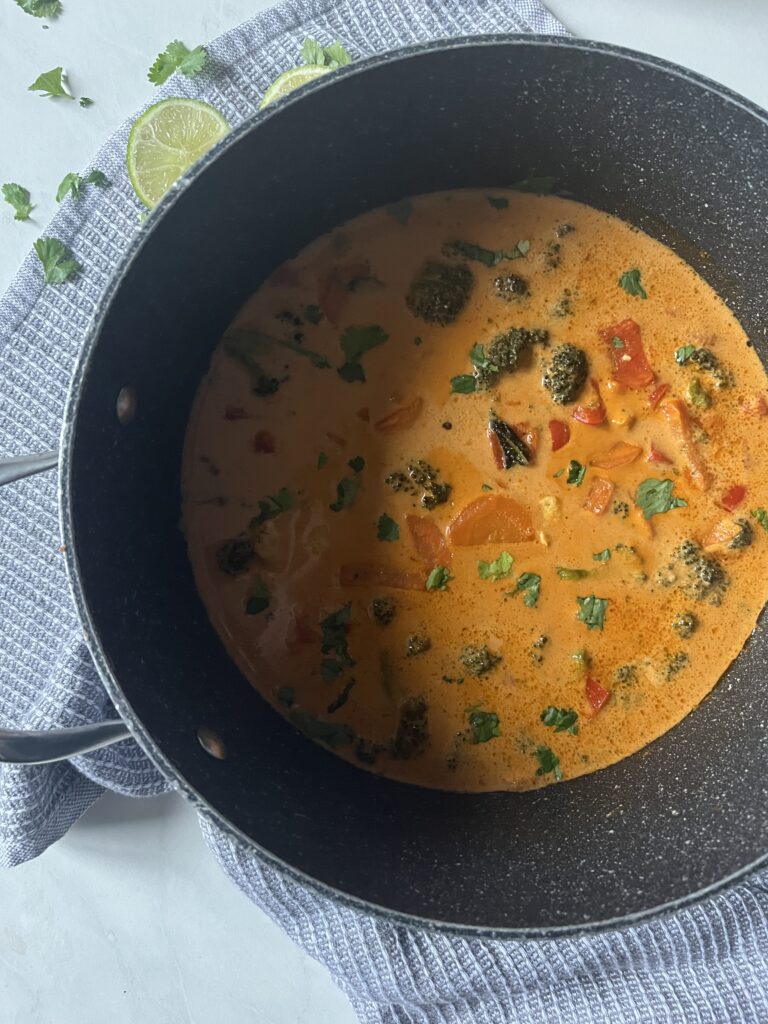 This Easy Thai Red Curry Chicken Soup has less than 10 ingredients and can be made in under 30 minutes. When you make this soup the fragrance will have you so excited you took the time to make this soup recipe.
If you want to add in more carbohydrates into this meal add in 1/2 cup-1 cup cooked brown rice for a heartier soup.
Thai Red Curry Chicken Soup
Makes: 4 servings
Prep Time: 10 minutes
Cook Time: 15-20 minutes
Ingredients
1 tablespoon olive oil
2 cloves garlic, minced
1 inch ginger, finely grated
1/2 yellow onion, diced
2-4 boneless skinless chicken breasts (I typically use 2) cut into cubes
2 medium carrots, diced
3 cups broccoli florets
1 red pepper, diced
4-6 cups chicken broth (or vegetable broth)
1 (400ml) can coconut milk
3 tablespoons red curry paste
fresh cilantro for optional garnish
Directions
1. In a large pot over medium high heat add olive oil. Once oil is hot add in garlic, ginger, onions and cubed chicken breasts. Cook for a few minutes until chicken is cooked through and onion becomes translucent.
2. Add in diced carrots, broccoli florets, diced red pepper and sauté for 1-2 minutes. Next add in chicken broth and red curry paste. Bring to a boil and simmer over low heat and cook until vegetables are fork tender.
3. Add in coconut milk and simmer. Once heated through serve immediately and garnish with fresh cilantro.
Modifications
Option to make this recipe plant-based by replacing chicken with 1 (16 oz.oz) can of chickpeas, drained and rinsed.
Option to omit coconut milk and add in 2 cups more broth. Although I do recommend the coconut milk it add a rich creamy texture and flavour to this curry soup.
Option to add spinach instead of broccoli or whatever extra vegetables you enjoy.
If you make this recipe I would love to hear what you think in the comments below.
Did you make this Best Ever Thai Red Curry Chicken Soup?
Post a photo on Instagram and Tag: @pam_rocca
Happy Cooking,