Meet my new favourite summer salad. When it's hot out I don't overly love cooking, eating warm food or wasting hours in the kitchen because let's be honest it's too nice out. I love to create easy to make recipes that can be meal prepped ahead of time so there are lots of healthy lunches and dinners on hand.
I hope you have amazing plans this summer and are enjoying your favourite people, places and spaces. This salad was a huge crowd pleaser at a recent family BBQ, we served it up as a side salad instead of the more traditional heavier salads like macaroni or potato. Don't get me wrong we all totally love those too! But it's nice to switch it up and add in healthier alternatives.
Traditional Broccoli Salads can be unhealthy as they are loaded with bacon, cheese, and sugar. All of these ingredients have been nixed from this salad. This recipe is a healthier alternatives and SO simple to make with minimal ingredients. You could spice it up by adding a little cayenne, or hot sauce to add some heat, or a little dijon for a little more tang, nutritional yeast for a cheesy variation or dried cranberries for a little more sweetness.
When I create recipes I am very mindful about how each ingredient is going to benefit my body and yours too! More veggies means more vitamins, minerals and essential nutrients.
Love this salad because broccoli is considered one of the most nutritious vegetables, a totally stud really. It is a cruciferous vegetable which helps the body with natural detoxification. Broccoli is loaded with fibre, making it a filling, heart healthy food. Broccoli is bursting with vitamins and minerals such as vitamin C, K, A, manganese and potassium. It also has high levels of antioxidants and phytonutrients. These help to fight off free radicals that cause cell damage, without antioxidants this could lead to inflammation and other diseases.
Ultimately this recipe is filling, low in sugar, fat, sodium and it's really tasty so enjoy!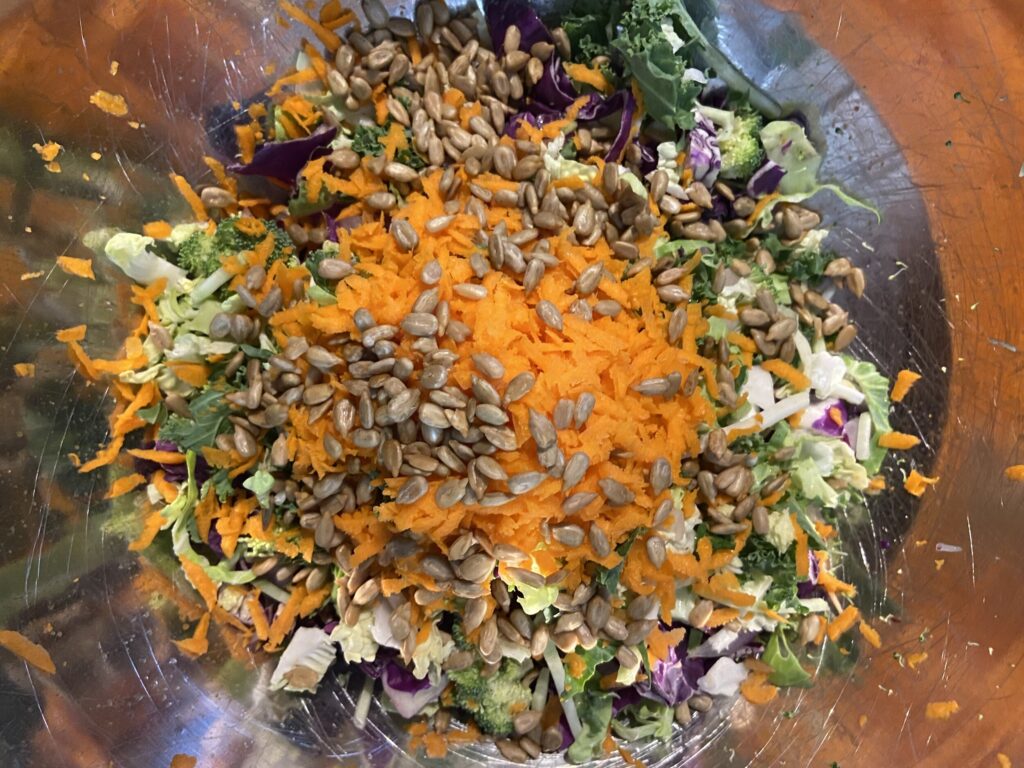 Broccoli Salad
Ingredients
3 cups broccoli, finely chopped
½ cup purple cabbage, finely chopped
1 carrot, shredded
¼ cup red onion, diced
¼ cup sunflower seeds
2-4 tablespoons Vegan mayo
dash of pepper
Directions
1.     Chop the broccoli into 1/2 inch pieces, peel the stem and cut remaining stock into 1/4 inch pieces. Shred carrots, and chop red cabbage into 1/2 inch pieces. Finely dice the red onion.
2. Place all chopped veggies and sunflower seeds into a medium to large size bowl.
3.   Slowly add in vegan mayonnaise 1 tablespoon at a time until desired consistency.
4.   Season with salt and pepper to taste and serve or store in air-tight container for up to 5 days.
Modifications
If you want to turn this salad into more of a meal add in chickpeas, cubed cooked chicken or any of your favourite protein sources. You also have the option to add in any of your favourite veggies I have tried and loved adding: kale, red pepper, cauliflower, asparagus and shredded Brussels sprouts.
If you are not a fan of vegan mayonnaise you can substitute for any of your favourite dressings. I love to make with roasted red pepper dressing.
See comments above on ways to spice it up, tang it up or naturally sweeten.
This salad lasts up to 5 days in your fridge so you can double it up and have lunches for the week or pair it as a side salad. Store in an air-tight container and enjoy. Love to meal prep this salad while making dinner on Sunday so the hubs and I have lunches for the next few days.
If you make this recipe let me know what you think in the comments below or tag me on the socials @pam_rocca. If you know a friend who would love this recipe I would so appreciate you sharing it with them.
Happy Meal Prep Sunday,