Can you believe it is September already? It's that time of year again where the kiddos are heading back to school. It is always a transition coming out of summer mode and jumping back into the routine of the school year. I know for most parents back to school means the dreaded chore of packing lunches. Coming up with healthy lunch ideas can be overwhelming and time consuming. Let's simplify and take the guess work out by using this visual lunch planning template, teach your kids how they can help pack their own healthy lunches.
My kids are 6, 8, and 10 and they all have different preferences on what they like, instead of trying to force them to all eat the same thing I came up with a chart system to let them select what they would like to have in their lunch. When it's their choice not only are you educating them on what a healthy, balanced lunch looks like you are also empowering them to make good choices. When kids feel heard and like they have a choice in what is in their lunch they are way more inclined to eat it.
I created this template and put it up on the fridge so the kids can help pack their own lunch and then I check and make sure they hit all the boxes. I also created a lunch planner that can help with your shopping list so you have lunch staples that your kids actually want to eat. Before I created this template I asked my kids what would you like to have in your lunches and they each wrote a list of foods they liked. I encourage you to do the same, and if your child's fav isn't on the list simply add it in.
Here Is Your Printable Lunch Packing Planner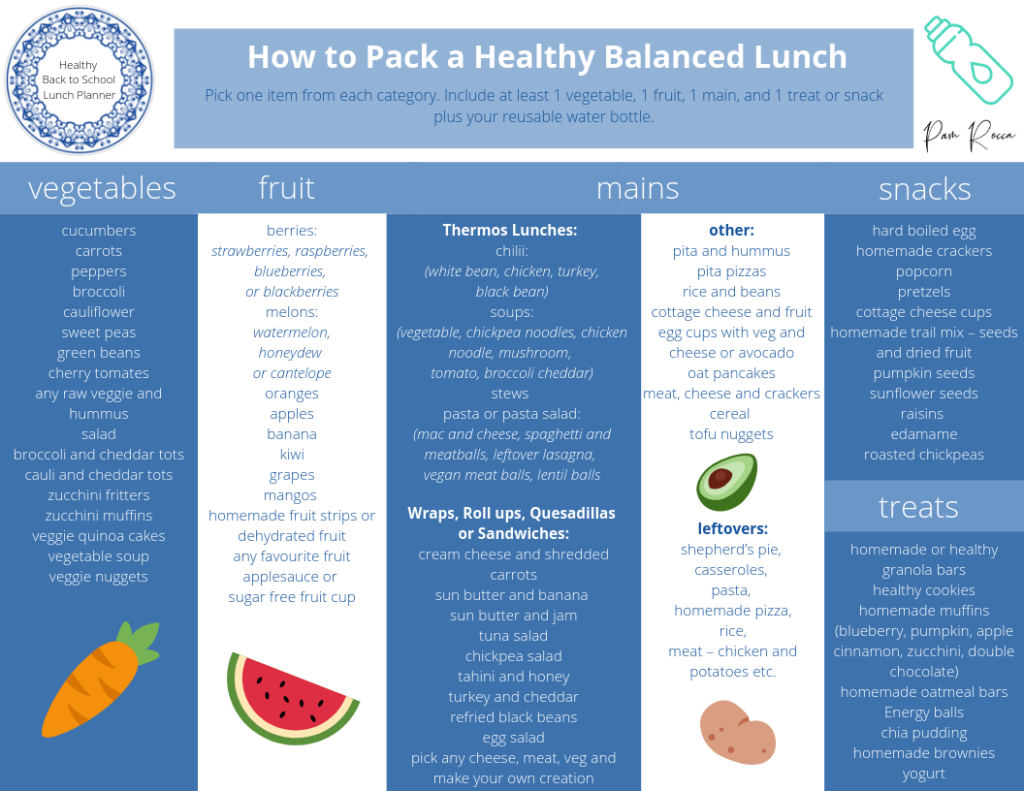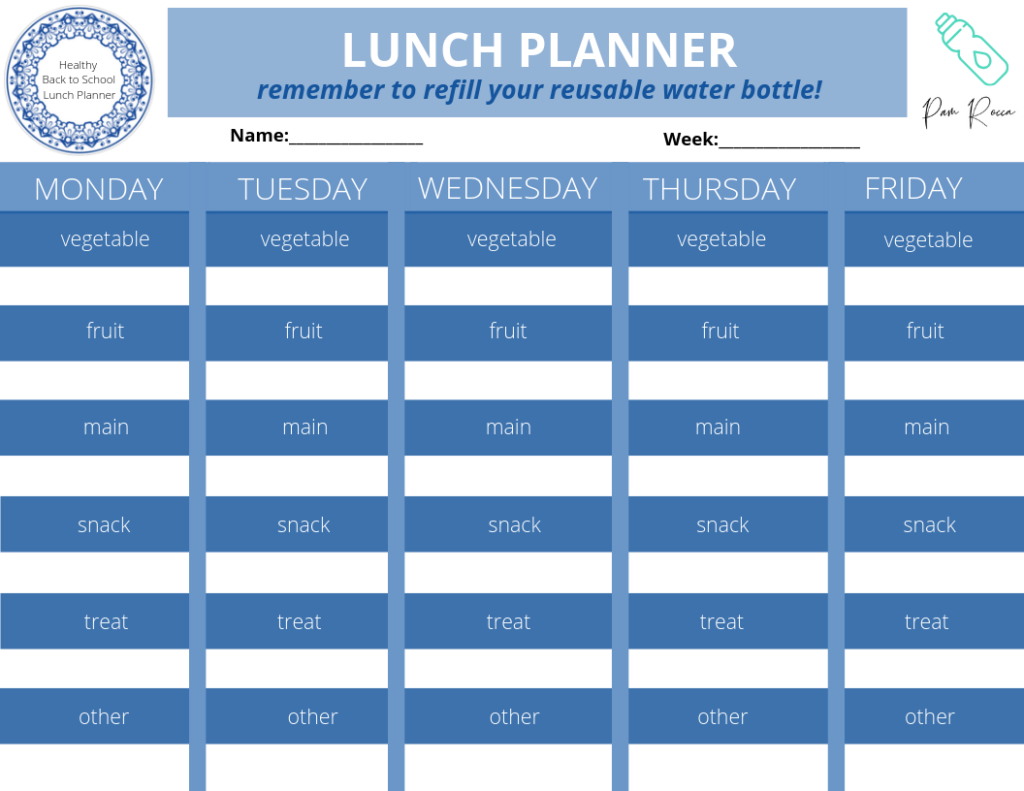 How Do I Pack a Healthy Lunch
The reason I created the categories is because it simplify's packing lunches and ensures that kids are getting the nutrients they need. Each lunch should contain:
at least one veggie

at least one fruit

the main should have healthy protein and fat

some healthy snack or treat you know they will love

Even if you don't have kids this is how I build my lunches too!!

To make this your healthiest school year yet I wanted to share my Top 10 Tips On How to Simplify Packing Healthy Lunches

Tip #1 – Get Your Kids Involved

Get your kids involved in helping to make their snacks and lunches on the weekend.

Together you can prep energy balls, muffins, granola bars, homemade healthy cookies, fruit and seed trail mix, crackers, cut up veggies, prewash and cut up some fruit, hard boil eggs, cook some pasta or any main for that week.

Also get them involved in coming up with what they would like each week, and actually helping to pack in the morning. You may have to give yourself a little extra time depending on their age but it will be so worth it I promise.

Tip #2 – Schedule in Lunch Prep

One the weekend when you have time (or when you schedule in and make time) prep up some healthy lunch snacks and mains for the week.

When you schedule it in and plan it out it's more likely to happen.

Add the ingredients you need to your shopping list to ensure you have what you need for easy lunch prep for the week.

One of the biggest problems with packing lunches is that it takes time, if you schedule in a bit of time on the weekend you can have healthy options ready to go instead of relying on the sugary prepackaged snacks. Most foods that are promoted for back to school lunches are loaded with sugar, by making your own snacks and mains you know exactly what is in your food and that you are nourishing your family.

Side note – this is a great time for you to prep and pack some lunches for yourself too!

Tip # 3 – Re-Organize and Have A Healthy Snack Drawer

›If you have lunch snacks packed and ready to go it makes packing lunches in the morning so much easier. ›Cut up and washed fruit, veggies, energy balls, roasted chickpeas, homemade cookies, crackers, muffins, hard boiled eggs, granola bars, cooked quinoa, seeds & dried fruit.

›Have each snack individually wrapped or portioned for grab and go or easily toss in a container in the am.

Tip # 4 – Repurpose Leftovers for Lunches

›When I make dinner I often make a larger batch so we can have leftovers. By making a little extra you can easily have healthy, homemade real food prepared for lunches.

›My kids love thermos lunches with leftovers:

Shepherd's pie, soups, stews, pasta, meatballs, chili, casseroles etc.

Tip # 5 – Don't Reinvent the Wheel

To keep things fun you can have a base recipe such as a wrap or quesadilla and change up what is inside for a new fun lunch such as:

›Cream cheese and shredded carrots

›Tahini and honey

›Refried beans, leftover meats, cheese, banana and sun butter roll ups etc.

Find ways to take 1 meal or snack and make it a variety of different ways to keep lunches fun.

Tip #6 – Pack Lunches The Night Before

›I have 3 kids and our mornings are crazy, by packing lunches the night before it gives us such a calmer morning.

›If you have leftovers put them in the thermos right away then you can just reheat in the morning. Pack snacks in containers, or mains, etc. And get the kids to help too!

Tip # 7 – Out Source What you Can

›If you know you have a crazy week ahead ask yourself how you can make healthy lunches with more ease.

›You can buy pre-made homemade soups, whole chickens, pre-made salads or pasta etc.

›If your school has a healthy lunch program pay to have a day off from packing lunches. When you think about it you will find ways to make it easier.

Also ask other moms – what are healthy easy snacks? what do your kids like? get inspired!

Tip # 8 – Invest in Good Containers

›Invest in having good gear.

-thermos

-good lunch box easy to use & practical

-Containers, jars, reusable baggies

-Ice packs

-Reusable water bottles (we never pack juice or juice boxes always water)

-Make your lunch as green as possible

Tip # 9 – Read Food Labels

›Watch out for sugar – ›If you are buying packaged stuff for lunches read the food label and check for sugar

I do this with the kids too often times they will ask for something that isn't healthy, instead of saying "No" I will say "let's check what's in it and see if it's a good choices". This happened with Nutella recently and my daughter saw the first ingredient listed was sugar, I asked her if she would like to make our own healthier version and she was so delighted. When we just say "no" it can create a fight or kids to not feel heard. When we get them involved in the making healthy choices they can choose wisely.

Tip # 10 – Reduce Lunch Waste

›As a mom I use to get so frustrated when my kids came home from school with over half of their lunch untouched.

›We have a rule at our home – as soon as the kids come home, they empty their lunches and if there is anything left that is the first thing they have to eat before anything else. Consistency works, stick with it and you will avoid food waste and ensure you're kids are eating the healthy food.

›If cucumbers get soggy they learn quickly to eat them at the first lunch break.
Bonus Tip – Make it Fun! Bond in the kitchen, make a little mess, create and invent together and make healthy eating and cooking so much fun.
My cookbook has lot of yummy recipes for lunches check out the kids corner for these recipes – chili mac and cheese, lentil sloppy joes, vegan meatballs, lentil chili, shepherd's pie, blueberry muffins, egg cups, energy balls (make with sun butter or pumpkin seed butter), lemon balls (swap almond flour for oat flour so they are nut free), doughnuts (swap almond flour for oat flour), blueberry chocolate energy bites and soooo much more! If you don't have a copy you can purchase online or message to find stores that are carrying the cookbook close to you.
My blog also has lots of free recipes that are perfect for lunches:
https://pamrocca.com/blog/2018/9/4/broccoli-cheddar-bites
https://pamrocca.com/blog/2019/5/5/healthy-double-chocolate-muffins
https://pamrocca.com/blog/2019/4/14/hemp-seed-granola-bars
https://pamrocca.com/blog/2018/10/22/turmeric-turkey-or-lentil-stew
https://pamrocca.com/blog/2019/6/24/adults-lunches-on-the-go
I hope you find these tips helpful and that this guide helps with your back to school lunch prep. If you enjoyed these tips please share with someone who you know might find it helpful too. If you have a tip that works for you and it's not listed please share in comments below.
Happy Meal Prep Sunday,