Who else is loving the perfect summer weather we have been enjoying so far? For us the longer days and warmer weather means more adventures outdoors, beach days and cottage time. With all of the excitement of summer our family still commits to healthy eating even on vacation, weekends at the cottage and long weekends. I wanted to share how we do this and inspire you to do the same because this page is all about sharing a passion for healthy eating and creating a healthy lifestyle that is attainable for you.
This is also one of the reasons I created my new Community 30-Day Clean Eating Program is to show others ways to create a healthy lifestyle and make it accessible even during the summer months, through BBQ's, parties and just life in general. I wanted to help coach people through the month and to make healthy eating work for you (with loads of my favourite, most delicious recipes). I am currently running this program and because it has been so life changing and successful we will be running it again Monday August 12th click to register: https://pamrocca.com/products/30-day-clean-eating-challenge
Update: you can purchase this program and complete it on your own time anytime throughout the year.
One of the biggest tips to healthy eating is to make it consistent. Do you eat the same way on Monday vs Friday? That has been one of the biggest factors for my healthy eating journey, I aim to treat weekends and holidays like any other day. Seeing as this is the most popular week during the summer for vacation I thought it would be a great time to share my Top 10 tips for healthy eating during the summer or on vacation.
Top 10 Tips For Healthy Eating on Summer Holidays
1. Shop, prep and food prep healthy meals, snacks, and recipes.
If you have healthy food on hand ready to go you are more inclined to eat it vs. snacking on anything that comes your way when you are hungry. In order to make this happen you MUST SCHEDULE IN PREP TIME. You can not magically hope you have the time to food prep, you need to book it in as a non-negotiable meeting with yourself.
2. Wash and chop veggies so they are easy to whip into snacks, salads, bowls, or sides.
When you have more fruit and veg available and ready to go you end up eating more of it which gives our bodies lots of vitamins, minerals, antioxidants, phytochemicals and good stuff to nourish every lil cell.
3. BBQ batch cook lean protein source for easy lunches, bowls, dinners and healthy snacks.
Also load your pantry with nuts, seeds, legumes and beans. Also think of one sheet dinners or things that can easily be tossed on the BBQ to simplify healthy eating, Toss on a basket of roasted veggies, baked potatoes, roasted corn, kabobs etc. Get creative!
4. Simplify your meals.
Often during the summer months you don't feel like cooking indoors or eating hot food. Rethink lunches and dinners. I have been loving smoothie bowls, salads, buddha bowls (seriously you just toss food in a bowl and call it a meal – it's awesome!) and simple snacks like apples and almond butter, or homemade protein popsicles (keep reading to grab recipe below). When building a meal add 1 protein source (palm size or 20 grams of protein), 1 fat source (thumb size), and lots of fresh fruits and veggies. When you keep it simple and you are more likely to stick with it.
5. Have healthy snack foods on hand and ready to go.
Think protein balls, hard boiled eggs, cooked quinoa, veggies bags, smoothie bags, chia pudding. When you are really hungry and no food is ready or available you tend to make poorer food choices. If you have healthy snacks ready to go it's like an investment in your health and reaching your nutritional goals.
6. If there is a food that you no longer wish to eat (chips, ice cream, processed foods, junk foods) stop buying them or bringing them in your house or on vacation with you.
Just commit to it and know you will feel better about not having it in the house. See next tip on what to add into your home instead. Think of limiting foods that are processed, high in sodium, sugar, food additives and that have a long list of ingredients.
7. Find healthier alternatives to your favourite recipes.
Healthy eating can be simple, fun and sooooo delicious! Think of all the fun ways you can replace a food you no longer want to consume with something that will be yummy and provide your body with nourishment. Some of my favs are: roasted chickpeas instead of chips, chocolate avocado mousse instead of chocolate (recipe is in my cookbook and on blog), "nice" cream instead of ice cream….the options are endless if you are open to trying new things.
8. Change your mindset – healthy eating is possible if you believe it can be!
Instead of thinking why you can't, think of how you can. Instead of thinking what you "have" to give up, think about all the amazing things you get to eat and enjoy. Seriously, this should be tip #1 – mindset is everything. Think positive.
9. Everything in moderation.
Sure you can have a glass of wine but don't drink 5 glasses. The same goes with chocolate, chips or any favourite snack. If you can't enjoy in moderation at the moment maybe remove it from your diet and add in an alternative that works better for you. I am not going to lie I love chips, like seriously love them especially salt and vinegar. If they are not around I can't eat them, and If I want some I pour a bowl or portion size and then that's it. I enjoy every single bite, feel satisfied and move on. I am not saying we eat perfect all the time, we just aim to try to do the best we can.
10. Eating healthy is a form of self-care.
Please eat like you love yourself – because ultimately it's always more than just food, invest in you and feeling your best so that you can live the life you want to live and show up with the energy and vibrancy to do that.
Bonus tip – hydrate!
Infuse your water with berries, citrus fruits, cucumber, basil to make it fun, fresh and delish to drink up and enjoy hydrating your body. This is even more important on those hot summer days.
You are the greatest project you will ever work on. There is no better time than today to start investing in being the person you want to be. If you need a little support join our 30 day Challenge that begins next Monday. You will get 4 weekly meal plans with delicious easy to make recipes, grocery list and unlimited coaching and accountability for the month. Invest in yourself and your health.
Because I love you guys so much I couldn't write this blog post without sharing one of our new fav healthy treats and a free Healthy Appetizer Ebook.
Here is one of the cool treats our family has been enjoying this summer. The kids whip them up and we love that we know what's in our treats and that our treats still provide our bodies with nourishment. This is also an example of one of the snacks in the program and how we make clean eating fun, easy and delish!
Strawberry Mango Pops
Makes: 6 servings
Ingredients
1 ripe mango
7 strawberries
¼ cup vanilla protein powder (optional or ¼ cup Greek yogurt)
1/4 cup almond milk
Directions
1. Peel mango and cut mango around the pit and place into blender.
2. Wash strawberries and cut the green tops off, then slice strawberries in half and place in blender.
1.     Add vanilla protein powder or Greek yogurt and almond milk. Blend until well combined and no fruit chunks remain.
2.     Pour into popsicle mould, place popsicle sticks the centre and place in freezer.
Note – We picked up our popsicle mould from Wal-Mart, you can order prettier ones on Amazon.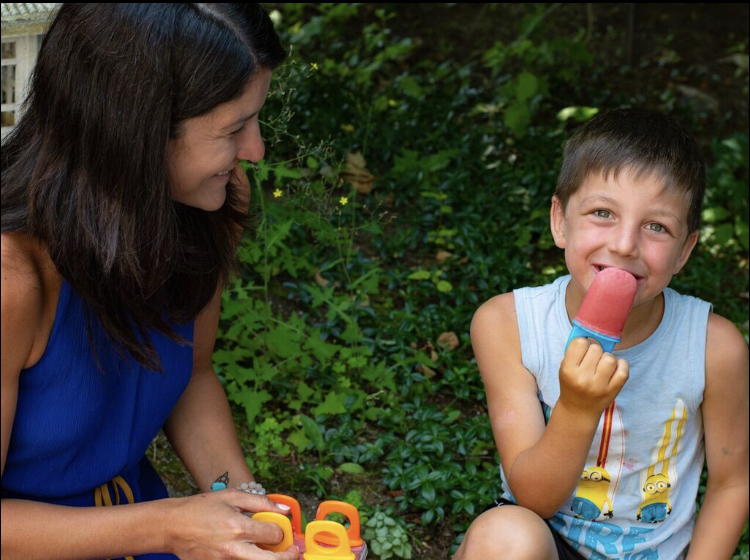 If you have another tip that wasn't listed share in the comments below, if you found this article helpful, I would be forever grateful if you could share it with someone you think would enjoy it too. Thanks again for being here, and being apart of the lovely community. I appreciate it so much!
In love and light,