Do you have a morning routine?
If you are working towards creating a healthy lifestyle one of the best ways to do that is to start your day with a solid morning routine. We live in a fast pasted world where everyone seems to be lacking time, leaving society feeling busy and stressed. When you create a healthy morning routine you help to start your day on the right foot and find yourself in control of your health and happiness. So many people get caught up in starting their day checking their phone, this is not a productive, calming or time efficient way to begin your day. Do you think about how the way you start your day affects you? Check out the amazing benefits for investing in having a routine.
The benefits of having a morning routine include:
sets the tone or pace for the day
healthier choices
positive mindset
improves time management
increases productivity
increases energy levels
increases feel good hormones improving mood
reduces stress, anxiety, depression
Here is my morning routine – I encourage you to create one that works for you.
Morning Routine
1.     Upon waking 1 full glass of lemon water hot or cold and Probiotics.
2.     Morning Coffee or Tea – paired with reading inspirational books, journaling, gratitude practice, reviewing or reflecting on goals for the day and week ahead.
4.     Movement/Exercise – followed by 5-10 minute guided meditation.
5.  Fuel – Breakfast and Omega 3 and Vitamin D supplements. It's important to take both of these supplements with food (especially with a little bit of fat) as Vitamin D is a fat soluble Vitamin so it gets absorbed better in the bloodstream with food.
6. Dry brushing, oil pulling, shower and get dressed and ready to take on the day.
7.     Pack water before you leave for the day to begin work. Staying hydrated is essential for having energy to rock your day.
The ways to create a healthy morning routine is to check in and see what you are currently doing. What's working? What is not working? Here are a few things that can help you create the morning routine you desire.
waking up earlier so you have more time and feel less rushed
hydrate!
journaling, gratitude practice, positive affirmations, reading
working out
supplements
healthy breakfast
oil pulling, dry brushing, self-care, hygiene routine
dress for success
smile
What are some of the ways you begin your day? I recommend getting a journal and writing down your ideal dream morning. What does that routine look like? How can you create that dream morning daily? What would you need to add in, take out or change? Write it out and slowly add in one thing at a time until you no longer have to think about it, it's just a new healthy habit.
One of the essential in my morning routine is breakfast or brunch that will fuel my day, here is one of my new favourite smoothie bowl recipes. This recipe is vegan, plant-based, dairy-free and gluten-free yet loaded with nutrients and flavour.
Green Matcha Smoothie Bowl
Makes: 1-2 servings
Ingredients
1 cup spinach
¼ (or ¼ cup) frozen avocado
1 teaspoon green matcha
¼ cup vanilla protein powder
½ frozen banana
1 medjool date, pitted
½ cup almond milk
1/2 tablespoon MCT oil (or healthy fat like avocado)
Directions
1.     Add all ingredients into blender and mix until all ingredients are smooth and well combined. Especially the date it often takes a few more seconds to break it down completely.
2.     Pour in bowl and make a line of coconut flakes, chia seeds and banana slices or shelled hemp seeds and fresh fruit. Enjoy! And don't forget to thank yourself for investing in nourishing your body and feeling great.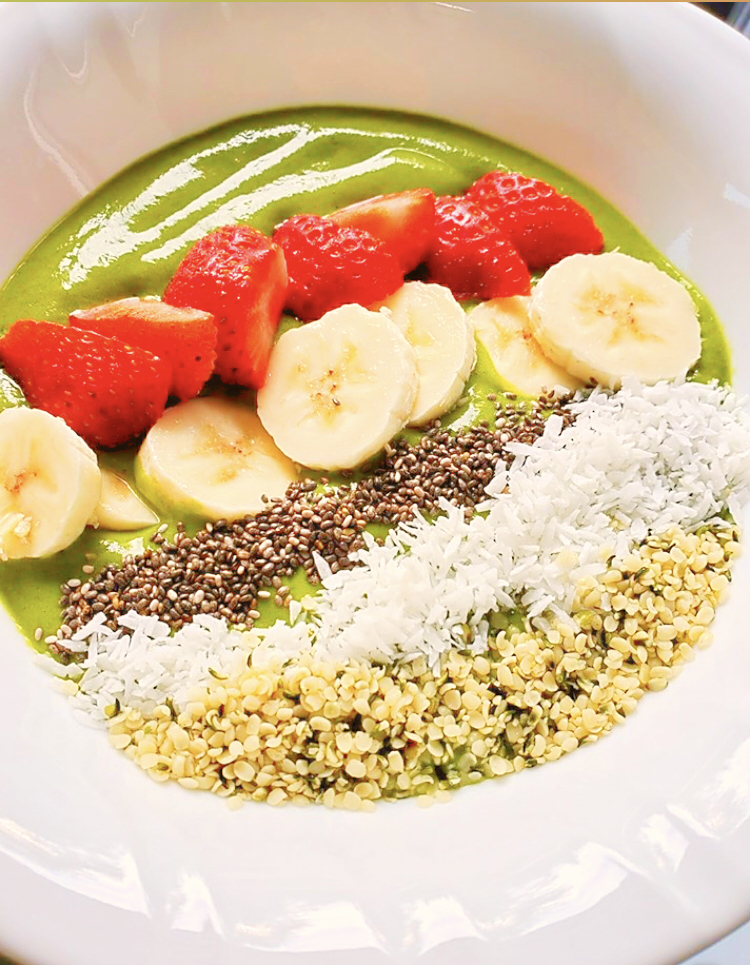 Have you noticed the benefits of your morning routine? Let me know in comments below.
If you make this recipe I would love to hear what you think and don't forget to tag me in your creations on Instagram @pam_rocca. As always sharing is caring, if you know someone who would love this recipe or information on establishing a solid morning routine I would so appreciate you sharing it with them.
In love and light,