Omg this recipe is delicious and easy peasy! This Buffalo Tofu Nugget Recipe is your new favourite fun appetizer or plant-based main, I promise they won't disappoint.
This recipe is easier than cauliflower wings and tofu contains a lot more protein than cauliflower making it a win-win for a healthy alternative. Tofu is high in protein and contains all of the 9 essential amino acids that your body needs. It also contains some fat and carbs, vitamins and minerals like manganese, calcium, selenium, copper magnesium, iron and a bit of zinc. It is lower in calories and it tastes on the flavour of what you marinate it with so it's great for weight-loss and adding protein to a plant-based or vegan lifestyle.
Try this recipe as an app, plant-based main, or in a wrap or lettuce wrap!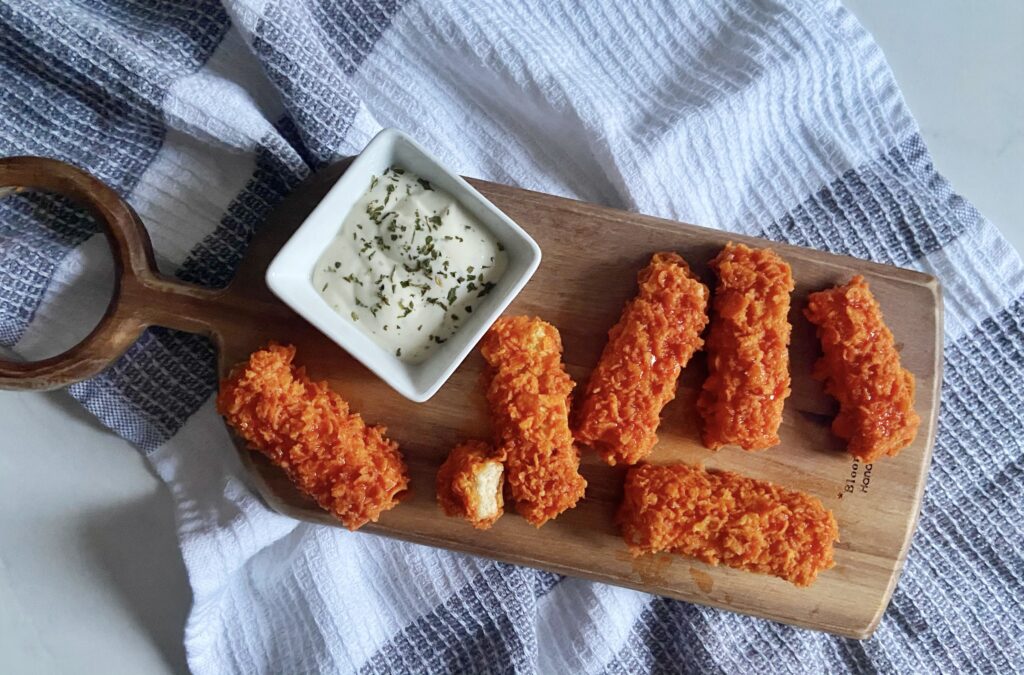 Why Freeze You Ask? Great Question:
Freezing tofu changes the texture. it makes it chewier, spongier, more porous, and firmer. It soaks up sauces and marinades easier and it way easier to press. Often I am so lazy that I skip pressing frozen tofu. It's like all the water kind of goes away so you can press with your hands briefly and all the excess water is gone. It has a more "meat" like texture and can extend the shelf-life of your tofu if you like to buy in bulk. Warning it might look a little yellow which can freak you out but it tastes so good with the right marinade or sauce so get creative. If you are not a fan of spice or buffalo sauce you can add a favourite BBQ sauce or leave them dry and dip in a ranch or dill dressing.
This Recipe is:
plant-based (vegan)
gluten-free (if you use gluten-free bread crumbs)
nut-free
dairy-free
great source of plant-based protein
simple
delicious
the leftovers are amazing
Dig in!
Buffalo Tofu Nuggets
Makes: 12-14 nuggets
Prep Time: 15 minutes
Cook Time: 30 minutes
Ingredients
1 package tofu, freeze overnight 
¾ cup tapioca starch
1 cup original unsweetened almond milk (or any dairy-free milk)
½ breadcrumbs
½ cup crushed corn flake crumbs
½ teaspoon onion powder
½ teaspoon garlic power
½ teaspoon salt
½ teaspoon pepper
1-2 cups franks buffalo sauce
Directions
Preheat the oven to 350 F and line the baking tray with parchment paper.

Thaw tofu in the microwave for 8-10 minutes until no longer frozen. Let the tofu cool so it's easier to handle.

Cut tofu into nuggets or strips.

In one medium bowl add ¾ cup tapioca flour (or starch), in a second medium sized bowl add 1 cup unsweetened original almond milk, in a third medium sized bowl add crushed corn flake crumbs, bread crumbs, onion powder, garlic powder salt and pepper. 

Dip tofu nugget into tapioca flour, then dunk into almond milk, next dip into corn flake and bread crumb mixture then place on prepared baking tray. 

Bake for 15 minutes, flip and bake for 15 minutes.
Place franks in a medium size bowl and dip each strip in the sauce and enjoy.
Recipe note – you can spice these up any way you like add in some garlic and parmesan to the bread crumb mixture if you are not a fan of spice. Add in some nutritional yeast for a cheesy nugget for the kids.
Freezing tofu changes the texture making it more "meat" like and chewy for the perfect strip or nugget.
If you make this recipe I would love to hear what you think in the comments below or be sure to tag me in your creations over on the social's @pam_roccca. I love seeing what you are making and enjoying.
As always sharing is caring, if you know someone who would love this recipe I would so appreciate you sharing it with them.
Happy Meal Prep Sunday,