This recipe was created as a spin off from the Strawberry Energy Balls that were created over 2 years ago. They were a huge crowd pleaser and perfect for a fresh summer snack. The other day I had lots of fresh blueberries and decided to swap strawberries for blueberries and it totally worked out. Enjoy!
This recipe works because it's contains oats for healthy carbs, they eventually break down into glucose which is the bodies primary fuel source. Oats are also a really great source of heart-healthy soluble fibre. Protein powder helps to keep you fuller longer, if you are not a fan of protein powder you can sub for shelled hemp seeds. Blueberries are an excellent source of antioxidants, they are low in calories and high in nutrients. They also contain fibre, vitamin K, C and potassium.
These fresh balls are the perfect summer snack or fun dessert.
Summer is an amazing time to clean up the way you eat and add in more physical activity with the longer days and abundance of yummy fresh foods. I wanted to share more than this one healthy snack recipe click below to grab 21 Fresh Summer Snack Ideas: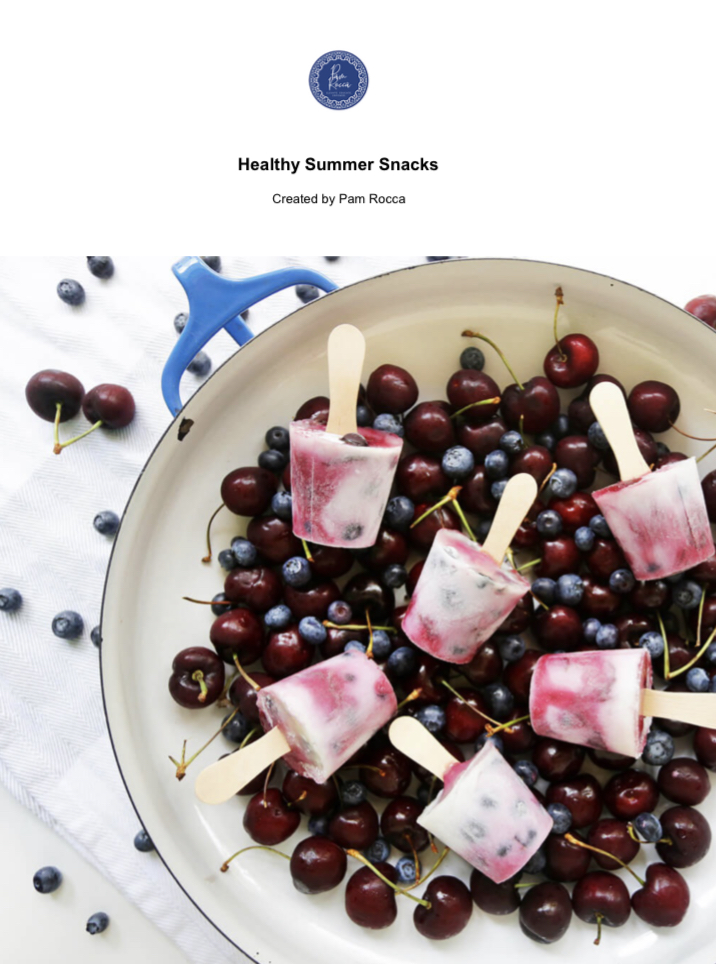 There are a lot of other energy and protein ball recipes on my website simply search up energy or protein ball in the search bar and see what recipe speaks to you. A few favourite's from the first Cookbook was my Lemon Ball Recipe, often called Lemon Cake Pops. Another blog and retreat favourite is the Strawberry Balls, along with the Chocolate Peanut Butter Balls, Turtle Pecan Balls, and Orange Cranberry Balls.
This Recipe is:
plant-based
dairy-free
gluten-free (if you use gluten free oats)
nut-free
kid and husband approved
so yummy
Blueberry Energy Balls
Makes: 10-12 balls
Prep Time: 5-10 minutes
Ingredients
1/2 cup blueberries
1 cup rolled oats (can use oat flour or almond flour)
1/4 cup vanilla protein powder
1/2 cup unsweetened coconut flakes
1 tablespoon ground flaxseed
1/4 cup honey
Directions
In a small sauce pan over medium/low heat add blueberries and stir frequently to puree berries. Squash with spatula while stirring until blueberries resemble liquid of jam like consistency.
 In a large bowl add oats, vanilla protein powder, coconut flakes, ground flaxseed, honey and cooled cooked blueberries.
Stir and mix well and roll into 10-12 balls. Store in air-tight container in fridge.
Our family loves to make healthy snack boards for fun picnic's and snacks at the beach or cottage. Fruits, balls, homemade crackers, dill or buffalo hummus, healthy muffins, veggies and dip or even popcorn.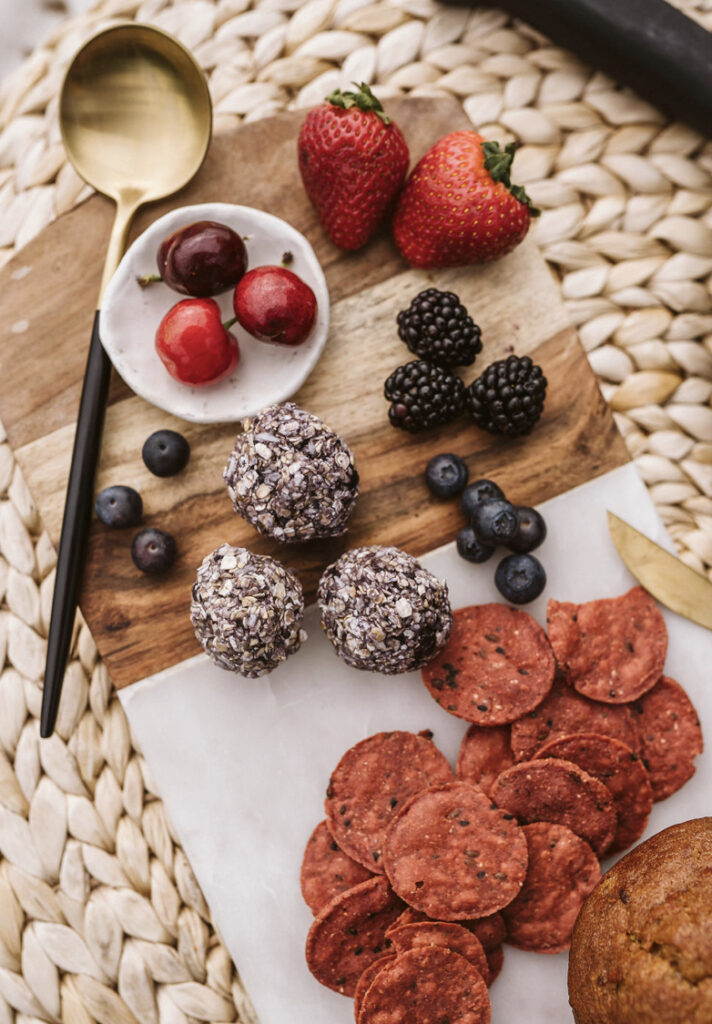 If you make this recipe I would love to hear what you think in the comments below or be sure to tag me with your pictures over on the socials @pam_rocca. I love seeing what you are making and enjoying.
As always sharing is caring, if you know someone who would love this recipe or the Summer Snack Recipe Guide I would so appreciate you sharing it with them.
With love and light,