This Healthy School Safe Breakfast Cookie recipe was a variation from our original breakfast cookies. I love to bake with peanut and almond butter but realize this means the snacks and treats are not safe to go in lunches. This inspired me to create a nut-free cookie recipe so these homemade treats can be enjoyed at school or at home. This page is here to share more nut-free recipes for our friends with nut allergies too. There will be more yummy recipes coming your way in the coming weeks, so keep coming back to the blog to stay inspired.
We have three active kids so snack prep is essential in our home. As a mom I love to bake up healthy snacks for the week so I know what is in their food and to avoid more processed foods. It's not always easy, I get it….that's why I am all about sharing one bowl recipes with minimal ingredients. Also no baking experience necessary! Even if you are not a baker, this recipe will work for you.
I love to meal prep a cookie or snack recipe while I am making dinner Sunday so we have snacks for the week. It doesn't have to be Sunday for you, any night where you find yourself in the kitchen anyway just pull out a bowl and bake away.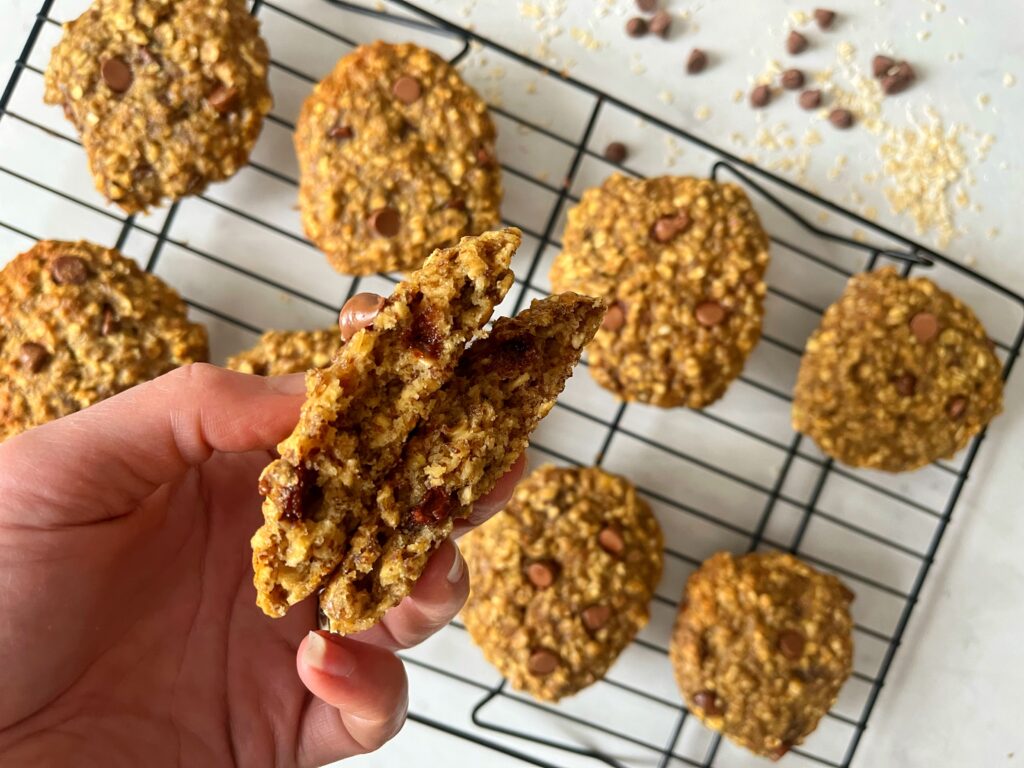 This cookie recipe is perfect to make with your kids. When you get them invested in the baking or cooking process they are more likely to eat what they have created. This is a win-win because you are teaching them life skill (cooking) AND how to enjoy healthy homemade snacks.
Tahini is ground up sesame seeds which makes it nut-free. It also contains protein, healthy fats, fibre, iron, calcium, magnesium and potassium. It's a great alternative to recipes that call for peanut or almond butter. I love the Nuts to You Nut Butter Brand but also love this organic brand here: https://amzn.to/3IsCaXX
This Recipe Is:
gluten-free
dairy-free
nut-free
kid-approved – These are Layla's new favourite
delicious – not overly sweet so you don't get the crash, just the right amount of sweet
Healthy School Safe Breakfast Cookies
Makes: 10-12 cookies
Prep Time: 5 minutes
Bake Time: 20 minutes
Ingredients
1 large ripe banana, mashed
1 cup gluten-free oats
1/4 cup gluten-free flour (I use oat flour, almond flour, chickpea flour or tapioca starch/flour)
1/4 cup ground flaxseeds
1/4 cup tahini
1/4 cup apple sauce
1/4 cup pure maple syrup
1 egg
1/2 teaspoon baking soda
dash of salt
1/4-1/2 cup dairy-free chocolate chips (or raisins, dried cranberries or seeds)
Directions
Preheat oven to 350 degrees F, line two baking trays with parchment paper and set aside.
In a medium bowl add banana and mash with a fork until there are no large chunks and it resembles more of a liquid state. Add in oats, gluten-free flour, ground flaxseeds, tahini, apple sauce, pure maple syrup, 1 egg and baking soda stir until well combined.
Lastly add in your favourite fixings I added chocolate chips for the kids, and chopped dates or dried cranberries and pumpkin seeds for my husband.
Bake for 20-22 minutes until cooked through. Cool on cooling rack and store in airtight container for 4 days for ultimate freshness.
Recipe note:
option to add more protein by substituting gluten-free flour for vanilla protein powder
you can also add in your favourite nuts, this would just not make them school safe
If you make this recipe I would love to hear what you think in the comments below or tag me in your picture's over on Instagram @pam_rocca. I absolutely love seeing what you guys are loving and baking.
As always sharing is caring, if you know someone who would love this recipe I would so appreciate you sharing it with them.
With love,