If you're like me, then you enjoyed an abundance of delicious food over the holidays, and you might still be feeling the ill effects from all those gathering and parties! Those treats are enjoyable because we know they're tied to traditions, and are not sustainable long-term. So with that in mind, there is no better time for a kitchen and pantry make-over! If we do this now, we place our health goals front and centre as the mirrored ball drops!
Freshen up your Fridge.
I love to start my make-over with the refrigerator.
Empty the fridge completely and clean every surface. Put all of the shelves that fit, into the dishwasher so that all sides of the surfaces get cleaned. Notice any old condiments, checking expiry dates, and ditch anything that has past its prime. You're probably starting to feel good already! Remove any processed foods or junky foods. There's probably a reason that it's still in your fridge. If you haven't eaten it yet, you probably won't get to it. Let it go. This will create space for all of your fresh, healthy food. When you are repacking your fridge, position grab-and-go snacks at eye level. Suggestions include: protein balls, chopped veggies and hummus, salad jars, overnight oats, tofu nuggets, breakfast cookies and chia seed crackers.
Perk up your pantry.
Again, begin by emptying and wiping down the shelves. If you find something at the back of your cupboard that you have never used, get rid of it. Rest assured that you don't have to toss out every single ingredient you have and completely restock your kitchen to live a healthy lifestyle. As you top things up, chose items selected from more nutrient-filled recipes. Cooking becomes more ease-filled when you have the basic ingredients on hand, and you aren't running out for just one thing!
So get yourself organized. (See Pantry List below to get started.) I know it can be costly if you do not have a lot of these items in your pantry already, so I suggest starting with the basics and adding on one or two things each time you shop. Reuse glass jars or purchase Mason jars all the same size and label them so they are easy to see and access quickly. Places like The Bulk Barn are handy because you can buy in smaller quantities. When you have a well-stocked pantry you will notice that you always have foods or snacks that can be whipped up.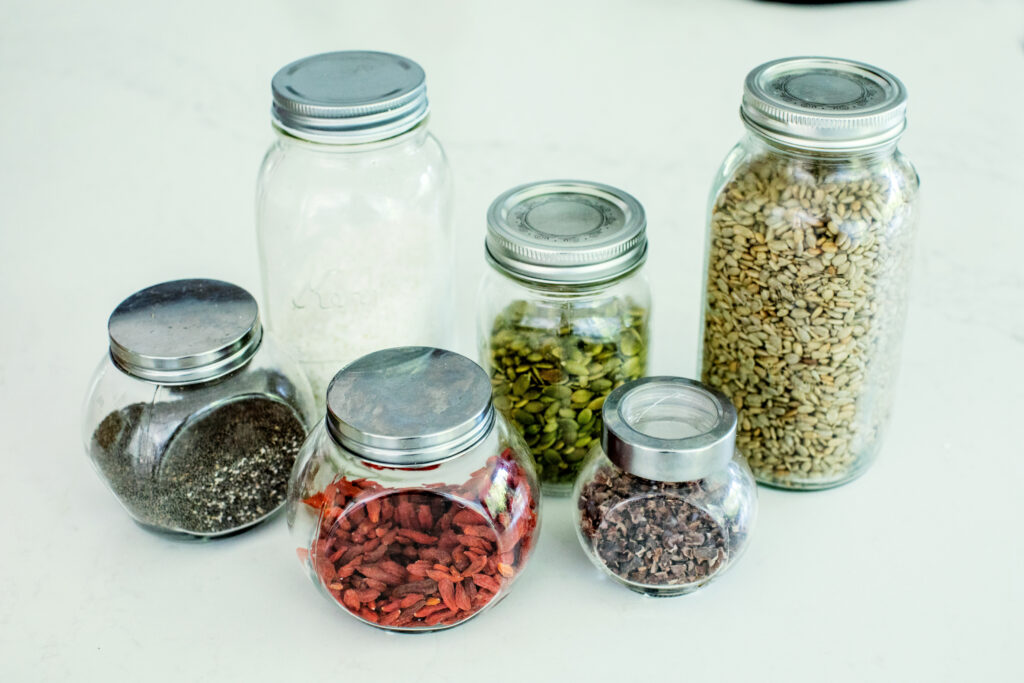 Savour your spices.
After my pantry is stocked I organize my spices. Spices are what make your food delicious and fragrant. Buying spices in the bags instead of jars is more cost-effective, but can make for a jumbled mess in your cupboards. Again, putting them in labeled jars allows spices to be found easily and kept clean and organized. Start with the spices you know, or that your mother has always used in her cooking, and expand your collection gradually. One trick I use is to look up a new recipe that uses spices I'm unfamiliar with, so I learn how to use it. If you're still unsure, sign up for a cooking class or meal prep workshop as a way of bringing new spices to your kitchen.
Spice List
Garlic Powder
Onion Powder
Chili Powder
Paprika and Smoked Paprika
Cayenne
Cumin
Curry Powder
Garam Masala
Coriander
Turmeric
Basil
Oregano
Parsley
Thyme
Rosemary
Dill
Poultry Seasoning
Lemon Dill
Fennel Seed
Bay Leafs
Ginger
Cinnamon
Pumpkin Pie Spice
Replace don't eliminate.
The last place to hit up in our New Year's Kitchen Makeover is that dang snack drawer or cupboard. If it's there, you will eat it. And, probably at night, when you are tired and will power is low. If it's gone….you can't eat it. The holidays are a time when snacks and junk foods seem to pile up, so this is the perfect time for an overhaul.
In my experience, the way to eliminate processed or junk food, is to substitute it with a better alternative that you will enjoy. We all know that the more we humans are told we can't have something, the more we want it. So add healthy treats and snacks into your diet instead of just creating long list of "No" items. In our home, we whip up chocolate avocado mousse instead of having ice cream. It's yummy, satisfying, nutrient-filled and not full of sugar and junk. Another weakness for most people is salty foods. Salt and vinegar chips are my favorite, but I end up waking up all puffy from salt, so I now make a better alternative. Roasted chickpeas have that pleasing crunch and they taste SO GOOD! Keep refining, keep adding in. With a bit of investigating, you will find ways to replace your old fave foods. I promise this will help move you closer to your health goals!
If this whole process sounds daunting, get creative and find a way to make it fun. Crank some music, diffuse some oils, ask a friend for help, or clean out the fridge, pantry, spice cupboard and junk food drawer at separate intervals over a couple of days. Your kitchen will be so organized afterwards, and you will be inspired to eat healthy!
Healthy eating isn't be a fad, a quick fix, or a magic pill — it is all about creating a lifestyle that you can continue day in and day out for the rest of your life. Stay with me for more habits, changes and creative ways to nourish your body, mind and spirit, ultimately enhancing your vitality and happiness!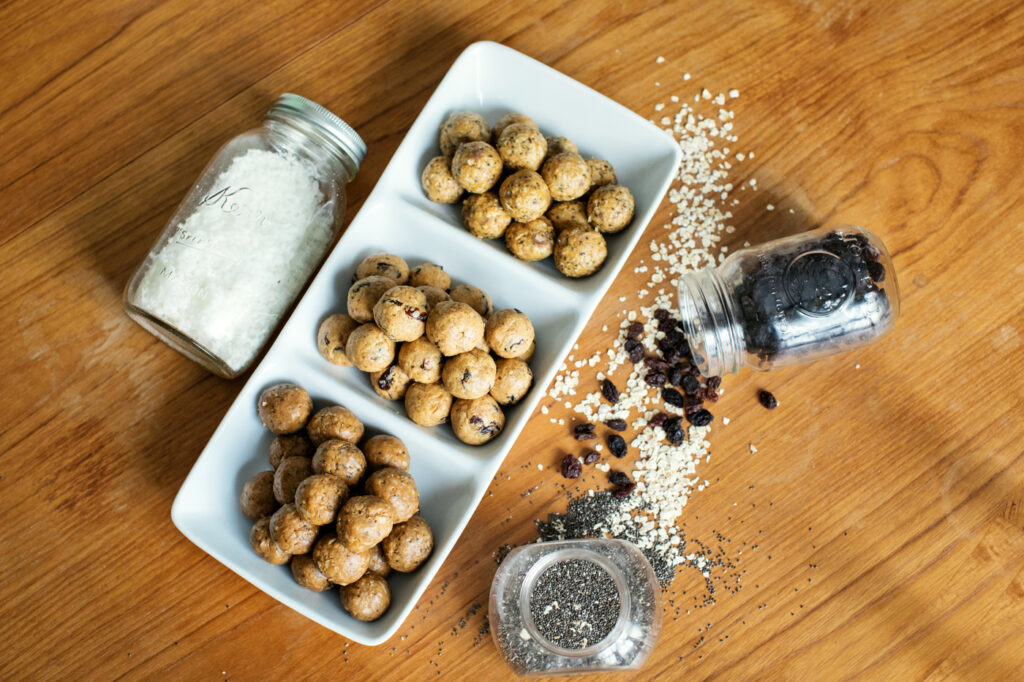 There is no recipe this week, only a recipe to slowly build your pantry with super foods that make cooking, meal prep and healthy eating easier.
Pantry Staples
Here is a handy list to screenshot so that you always have it with you. Stay tuned for recipes that use these ingredients over and over! Add your favorites to this too.
Beans and legumes – chickpeas, lentils, split peas, mung beans, black beans, kidney beans or any of your favourites
Gluten-free oats
Quinoa, barley (can add – amaranth, brown rice, kamut, millet)
Flours – oat flour, almond flour, cassia flour, chickpea flour
Nuts – almonds, cashews, walnuts, pecans, peanuts, macadamia nuts, pine nuts
Nut butters and nut-free butters – all natural peanut butter, almond butter, sun butter or sunflower seed butter, tahini
Seeds – pumpkin seeds, sesame seeds, chia seeds, sunflower seeds, flax seeds, ground flax seeds and hemp seeds
Sweets – dates, dried fruit (goji berrries, dried cranberries and raisins), apple sauce, honey, pure maple syrup, brown rice syrup, coconut sugar or sucanat
Oils – coconut oil solid and liquid, MCT oil, avocado oil, olive oil, flaxseed oil
Cacao nibs & cacao powder (we love Giddy Yoyo)
Fun Super Foods to add in – Chlorella powder, maca powder, lucama powder
Nutritional yeast – this is a must in plant-based and vegan cooking
Vinegars -apple cider vinegar, balsamic vinegar, red wine vinegar, white wine vinegar, rice vinegar
Tamari or coconut aminos
Organic vegetable broth
Vegan protein powder (we like Genuine Health Vegan Fermented Protein)
Delicious teas – peppermint, sleepy time, lemon ginger, or whatever you love
If you make give your kitchen a makeover or enjoyed this post I would love to hear what you think in the comments below or be sure to tag me in your pics over on Instagram @pam_rocca. If I am missing any ingredients or tips I would love if you could share in the comments below.
As always sharing is caring, if you know someone who would love this blog post I would so appreciate you sharing it with them.
Have fun giving your kitchen a makeover,