Enjoy this nutritious Chocolate Cauliflower Smoothie for your new favourite breakfast, post workout recovery, snack or dessert. It's so creamy and delicious you will have a hard time believing that this fun drink is actually really healthy. Being able to check all the boxes when it comes to fuelling your body optimally AND being able to do it in less than 5 minutes makes this recipe a big win.
I know what you might be thinking, you had me until you mentioned cauliflower. Trust me, you don't taste the cauliflower at all and it adds a creamy texture that makes this smoothie dreamy. I prefer to buy the bagged frozen cauliflower to save a step and makes it really easy to prep smoothies like this one. Cauliflower really bulks up a smoothie and it is much lower in sugar than frozen bananas, it is also lower in calories and carbs if that is a goal for you. One of my smoothie goals is to add one vegetable to each smoothie to add in even more nutrition and health benefits. Cauliflower adds in fibre, vitamin C and potassium. Since frozen cauliflower has a neutral flavour you can add it in to any of your favourite smoothies.
My favourite brand of cacao powder is Giddy Yoyo check out this amazing product here: https://shop.giddyyoyo.com/cacao-powder-ecuador-454g-1-lb-certified-organic/
Some research shows that cacao powder in a pure form can be mood enhancing, energy enhancing, and an excellent source of magnesium. Cacao is also high in antioxidants which helps to support our immune system and fight against free radicals. I honestly love to create recipes that are not only enjoyable to consume, each ingredient is also carefully selected to provide nutrition or nourishment to the body. This smoothie has protein, healthy fats, veggies, fibre and so much goodness so it makes it easy to enjoy and reframe our minds that healthy eating has to be bland or boring.
If you like this recipe you might enjoy my 10 Day Sugar Detox it is loaded with flavourful healthy recipes and it comes with a easy to follow meal plan. Grab your copy here: https://www.amazon.ca/Sugar-Detox-10-Days-Eliminate/dp/1646117522/ref=pd_lpo_3?pd_rd_i=1646117522&psc=1
When you create and enjoy this smoothie, mindfully drink it and take a moment to thank yourself for making your health a priority. You might want to take a moment of gratitude or set an intention for your day, either way you are beginning your day nourished so congrats!
As you move into your week see how you can make more choices to commit to fuelling your body with foods that bless your body, increase your energy and make you feel really good from the inside out.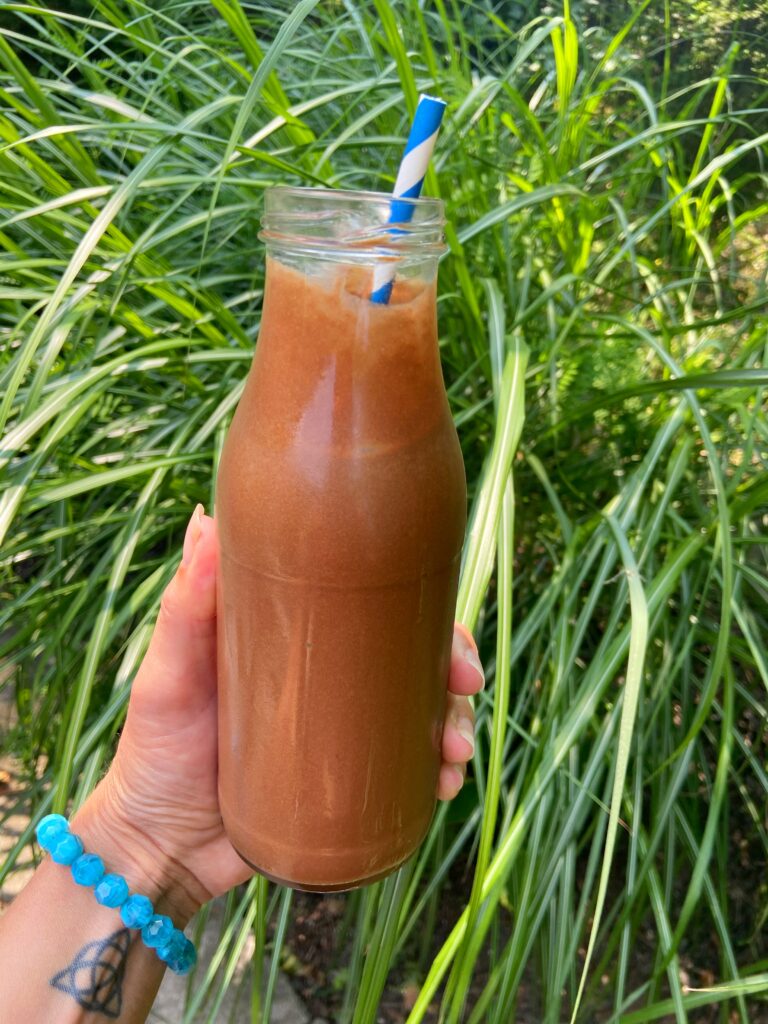 This recipe is:
vegan/plant-based
gluten-free
dairy-free
make it nut-free by using coconut or soy milk
delicious
Chocolate Cauliflower Smoothie
Makes: 1 large serving
Prep Time: 5 minutes
Ingredients
1 cup frozen cauliflower florets
1/2 frozen banana (optional)
1/4 cup chocolate protein powder
3 tablespoons cacao powder
1/2 tablespoon almond butter or all natural peanut butter
1 cup unsweetened original almond milk
Directions
Place all ingredients into a blender and blend until creamy and smooth.
Serve immediately and enjoy.
Recipe notes:
Substitute powder powder for 2-3 tablespoons shelled hemp seeds.
Make this recipe nut free by substituting almond butter for sunflower seed butter and almond milk for any dairy-free milk.
If you make this recipe I would love to hear what you think in the comments below. If you make this recipe be sure to tag me in your pictures over on the social's @pam_rocca.
As always sharing is caring, if you know someone who would love this recipe or free recipe guide I would so appreciate you sharing it with them.
With love and light,