This flavourful plant-based dish is filled with healthy protein, carbs, fats, prebiotics, vitamins, minerals and antioxidants. The teriyaki marinade is what makes this dish turn from bland to grand. Healthy food doesn't have to be boring, it should be exciting and enjoyable.
Tempeh has always felt intimidating to cook with to be honest I really didn't know how to prepare it and the look of it felt more challenging to prepare than tofu or other plant-based protein sources. I was in a big food rut and got called to try it out for a new fresh favourite. This inspiration came from my Teriyaki Chickpea Bowl, I wanted to try it with tempeh instead for a fun fresh spin on an old favourite. That's one of my tips on how to avoid food ruts, find something you love and put a fun new spin on it. I actually prefer this recipe with Tempeh but know if it's not your thing you can try this recipe with chickpeas, tofu or chicken. All of these recipes are just ideas for you to be inspired to eat healthy, I want you to make them work for you.
The key to cooking with tempeh is to simmer it in water for 10 minutes before marinating. It takes on the flavour of whatever you spice it up with so get creative with different sauces, spices and fun flavours. I am already excited to try a Spicy Peanut Tempeh marinade and I did a Blackened Tempeh using my Blackened Fish recipe from my Sugar Detox Cookbook if you want more recipes ideas you can check out the book here: https://www.amazon.ca/Sugar-Detox-10-Days-Eliminate/dp/1646117522/ref=sr_1_1?dchild=1&keywords=pam+rocca&qid=1621211325&sr=8-1
This dish also works for an easy lunch that you can meal prep. Set aside some time during your week to invest in prepping healthy meals, grab 4 containers and individually portion. You can switch them up by using different vegetable combinations if you feel called to it.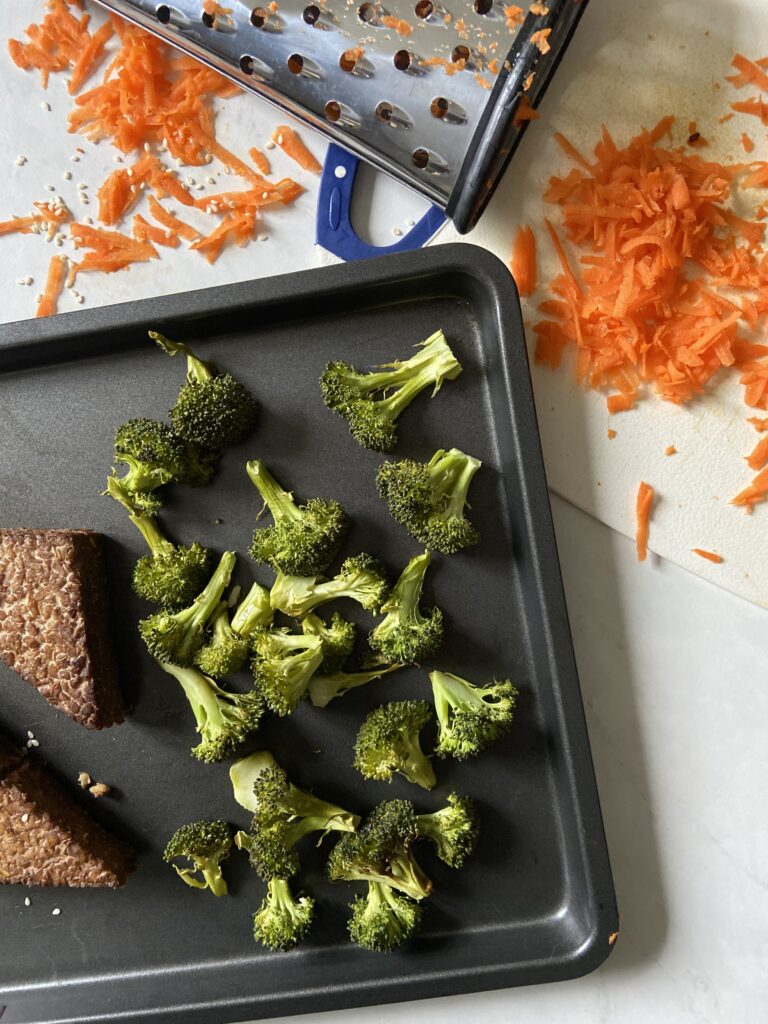 This Teriyaki Tempeh checks all the boxes but most importantly it smells and tastes absolutely fantastic! You can add it to any bowl or salad as a side of plant-based protein.
Wondering what the heck Tempeh is? It is a vegan patty made from fermented soybeans. It is high in protein, calcium and other vitamins and minerals. Tempeh also contains prebiotics which help to feed probiotics, this helps to promote good gut health and can improve immune function. Who doesn't love a meal that tastes so good and supports your body? Love it.
This recipe is:
vegan
dairy-free
gluten-free
healthy
delicious
Teriyaki Tempeh Bowls
Makes: 4 servings
Prep Time: 10 minutes
Cook Time: 35 minutes (10 minutes + 25 minutes)
Ingredients
1 block of tempeh. cut into 4 triangles 
4 cups chopped broccoli florets
2 large carrots, shredded
1 cup dry rice, cooked
For the Teriyaki Marinade
⅓ cup tamari or soy sauce
1 tablespoon maple syrup
1 tablespoon sesame oil
1-2 tablespoon tapioca starch
½ tablespoon rice vinegar
1 teaspoon liquid smoke
For the Bowl
4 cups broccoli florrets
2 large carrots, peeled and shredded
1 cup dry whole wheat rice, cook according to package directions (can use rice of your choice)
2-4 tablespoons sesame seeds
Directions
Cut tempeh into 4 triangles (cut in half from corner to corner, and opposite corner like a big X).
In a small pot bring water to a simmer, add tempeh and simmer for 10 minutes. Meanwhile make teriyaki marinade by placing tamari or soy sauce, maple syrup, sesame oil,  tapioca starch, rice vinegar and liquid smoke into a small container (use a container that has a lid). Stir ingredients and place drained tempeh in teriyaki sauce. Marinate for 30 minutes up to 12 hours.
Preheat oven to 350 degrees F and line baking tray with parchment paper. Place 4 tempeh pieces on one half of the tray, place broccoli on the other half.
Bake for 20-25 minutes. Meanwhile make rice according to package directions and shred carrots.
Make bowl by filling part of the bowl with broccoli, fill 1/4 of the bowl with carrots, and part of the bowl with cooked rice. Top with 1 piece of Teriyaki tempeh and top with sesame seeds. You can cut the 1 piece of tempeh into two (shown in picture) or cubes. Option to drizzle a little more tamari or soy sauce on top of bowl. Play around with portions depending on your nutritional needs.
Recipe notes:
If you make this recipe I would love to hear what you think in the comments below. If you make this recipe be sure to tag me in your pictures over on the socials @pam_rocca.
As always sharing is caring, if you know someone who would love this recipe I would so appreciate you sharing it with them.
In love and light,