This flavourful salad is loaded with nutrient packed vegetables such as broccoli, purple cabbage, and shredded carrots. This dish is vegan but still contains 3 plant-based protein sources with the chickpeas, quinoa and cashews. The real reason you are going to love this new summer salad is the creamy peanut Thai dressing. The creamy dressing makes this dish feel like the ultimate comfort food but each ingredient has a health benefit and the meal sits light.
This salad works a lot of different vegetables so have fun experimenting with red peppers, sweet potato, cauliflower, snap peas, cooked Bok Choy, baby kale or zucchini. I typically use what we have on hand and all variations are yummy but this combination seems to be the biggest crowd pleaser.
I love to meal prep this dish Sunday night so our family has healthy lunches prepped and ready to go for the week. Simply place all the ingredients in the bowl, toss with the dressing and place in individualized containers for a nourishing lunch. You could also pack the dressing on the side to keep it fresher longer.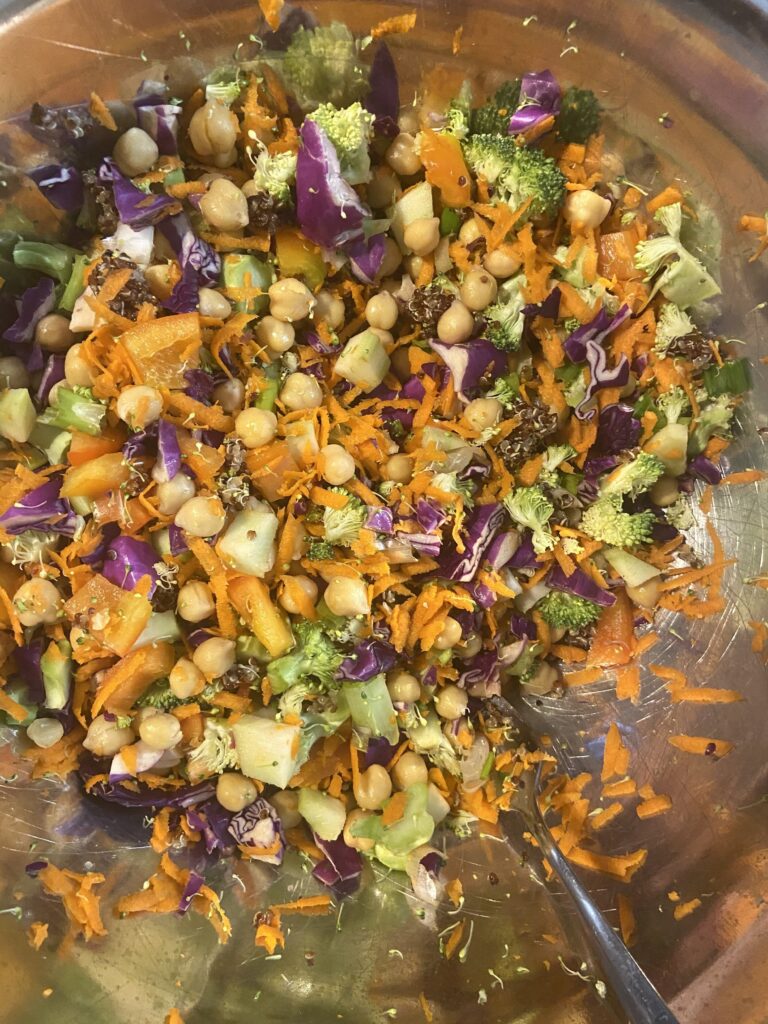 This Easy Thai Cashew Salad checks all the boxes but most importantly it smells and tastes absolutely fantastic!
Chickpeas are a great source of carbohydrates, plant-based protein, fibre and a little iron and potassium. Cashews add a nice crunch and they are rich in protein and healthy fats they are also an excellent source of antioxidants. This salad works because it has a delicious aroma, lots of crunchy textures, it's visually so appetizing (and pretty) but most importantly each ingredient brings nourishment to your body. Enjoy!
Thai Cashew Chickpea Salad
Makes: 2-4 servings
Prep Time: 10 minutes
Cook Time: 20 minutes
Ingredients
Salad
1 (16oz.) can organic chickpeas
½ cup quinoa cooked
½ cup broccoli, finely chopped
½ cup purple cabbage, finely chopped
¾ cup shredded carrots
½ cup cashews
1-2 lime wedges
Dressing
¼ cup peanut butter or almond butter
2 gloves garlic, minced
2 tablespoons water
2 tablespoons tamari, coconut aminos or soy sauce
1 tablespoon rice vinegar
½-1 tablespoon Sriracha
½ tablespoon pure maple syrup
1 teaspoon sesame oil
1 teaspoon grated fresh ginger or ¼ teaspoon ginger powder
Directions
1. Cook quinoa according to package directions.
2. Drain and rinse chickpeas, place in bowl and pat dry with paper towel to ensure they are dry.
3. Finely chop broccoli into ¼ inch pieces, finely chop cabbage and shred carrots. Add all of the vegetables in the bowl with chickpeas.
4. To make the dressing place all ingredients into a mini food processor or blender. If you do not have either you can hand mix in a bowl.
5. Slowly add dressing 1-2 tablespoons at a time until desired consistency. You might have leftover dressing simply store in a jar in the fridge and use with your next bowl or salad.
6. Garnish with cashews, and a splash of lime juice and serve.
This salad gets more flavourful the longer it sits so you can prep this dish ahead of time and pull out and enjoy when you are ready.
Modifications
If chickpeas don't agree with you – substitute chickpeas for 2 cooked cubed chicken breasts.
Cashew free – simply omit them and use sunflower seeds or any other nut or seed.
Nut free – use tahini or sun butter instead of peanut butter.
Spice it up – by adding cayenne, chilli powder and more Sriracha.
If you make this recipe I would love to hear what you think in the comments below. As always sharing is caring, if you know someone who would love this recipe I would so appreciate you sharing it with them.
Happy Meal Prep Sunday,